Where do Sydney residents go to enjoy a weekend getaway?
They make their way to the Southern Highlands in New South Wales.
The Southern Highlands is made up of rolling hills, surrounded by quaint heritage towns, antique shops, plenty of hiking trails, and more. There's something to do every season—whether that's the Tulip Festival in Spring or the Bundanoon Winter Festival, grab a mug of mulled wine cause this place has it all.
But there's one thing you can do year-round, no matter the season or temperature. That's visiting one of the many Southern Highlands wineries!
We want to make things easy for you; here's what you'll discover in the article below;
The best wineries in the Southern Highlands

Southern Highlands restaurants

The best Southern Highlands winery lunches

Luxury and affordable Southern Highlands accommodation

Southern Highlands wine tours
That sound alright? Let's get into it.
Getting there is as simple as taking the Hume Highway for about 90 minutes. On the other end of your trip, you'll be rewarded with prestigious wine, magnificent scenery, and a slew of fun things to do when you're not sipping on a glass of vino.
---
History and Wine in the Southern Highlands
The Southern Highlands sits between 500 and 900 metres above sea level.
Their vineyards sit in the perfect middle ground, at about 700 metres above. This gives them an ideal temperature that is cool, wet, and at times humid.
Although there's mention of table wines being produced back to the 1880s, it's generally known that the Southern Highland's history of wine truly began in the 1980s, making it pretty modern. This was the decade when the first winery in the region opened its doors—Joadja Vineyards and Winery.
As we mentioned, the Southern Highlands is an ideal getaway for Sydney residents, being less than two hours away. Once there, they get to enjoy local, regional food and, of course, wine. The Southern Highlands is a place to relax, let loose, and enjoy oneself.
What better place to sip on some wine?
The most-produced wines from this region include whites like Reisling, Chardonnay, and Sauvignon Blanc, with reds like Cabernet Sauvignon also making an appearance.
The total vineyard area reaches about 129 hectares.
---
Southern Highlands Accommodation
There's something about waking up amongst hills of vines that almost reconnects your soul to what's essential in life. You're itinerary slips away, and any worries you had drift into the fresh country breeze. If you're after Southern Highlands winery accommodation, we recommend Bendooley Estate. This luxury accommodation in the southern highlands has a home on the ranch kind of vibe. The barns look humble and blend into the countryside backdrop, but on the inside, they are elegant, flawlessly designed and with heated hand made tiles, they are incredibly cosy! Treat yourself and stay a few nights!

If you're saving you're dosh for the premium wines and budgeting on accommodation; there are some excellent spots for camping in the Southern Highlands.
---
Southern Highlands Restaurants
There is an eclectic mix of restaurants in the Southern Highlands. But we can't go past Eschalot.

Head Chef Matty Roberts and his family live at the historical cottage, working in the kitchen garden and treating patrons as if they were sitting at their own table. The only difference is, the service is impeccable, and the food is beyond what mum cooks at home.

Incorporating a paddock to plate philosophy and over 20 years of experience in kitchens, Matty delivers a culinary explosion of an experience. Granted, there's a cost involved, but the idea of finance and economics fades away after the first bite. Do yourself a flavour, book a table.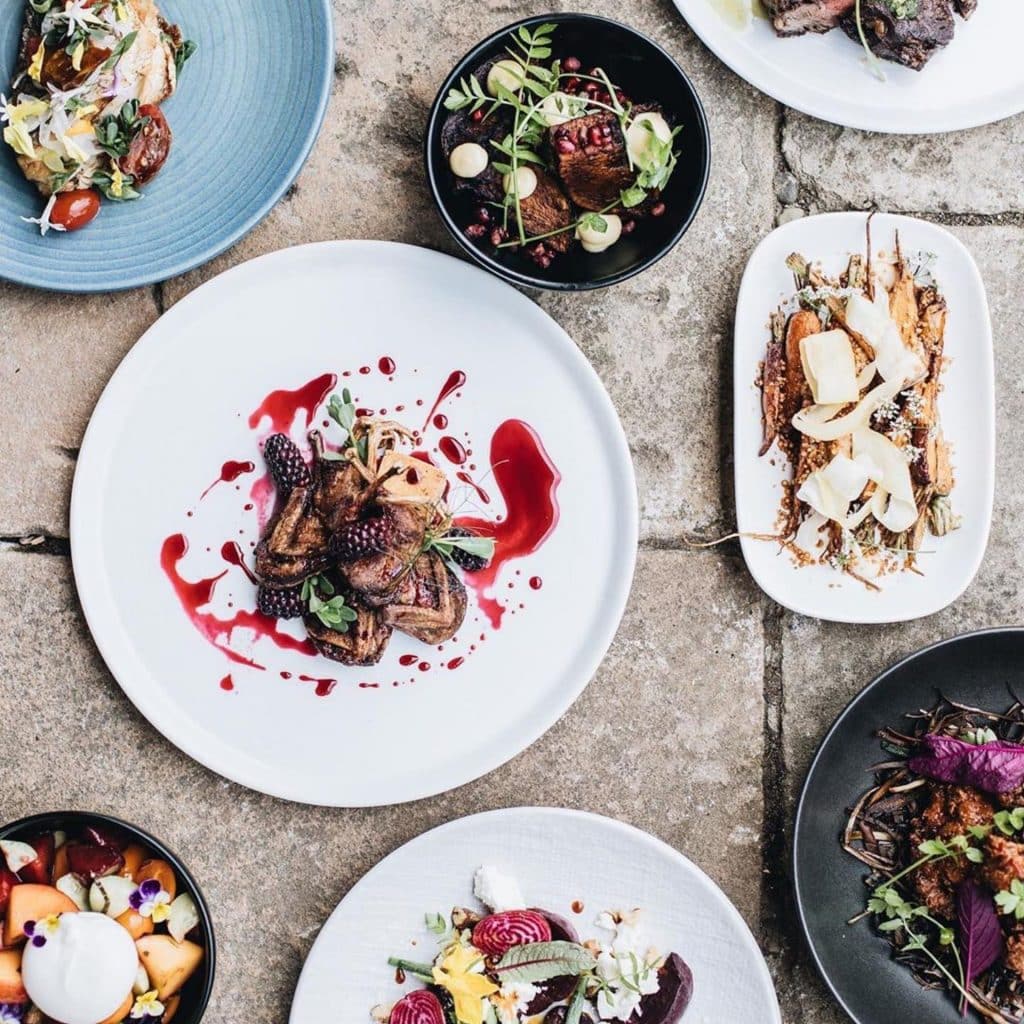 ---
Southern Highlands Wine Tours
As much as we love wineries, the worst thing about them is they are never within walking distance… why can't there be inner-city vineyards? So we are forced to draw straws to see who drives or jump on a wine tour of the Southern Highlands and make someone else drive and spoon feed you facts along the way. Yeah, the latter option sounds better.

Urban Legends Tour Co are the most relaxed down to earth tour guides in the game. They understand you're there for a good time, some excellent wines, and mountains of delicious food. Check them out and book a tour!
---
Prominent Styles of Wine in the Southern Highlands
We mentioned the Highlands' top products above—so, let's take a more in-depth look at some characteristics from each.
This way, you'll know exactly what you're getting into when you arrive. You can even share some of this knowledge with your fellow wine-goers and impress a person or two!
Reisling
Reisling is perhaps the least-produced of the four, but it is "showing promise" in the region.
Rieslings from the Southern Highlands show notes of floral citrus in younger varieties and honey and toast in older ones. Their flavours are complex and varied.
Chardonnay
The Southern Highlands is one of the coolest places (temperature-wise) that produces Chardonnay in Australia.
This region makes both wooded and unwooded wines, so wine lovers get to appreciate both styles. Those that are oak-handled prove to be smooth and light, with an acidity that ages finely with the bottle.
Their Chardonnay produces heavy citrus flavours, such as melon and lime, and at times a green apple profile comes through.
Sauvignon Blanc
With their Sauvignon Blanc, you'll get a traditional take on this classic.
Its characteristics include things a wine connoisseur would expect, such as light smokiness, a hint of grass, and moderate acidity.
Cabernet Sauvignon
During the warmer months, Cabernet Sauvignon reigns supreme!
The Southern Highlands focus more on medium-bodied blends from younger vines. These give off flavours of berry and briar (a woody-smelling shrub).
---
The Best, Local-Adored Southern Highlands Wineries
New South Wales is known for having a vast collection of wineries.
First, there are the excellent Mudgee wineries, spanning 40 vineyards. Then, there's Hunter Valley, which boasts award-winning wine.
And, of course, the Southern Highlands wineries.
So, which places deserve your visit? Keep reading to find out.
Centennial Vineyards
This gorgeous vineyard spans 80 acres!
Located in Bowral, this vineyard is a must-visit. Come for the wine and stay for the views and the fantastic restaurant. The Southern Highlands is loaded with fresh, seasonal produce, which this vineyard certainly takes advantage of.
Centennial Vineyard has the classics we've mentioned, as well as some more exotic wine selections for those who want to stray from the norm.
Reviews
4.3⭐️ Google from 342 reviews
4.0⭐️ TripAdvisor from 377 reviews
Southern Highlands Winery
This aptly-named winery is a must-visit when in New South Wales territory.
Their tasting room (the 'cellar door') is open daily from 10:30 am-4:30 pm, giving you plenty of opportunities to sip and enjoy the scenery. They offer daily wine tours, as well, allowing you to get an inside peek at the winemaking that happens behind the cellar door.
They make anything from vintage wines (made with carefully selected fruits) to the classics like Pinot Noir and Reisling.
Pucker up for one of the best Southern Highlands winery restaurants. They even offer a food tour, so you'll get your fill of both liquids and solids.
Reviews
4.5 ⭐️ Google from 208 reviews
4.0 ⭐️ TripAdvisor from 133 reviews
Cherry Tree Hill
There's a theme with our Southern Highlands winery list—we only show the best of the best; Cherry Tree Hill is no exception, boasting reviews of 4.5 stars and higher.
The Lorentz family, who've owned the name for over 30 years, produces award-winning wine. They've been producing grapes since 2003, near the beginning of the Southern Highlands' wine-making days. Their decades of experiences have resulted in quality products that many know and love.
Cherry Tree Hill is one of the many Southern Highlands wineries Urban Legends have on their wine tour packages. Don't miss out!
Reviews
4.6 ⭐️ Google from 146 reviews
4.5 ⭐️ TripAdvisor from 106 reviews
Tertini Wines
Another award-winning option in New South Wales is the Tertini Wines.
Julian Tertini, the man behind the name, has been producing beautiful blends and classics since 2000 with the help of expert winemaker Jonathan Holgate. Come early and have some coffee, then stay for amazing wines paired with local cheeses.
Their high-altitude home proves to make lush wines, such as Pinot noir, Reisling, Chardonnay, and more. They've directly contributed to why wine is now so prevalent in this region. Book a tasting at one of the best Southern Highlands wineries around.
Reviews
4.9 ⭐️ Google from 134 reviews
4.5 ⭐️ TripAdvisor from 101 reviews
Artemis Wines
Another theme with Southern Highlands wineries is that they're mostly family-owned.
Artemis Wines is no exception—the Balog family are obsessed with wine, not in a weird way; they just love it.
They make it all: Reisling, Sparkling Reisling, Chardonnay, Sauvignon Blanc, and more.
If you're looking for a staple Southern Highlands winery restaurant, you got it. Pair their wonderful, various wine selections with charcuterie boards featuring local meats, cheeses, and spreads. Or, get a little messy and try their woodfired pizzas! Certainly something to write home about.
This quaint Southern Highlands winery will feel just like home.
Reviews
4.5 ⭐️ Google from 167 reviews
4.5 ⭐️ TripAdvisor from 138 reviews
Cuttaway Hill Wines
Cuttaway Hill boasts 5-star reviews and many accolades for a reason!
They offer a guided wine experience, a sparkling winemaking tour, and regional grazing boards from their very own Cuttaway Hill larder. This family-owned establishment is proud of its work, and it shows in its flavours, displays, and expertise.
Their cellar door opens every Thursday-Monday. And trust us when we say that they get busy. Because of this, they recommend booking a private space ahead of time.

Chuck this Southern Highlands winery in your bag of goodies and ticket it off your list of must-visits.
Reviews
4.7 ⭐️ Google from 44 reviews
5.0 ⭐️ TripAdvisor from 12 reviews
Sutton Forest Wines
First, have an espresso or cappuccino to warm you up for a wonderful day of wine consumption on their gorgeous property.
Then, sip complex, well-done wines in their cosy cellar door. Sutton Forest Wines serves Italian-style wines at one of the newest wineries in New South Wales—which is adored for its cool-climate, premium wine selections.
Their space is warm, even featuring a fireplace! But more than that, it's tiny and homey, making the experience one to remember.
Granted, the list is getting long, but there is some stunning Southern Highlands accommodation in the area. Stay a night and add a few more Southern Highlands wineries to your list of must-visits.
Reviews
4.9 ⭐️ Google from 66 reviews
4.5 ⭐️ TripAdvisor 20 reviews
Joadja Vineyards and Winery
It wouldn't be a top-eight list without mentioning the very first winery in Southern Highlands!
This family-owned estate is anything but quaint or quiet. It's massive, beautiful, and historic to the region.
Their cellar boasts warm wooden decor, vintage rugs, and wide-open windows, allowing you to breathe in the cold climate and enjoy the views. Being family-owned means that it's not unlikely you'll be sipping wine directly next to the family members or the winemakers themselves.
They produce an incredible variety, from whites and reds to fortifieds, and they produce sweet to dry and everything between.
Sit by the fireplace in the wintertime or stroll through the vineyards during the warmer summer months.
Reviews
4.6 ⭐️ Google from 68 reviews
4.5 ⭐️ TripAdvisor from 89 reviews
Time to Explore The Southen Highlands
We hope this guide to the best Southern Highlands wineries got you excited to take a trip.
Not only is this region easily accessible, but it's also overflowing with options for your enjoyment. Take a trip with friends or family—maybe stay in an old English village for the night and wake up to do it all over again.
Be sure to check out one or two of the Southern Highlands Markets. The fresh produce is in abundance alongside some great art stalls, gift shops, and wine stalls.
But if you have any more questions along the way, let us be your guide. We're constantly speaking with the experts, compiling information on all of Australia's greatest wine stops and delivering it to you.
To receive the latest on Australian Wine Regions straight to your inbox, subscribe to our newsletter. And while you're there, check out our comprehensive lists on the best wineries in Tasmania, Victoria, Queensland, and more!
Looking for more regions and wineries near you?