In this article:
The Land
So you're planning a wine trip in Tasmania, or you're a downright wine nerd that loves reading up on distant wine regions. Whatever your reason, Tasmanian wine culture won't let you down.
Every wine region is unique in history, and there are a ton of cool things to see along the way. There are a heap of wine tours Tasmania has to offer and a lot of cool-climate wines that you need to taste. First things first, where the hell is it?
Tasmania is that small island at the bottom of Australia. No, it's not part of New Zealand, no it's not considered Victoria, and yes, they do have two heads; that way, they can enjoy a red and a white all at the same time.
The Bass Straight runs for 240 kilometres between Tasmania and Victoria; The best, most scenic route to the island state is by the Spirit of Tasmania. If you're in a rush to taste that delectable island nectar, there are a load of cheap flights you can choose from as well.
Tasmania is mountainous, cold, and raw; it is the quintessence of beauty. But its individuality makes the viticulture a little bit trickier to figure out compared to your average climate.
The west winds can blow relentlessly through winter, and it is known to snow in December. The grapes in Tasmania are harvested in April and May due to the premature frosts that visit the southern state. The cold allows the grapes time to ripen, giving them maturity and complexities. These contributing traits make up the intricate workings of an abundant wine region.
This paradise is making its way to worldwide recognition. Though the island is years behind the mainland's industry, wine production in Tasmania has increased by 300 % in the last decade.
Grape Varietals
Given its tricky climate, Tasmania has a specific set of grape varieties that most of the state's wineries focus on; Pinot Noir and Chardonnay. The main Tasmanian varietals thrive because of its cool maritime climate. The surrounding seas provide strong winds that keep the grapes fresh in summer but also keep away the extreme frosts in winter. The only place that the maritime climate doesn't affect is the Tamar Valley because it is too far inland. In recent years grape varieties like Sauvignon Blanc and Riesling have increased in production, which is a sign that times are changing. One wine that you will hardly see made in Tasmania is Shiraz. The climate isn't warm enough, leaving the grapes unripened and tart.
Tasmania's Wine History
Growing wine in Tasmania was deemed pointless by Diego Bernacchi in 1890. Bernacchi held claim to the first vineyard recorded in Tasmania, located on Maria Island. It was a failed project, and there-for the state was proclaimed incapable of producing wine. It was quite a harsh reality to the pioneers that travelled long distances to see the previously affirmed 'fertile soils similar to that of France.' The industry died for nearly 50 years.
Tasmania finally developed its first manufactured industry product in the 1950s from the Tamar Valley in Tasmania's north. Since the '50s, growth has been exponential with new regions that seem to be sprouting every year. There are now 160 licensed wine producers, along with 230 individual vineyards, 95 cellar door outlets, and over 2,000 hectares of vineyards in Tasmania.
Wine Regions of Tasmania
There are seven leading wine regions in Tasmania, all with strong personalities and quirks. If you're struggling to pick the right region, knowing all about them is vital to your decision. Here are the regions and their percentage of products coming out of Tasmania.
Tasmanian Wine Production by Region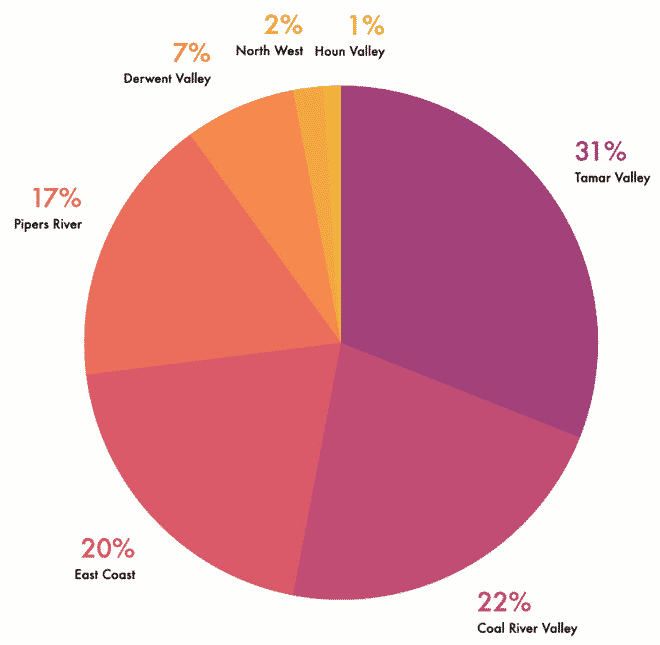 The Tamar Valley

, which produces approximately 31%

The Coal River Valley

, which produces approximately 22%

The East Coast wine region

, which produces approximately 20%

The Pipers River wine region

, which produces approximately 17%

The Derwent Valley

, which produces approximately 7%

The North West wine region, which produces approximately 2%

The Huon Valley / d'Entrecasteaux Channel

, which produces approximately 1%
The Tamar Valley
The Tamar Valley lies twenty kilometres south of Launceston and is known for its rich history in winemaking. Tamar Valley is the oldest wine region in Tasmania. Rivers flowing, hills rolling, and there are orchids and fields of fresh produce on either side of the road for miles. There are lots of great places to stay and wineries to visit; Goaty Hill Wines, Swinging Gate Vineyard, and Joseph Chromey Wines are just a few that might tickle your fancy. The Tamar Valley is the perfect location for a getaway.
See 6 top-rated wineries in Tamar Valley

The Coal River Valley

The Coal River Valley is located 15 minutes out of Hobart. The Valley is known for its fine dining restaurants, fresh local produce, and of course, owning some of the best wineries in Tasmania. Visit and sample from places like Frogmoor Creek, Pooley Wines, Coal Valley Vineyard for some fantastic food and wine. If you feel like produce shopping, stop in at Coal Valley Farm for cheeses, chocolate and pretty much anything that you feel naughty eating.
The Coal River Valley is great for a day trip as there are plenty of Tasmanian wine tour companies that offer five-star services with pick-ups, drop-offs, and a few pearls of wine wisdom along the way. If wine isn't everything for you, there are plenty of other activities in the region, including paintballing, the driving range, Par Avion scenic flight tours, and heaps more.
The East Coast Wine Region
When you're driving up the east coast of Tasmania, there's a point where your jaw starts to ache and you realize your mouth has been open since you left home. The pristine views, white sands, sapphire waters, and rolling vineyards will leave you speechless.
There are many fantastic wineries in this beautiful region, like Gala Estate, Freycinet Vineyard, Lisdillon Vineyard, Milton, and Springvale Vineyard. Alongside some great wineries, there are some incredible activities in store. Turn right into Coles Bay for a day trip into Wine Glass Bay, stop in at the Freycinet Marine Farm for some freshly shucked oysters, or if you're into anything surf related, there are a magnitude of world-class waves and beaches that litter the East Coast.
The Pipers River Wine Region
Pipers river is half an hour out of Launceston and is Tasmania's most northern wine region. Though the Pipers River region has a smaller quantity of vineyards, there is no taking away from the quality. The Pipers River flows through the heart of the region, giving it life and nutrients.
The location has been compared to Champagne, giving it the title 'The Sparkling Region'; Its maritime climate and fertile soils provide wineries like Jansz, Bay of Fires Winery, Beautiful Isle Wines and Clover Hill great flavour and personality.
The Derwent River Wine Region
The Derwent River is the spine of Hobart, giving life and movement to the flora, fauna, humans, and most importantly, grapes. The river provides rich tannins and minerals to the soil giving thousands of years of complexity to each grape varietal. The Maritime climate offers a vast range of cool-climate wines and top gear wineries like Stefano Lubiana, Morilla Estate, Meadow Bank and Derwent Estate that are making their way to global recognition.
There is so much to do in this region you should definitely consider making a day trip. Stop off at Salmon Ponds for a snack, for the fish that is! You can buy fish food there but just watch out; they really leap for it! You can even stop at some great produce farms along the way to feed yourself. If you are in the mood for burning the carbs you just drank, you can go for a short walk at Mount Field National Park. There are beautiful waterfalls and some of the most ancient and tallest trees in the world.
The North West Wine Region
The air is still and tranquil, dairy farms, fields of vegetables, hills of vines; it's the foodies' daydream. The North West is also known as the Cradle Coast Wine Trail. The drive through the region is mesmerizing and often silent because there is so much to look at. There are plenty of wineries to visit; Leven Valley Vineyard, Barringwood Wines, Ghost Rock Vineyard and Prickly Mo Wines
If you want to dabble in something other than wine while you're on the Cradle Coast, try not to get overwhelmed in the abundance of variety. Hikes, national parks, nurture and heritage tours, extreme outdoor activities, you name it. Head to Visit Cradle Coast to get an itinerary that suits you.
The Huon Valley Wine Region
Also known as the Apple Isle, The Huon Valley is high amongst the most fertile regions. The drive from Hobart may take you a few hours after you have stopped at three different fruit stalls, two cider sheds, and a couple of varying produce farms along the way. Make sure you save some room for the real reason you are there, the wine! The Huon Valley is responsible for just 1% of wine distribution coming out of Tasmania. The wineries in the region, though small in scale, make up for it in personality and character.
As mentioned before, there are so many farms, vineyards, and orchids in this region; you may not have time for anything else. If you're in the neighbourhood for a while, you should check out the breathtaking sculpture trail up the Huon River. Don't forget to dine in at the Willie Smith Apple Shed, where the open fire is endearing, the food is hearty, and the ale is always cold.
Best Places To Eat in Hobart
There is a lot of wine to try and a lot of vineyards to visit. But the local restaurant owners are very switched on when it comes to "drinking in the region you are eating. The philosophy shows that when you eat good produce that is grown in the same area as the wine, the flavours of the earth will connect.
Nearly all Restaurants (that know what they are doing) will have at least a whole page of Tasmanian wine in their wine list. If they don't… go somewhere else.
Here are some restaurants that you can choose from that will save you time researching and possibly getting let down.
Fico
is an Italian Bistro that focuses on great Tasmanian and Italian wine and nothing but the freshest produce. They change the menu every week, to suit what is ripe and delicious so they can maintain quality. Its located in the Heart of Hobart City, and the restaurant layout is earthy, comfortable and you feel like you know everyone when you walk through the door.

The Black Cow
The Black Cow has won best steak in Tasmania; they only use Tasmanian beef, which has said to rival the farmers in Japan that are at the top of the game. Their mentality is that "a happy cow tastes better." It's not all steak though; The Black Cow has a great Asian Fusion, serving fresh Sashimi and Oysters, which is unique in itself. Located in Tasmania's northern city of Launceston, this culinary institute is not one to miss.
Aloft
Aloft reflects the changing seasons and the raw nature of Tasmania. They really highlight the relationship between nature, quality produce, and cultural history. Located at the top level of the floating Brooke Street Pier on Hobart's waterfront, the views are stunning, and the cocktail and wine menu is extensive.
Not Just a Little Island
Tasmanians are always in an uproar for being left off the map, forgotten in songs, and only being known for the devil in the Looney Toons Squad. Though the state has been thrown a few curveballs, this little island is making its dent in the industry. Watch as your bottlos slowly start to fill with Tasmania's elegant cool-climate wines.
Whether you make it to the state and get to visit some wineries or you purchase a bottle and drink it on the couch at home, enjoy Tasmania's nectar of the gods and think of paradise as you savour the flavour.