More than just a region in South Australia, Barossa Valley is a celebration of cultures, food, art, and of course, wine! Some of the best wineries in the Barossa Valley are acclaimed worldwide and for good reason too! Wine Regions Australia has the inside goss on the best wine tours in the Barossa Valley alongside some local knowledge of the best Barossa Valley wineries. You have to be strategic when picking your destination when you're on a wine holiday. We want you to see and taste as much as possible but at the highest quality; quantity is great but it usually results in a pulsating headache the next day. But hey we'll even give you a couple great activities to check out that are perfect for working off a hangover.
Strap in as we explore the best wine tours and Barossa Valley wineries.
---
The Barossa Valley Wine Region
Barossa Valley wineries and wine culture are heavily influenced by the German settlers who arrived in the area in the mid-19th century. After years of trying different agricultural avenues, the settlers decided that the warm and fertile soil of Barossa Valley was perfect for viticulture. So Barossa started its journey of becoming one of the world's most renowned wine regions.
A 50-minute drive northeast of Adelaide will take you to one of Australia's oldest and most premier wine regions. The Barossa Valley, though it's just 25km long, is the source of 21% of Australia's wine. Neighbouring vineyards (and beyond) buy grapes from the region because they have a high quality yield and, well, its the Barossa, why wouldn't you use their grapes? They've been perfecting it for long enough!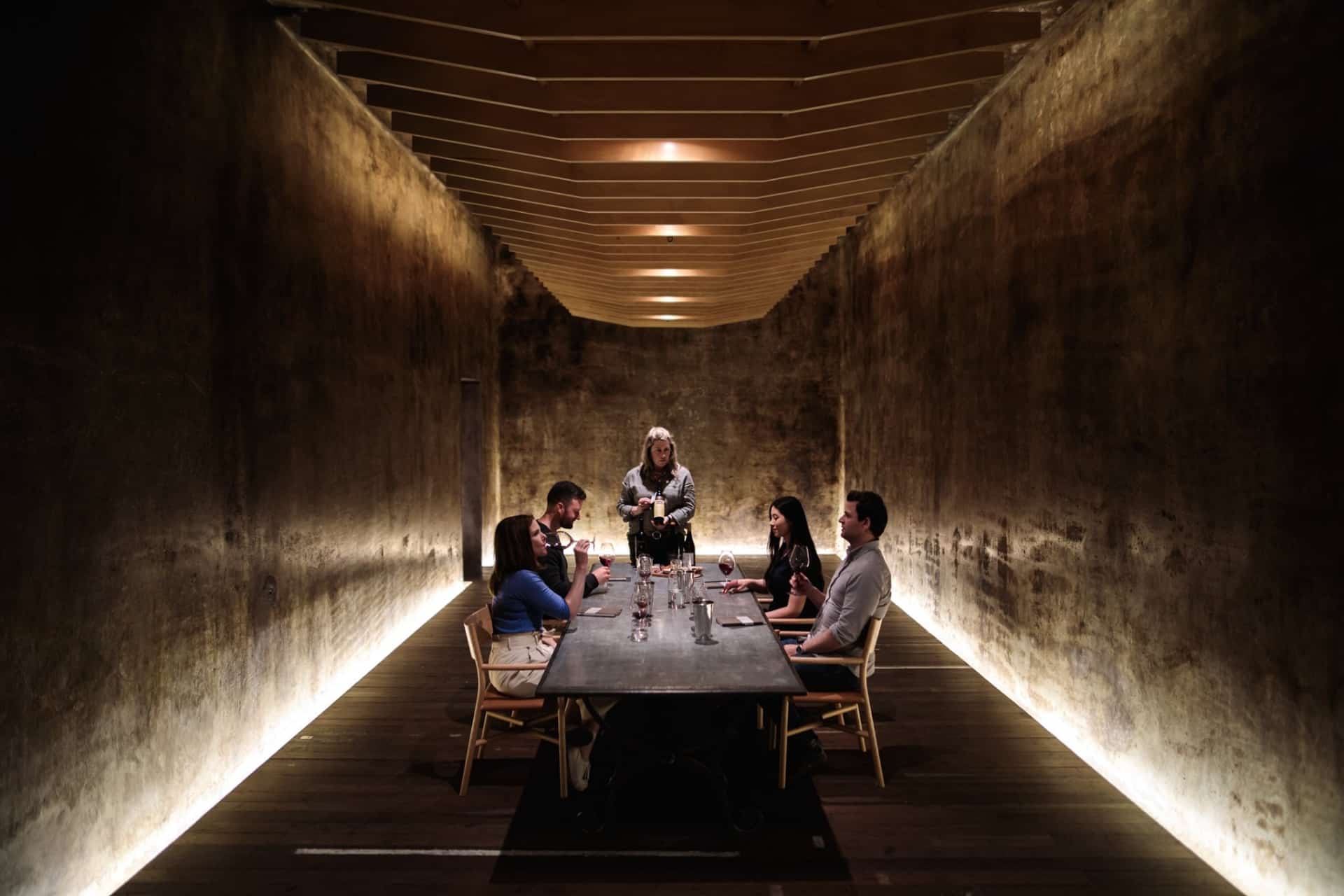 Wine Styles
Barossa Valley Shiraz is the most influential wine that Australia has ever place on the world-wide table. Barossa Valley Shiraz captures 53 % of total distribution in the region. It's known to be powerful, full-bodied, spicy and if cellared properly ages extremely well, making Shiraz in the Barossa Valley a good investment as well as being incredibly delicious.
The Barossa Zone circles the Barossa Valley and Eden Valley. The Eden Valley neighbours the Barossa and seems to be the Yin to its Yang in the zone with Riesling taking 33 % of total production. The region is astonishingly diverse in character which is another reason to partake in a Barossa Valley wine tour. Give yourself every opportunity to experience the full extent of the region.
---
Wine Tours in the Barossa Valley
Wine Regions Australia recommends exploring the Barossa Valley in a safe manner. When wine is involved winelovers tend to over-indulge; that's why its smart to get a chauffeur!
Barossa Boutique Wine Tours
Barossa Boutique Wine Tours focus on emphasising the history and elegance of the region. Collaborating with some of the most experienced guides in the business, the tour packs in knowledge, flair and of course some impeccible wine tastings.
There are five different tours you can choose from all catering to a different aspect of the region, here are our favourites!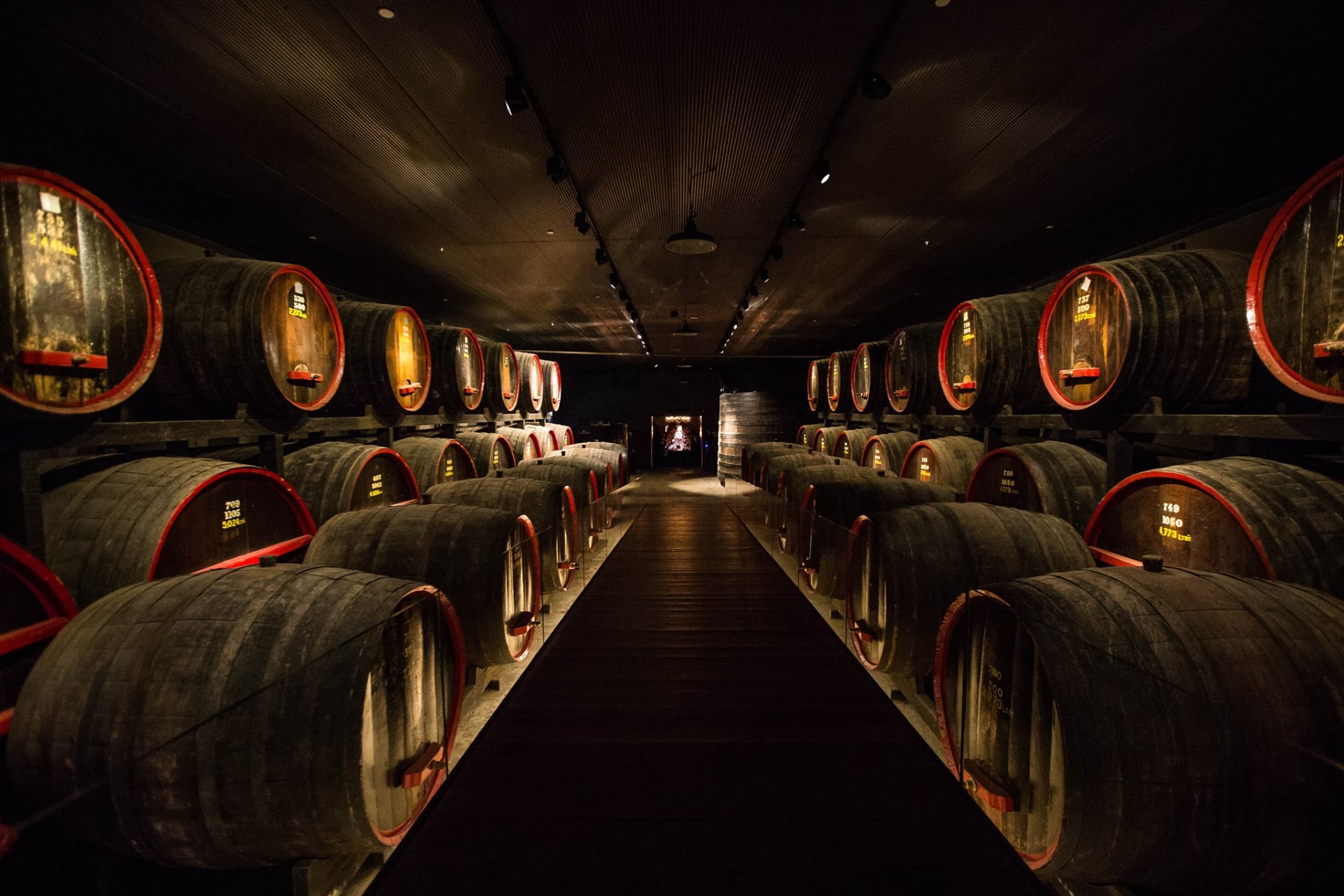 Private Tour of the Barossa Valley
Luxury vehicle, pick up and drop off
One on one with wine makers
Cheese tasting
Lunch included
Premium Boutique Wine Tour of the Barossa Valley
Exclusive private winery tours
Luxury vehicle, pick up and drop off
Lunch included with matched wines
Wine tasting with winemaker of the year
Tour of the oldest Shiraz vines in the world at Langmeil Winery
Wine and Wildlife Tour of the Barossa Valley
Tour of the Gorge Wildlife Park
Up close and personal holding animales (if you want to)
Tour of a couple boutique Barossa Valley wineries
Lunch included
Wine tours in the Barossa Valley are a great way to see multiple vineyards. No one really likes using a spitoon, so avoid the whole predicament and get someone else to drive!
---
Getting There
Being so close to the South Australia means transportation is no problem. There are daily flights to Adelaide from all major airports. After you arrive at the airport, you can drive from Adelaide Airport to Barossa Valley in just an hour. Public transport options car rentals or Barossa Valley wine tour airport pick-ups are also available
---
Best Barossa Valley Wineries
There are a surplus of quality Barossa Valley wineries and sometimes it comes down to personal experience and preference deciding which are "the best". So here is Wine Regions Australia's rendition of the best Barossa Valley wineries. We've taken upon ourselves to find inside knowledge so you'll get the most out of your wine holiday, we bet you deserve it!
Kies Family Wines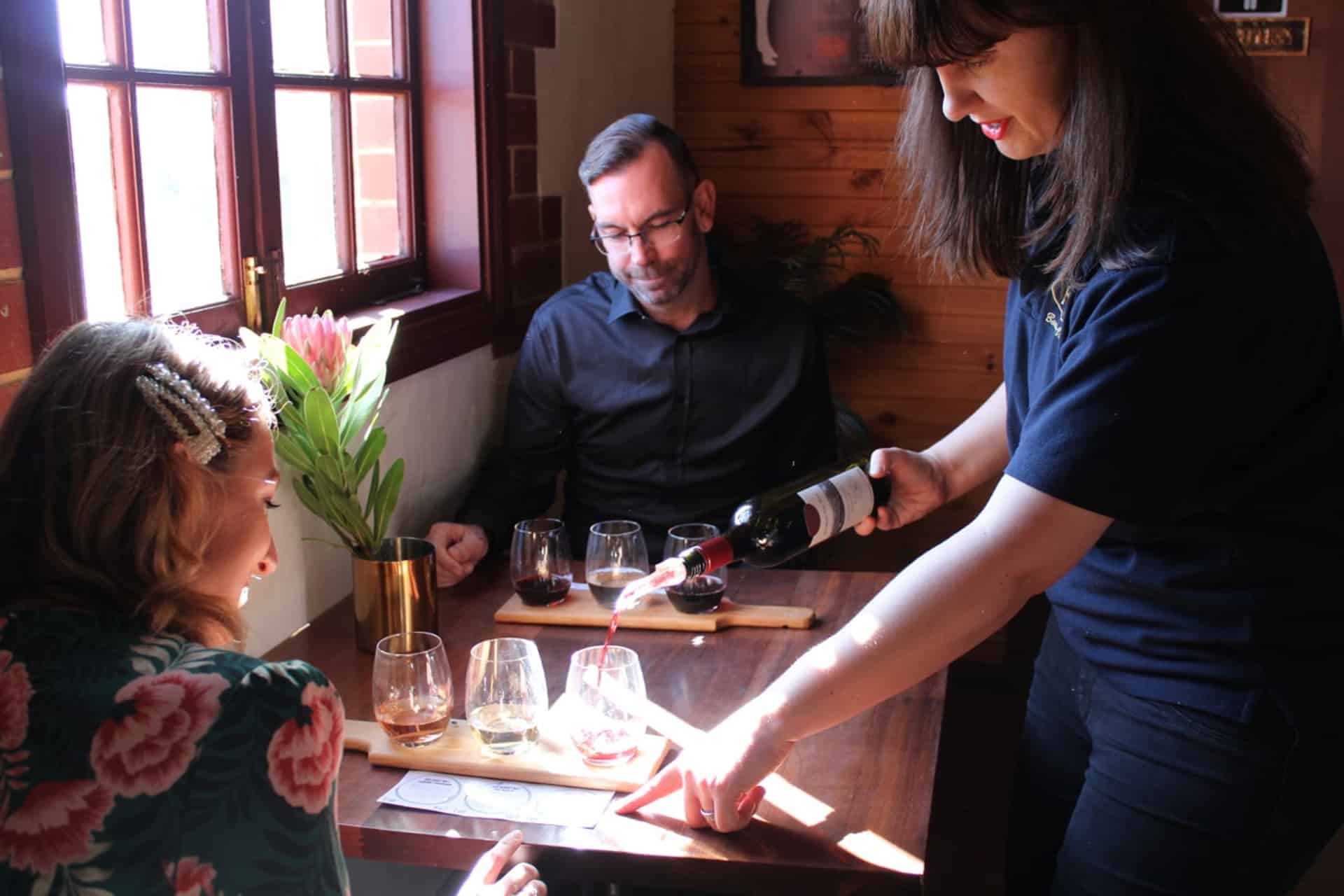 Plonked on our list of the best Barossa Valley wineries, the Kies family has been a part of the Barossa wine culture since 1857. The current generation of winemakers Tina and Michael opened the Kies Family winery in 1985 by renovating a little cottage once used as a chaff mill, into a rustic ironstone cellar door.
The winery produces an award-winning wine range of fruit-driven whites, full-bodied reds and a selection of fortified wines in small quantities. Their philosophy has been "not to get bigger just get better" which is why they focus on quality rather than quantity.
The wine can be paired with platters and light snacks that are served at the Monkey Nut Café. They also have great coffee and homemade dishes on offer.
Reviews:
4.9 ⭐️ Google Review from 305 reviews
5.0 ⭐️ Trip Advisor from 321 reviews
Murray Street Vineyards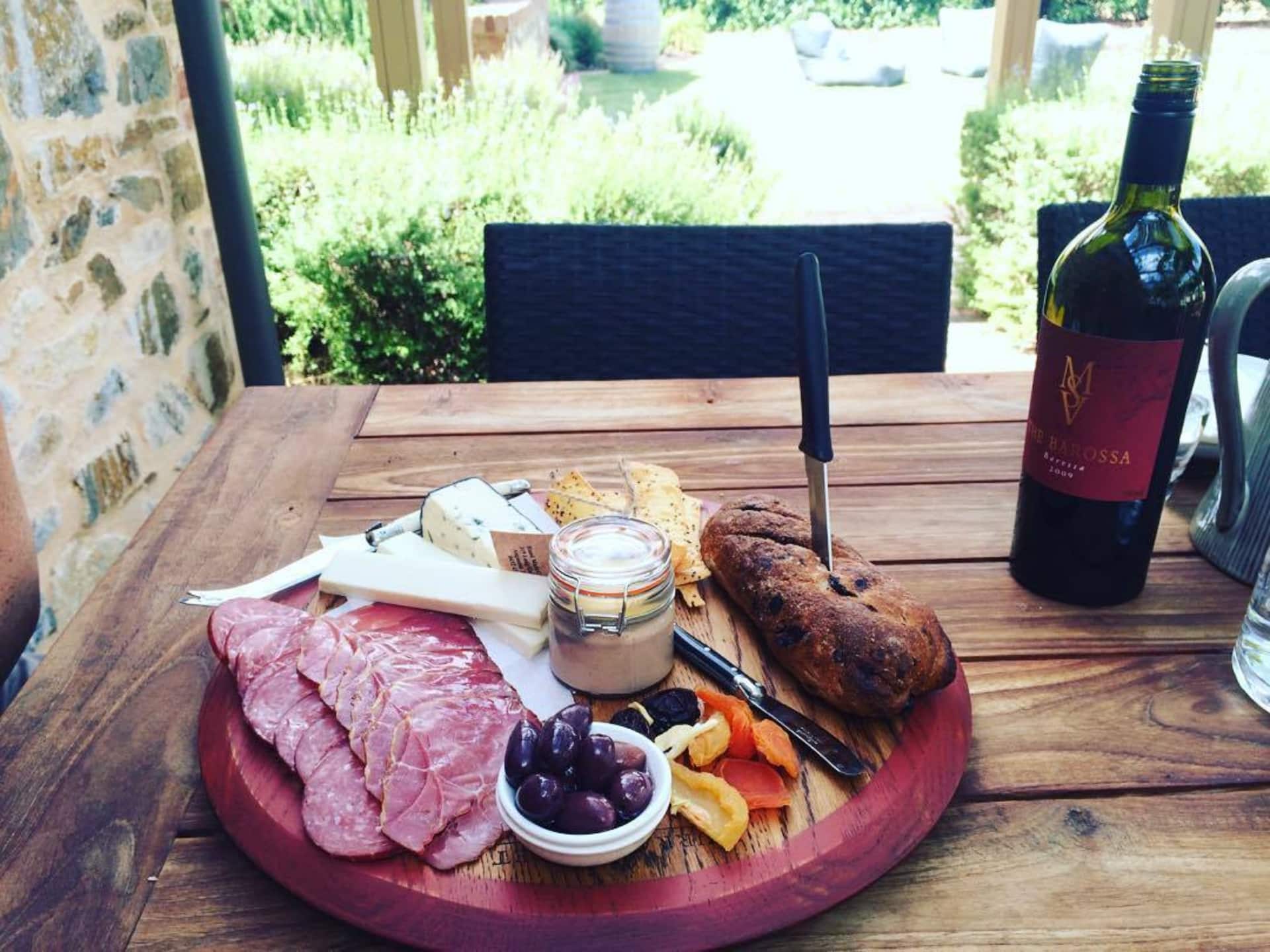 The name of this winery sounds like an address. That's because it is – the address to one of the best Barossa Valley wineries. It was established in 2001 with an aim to utilise the perfect mix of wet winter and dry summer weather to create some excellent fruit. Today, the estate specialises in producing some fantastic bottles of Barossa Valley Shiraz.
Visit the Greenock Estate Tasting Room where you can enjoy an excellent wine paired with a local produce platter against the beautiful backdrop of Western Ridge. The Tasting Room has been rated as a "number 1 thing to do" by TripAdvisor in 2015, 2016 and 2017. What's the point of visiting a winery without a wine tasting tour?
Reviews:
4.8 ⭐️ Google Review from 109 reviews
5.0 ⭐️ Trip Advisor from 347 reviews
Langmeil Winery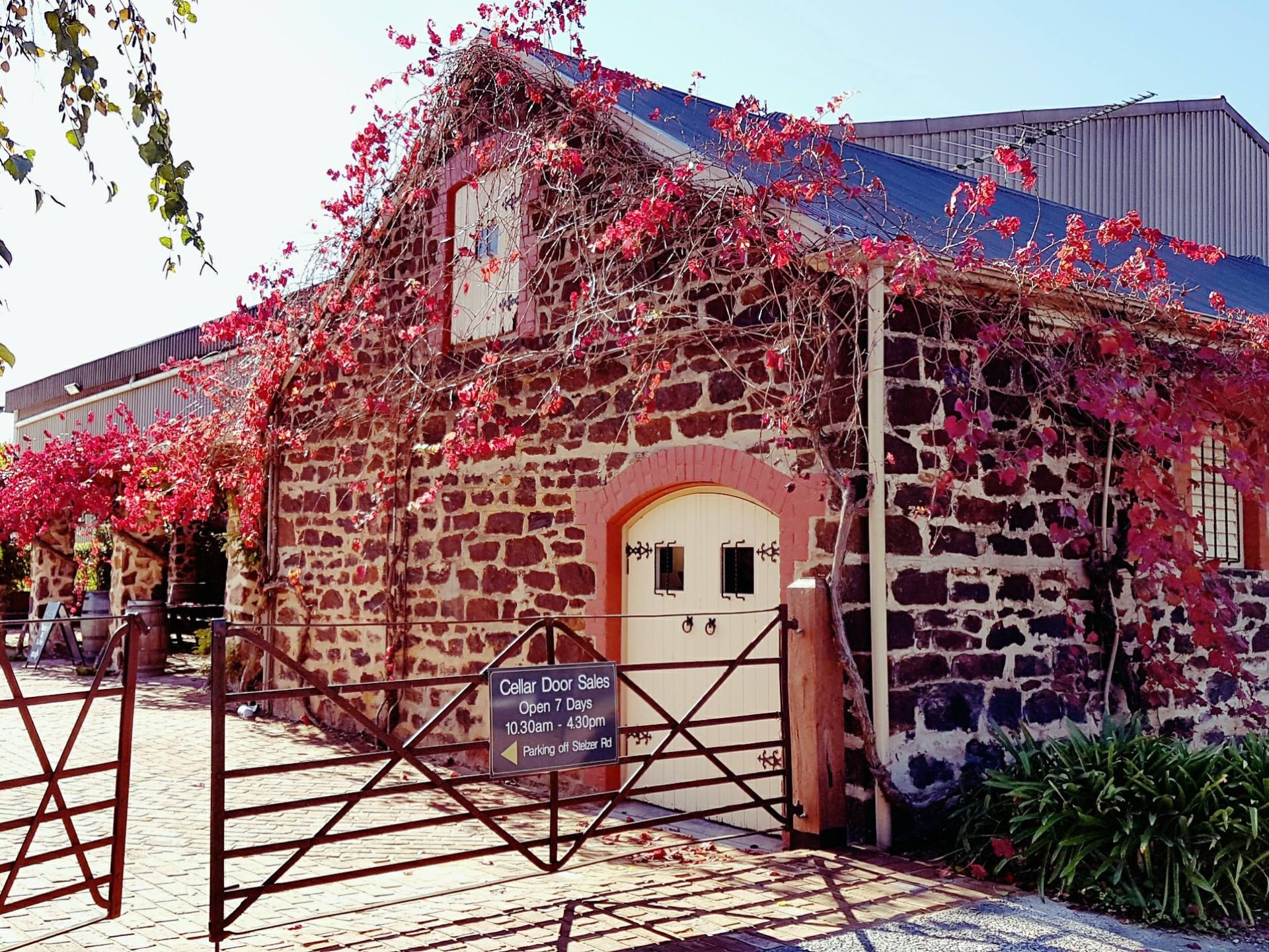 Owned and operated by the Lindner family for six generations, Langmeil Winery is home to the oldest block of Shiraz in Australia – the first vine being planted back in the 1840s. It's also where the famous Langmeil Freedom 1843 Shiraz comes from.
Today, the Langmeil Winery is known across the globe for making award-winning premium wines. The estate was resurrected in 1996 and now offers a host of wonderful experiences, including the famous Freedom Experience. The Freedom Cellar is an underground cellar where you can taste Langmeil's most rare and sought-after wines. It also includes a guided historical tour of the 1842 Langmeil property and a visit to the Freedom 1843 vineyard. The Freedom Experience is a stop off on the Premium Boutique Wine Tour of the Barossa Valley.
Reviews:
4.8 ⭐️ Google Review from 127 reviews
5.0 ⭐️ Trip Advisor from 357 reviews
Pindarie Winery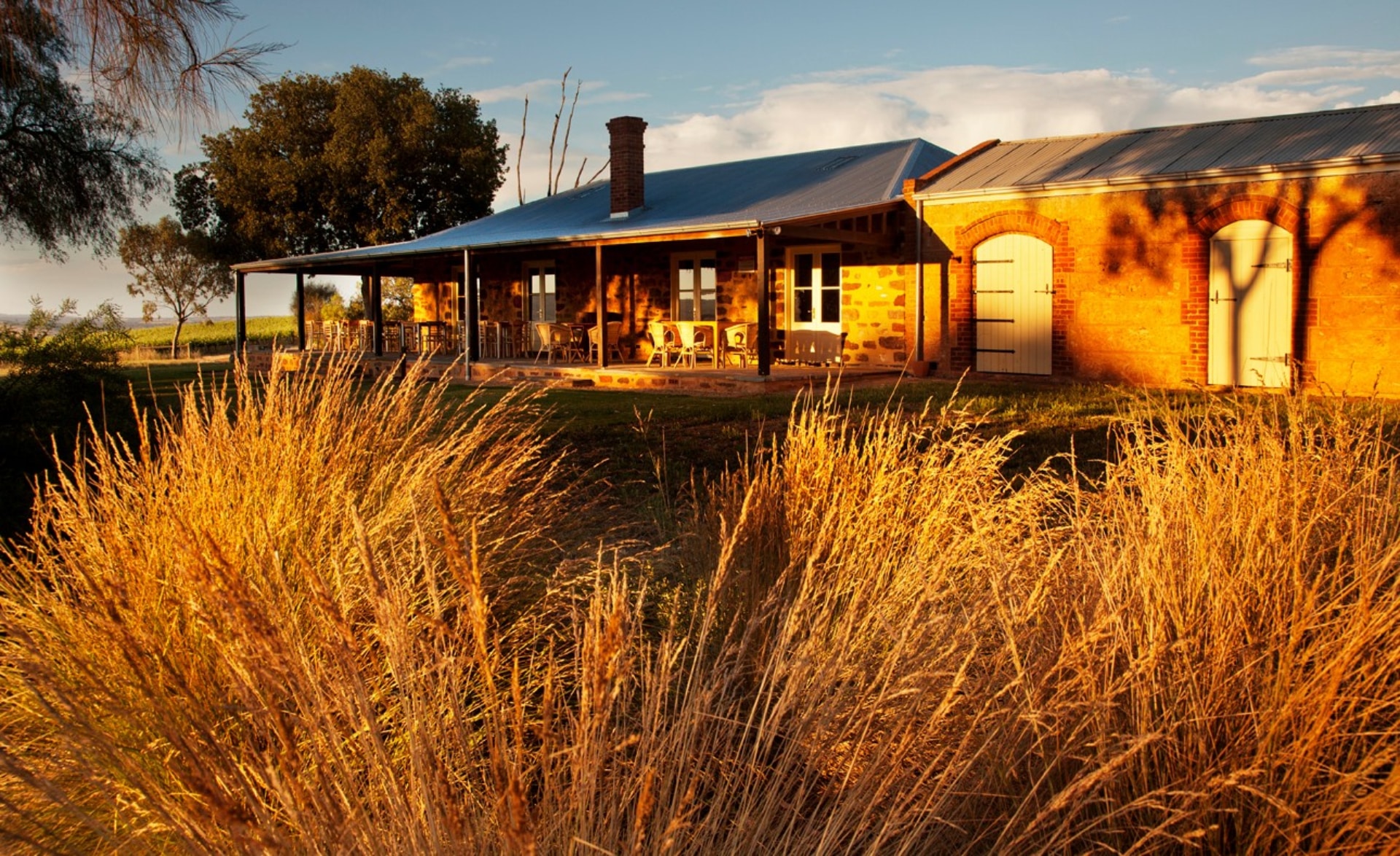 A family-owned property, Pindarie Winery features a 100-acre vineyard, a 750-acre farm, and a multiple tourism award-winning cellar door which is why Wine Regions has awarded it one of the best wineries in the Barossa Valley!
"The hints of toast and dark chocolate come in part from fruit and in part from the fine French oak in which the wine sleeps for many months". – 2014 Weston Ridge Shiraz.
Winemakers Tony and Wendy have spent over 20 years restoring Pindarie's original farm buildings. Today, the cellar doors offer a fantastic 360-degree view of the vineyard that goes very well with the handcrafted wines including Shiraz, Tempranillo and Cabernet Sauvignon.
The cellar door's Grain Store offers seasonal lunches made from local produce. Enjoy a range of delicious handmade pies, seasonal platters, beverages, cheeses, and much more!
Reviews:
4.6 ⭐️ Google Review from 134 reviews
4.5 ⭐️ Trip Advisor from 227 reviews
Whistler Wines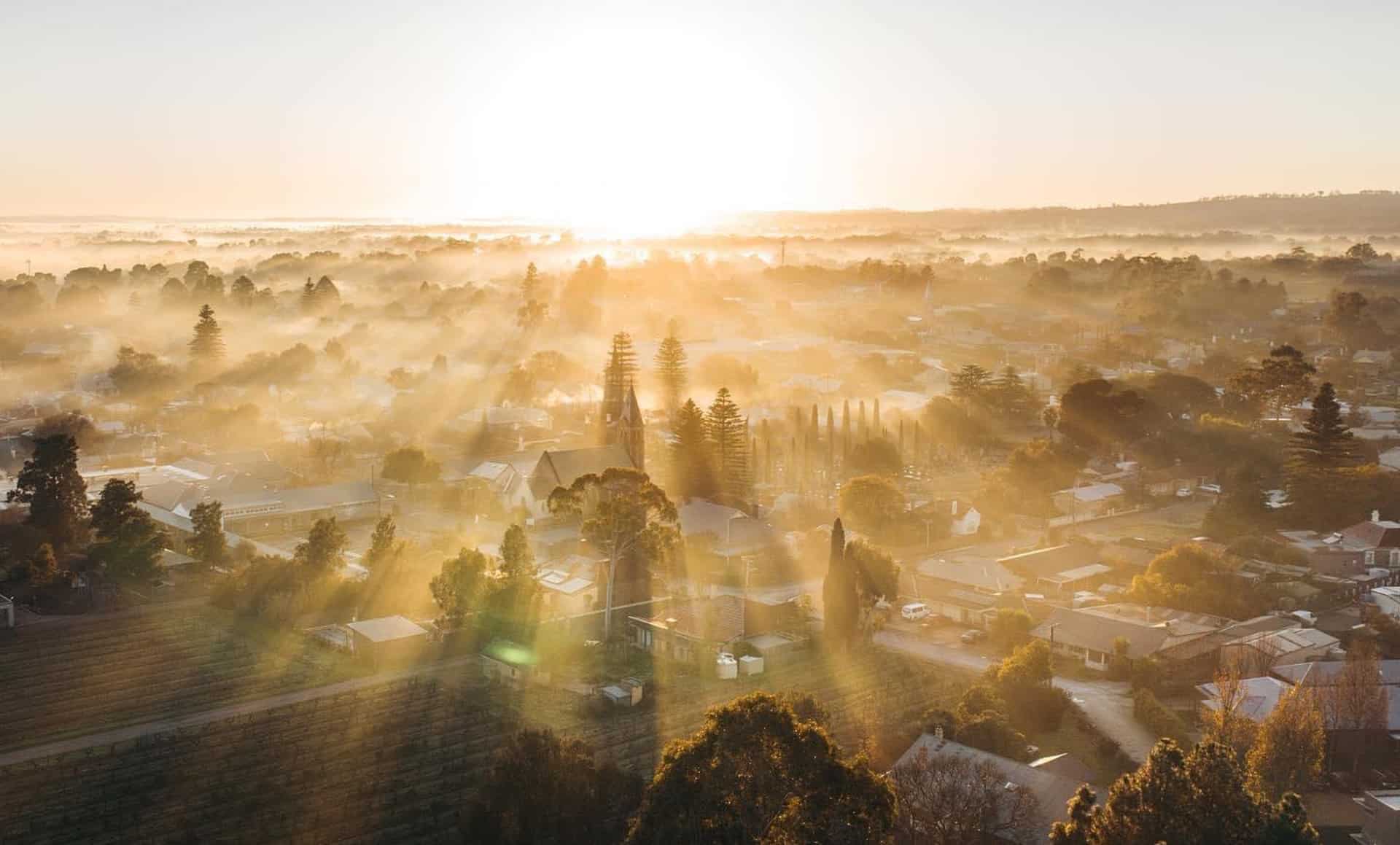 Four generations of the Pfeiffer family have dedicated their lives to growing grapes of the highest quality. Established in 1999 by third-generation brothers Chris and Martin, Whistler Wines produces seven varieties of estate-grown wines including Shiraz, Merlot, cabernet sauvignon, Riesling, and more.
The winery is managed currently by fourth-generation grape grower Josh Pfeiffer, who combines modern and traditional practices to create premium yet sustainable wines.
Experience some of these fantastic wines at the cellar door along with cheese platters. The winery is also famous for holding food and wine events featuring local artists and food producers. Wine, food, and music create the perfect atmosphere for a good time.
Reviews:
4.7 ⭐️ Google Review from 102 reviews
4.5 ⭐️ Trip Advisor from 165 reviews
Kellermeister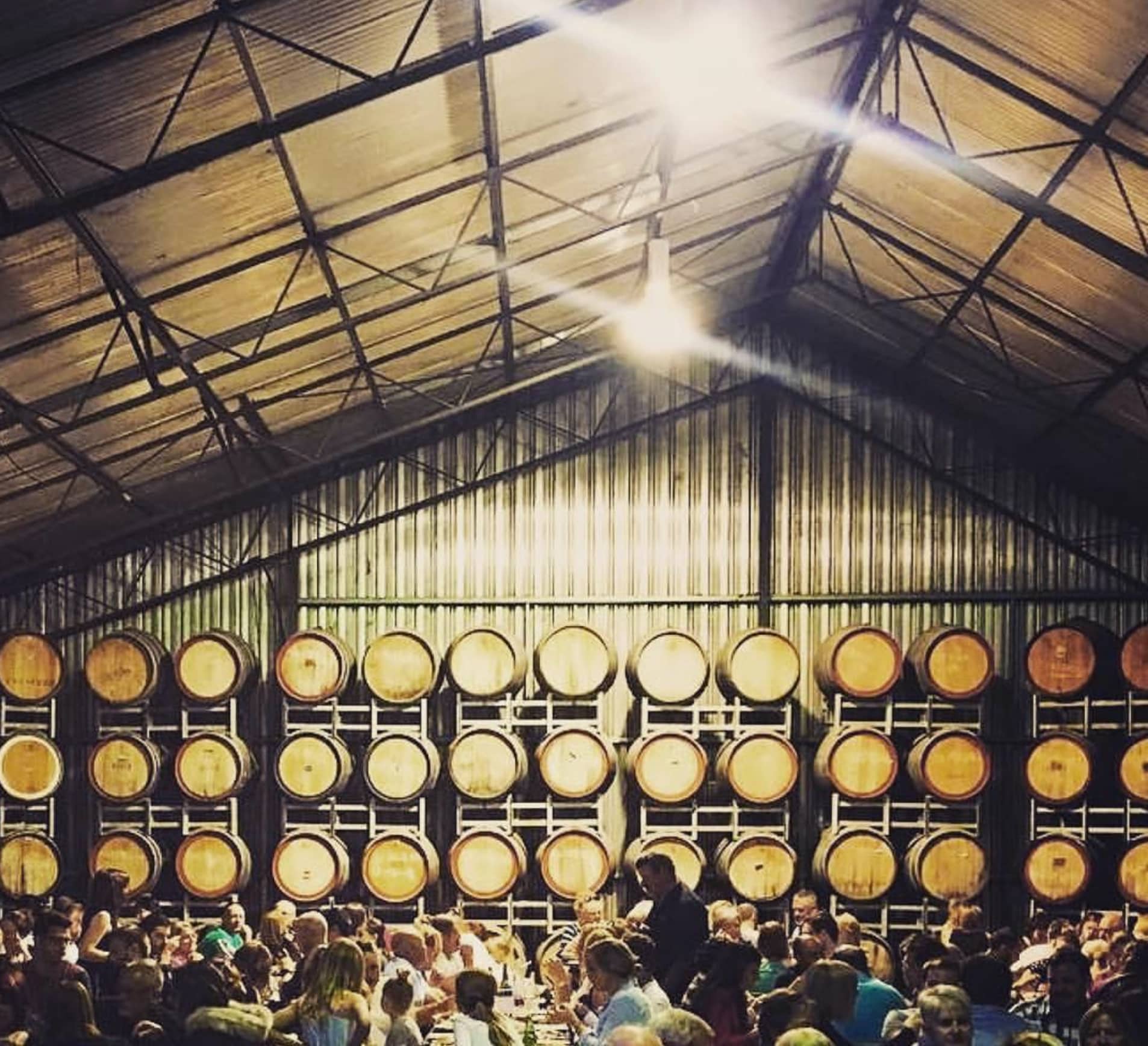 Founded in 1976 by Ralph Jones, Kellermeister is a family-run winery, owned and operated by the Pierce family who acquired the business in 2012. Today, the winery is rated in the top 7% of Australian producers by wine critic James Halliday.
In the mudbrick cellar door, you'll be treated to a range of award-winning wines, cider and fresh local Barossa produce platters. Pair this with picturesque views of the Barossa Valley, and you get one of the best cellar door experiences in the valley.
Reviews:
4.6 ⭐️ Google Review from 175 reviews
4.5 ⭐️ Trip Advisor from 198 reviews
Peter Lehmann
Peter Lehmann Wines was built in 1979 in Tanunda on the banks of the North Para River. The winery has some of the oldest vines of Shiraz in the Barossa Valley with which they make some of Australia's most prestigious wines.
In the winter, guests can sit by the open fire and enjoy some outstanding wines. While on a sunny day, the picnic tables and open grounds make for the perfect setting to relax with your friends and have a good time.
The Cellar Door offers wine tastings of more than 40 wines which can be enjoyed with a
fresh and locally-produced food menu that changes seasonally.
Reviews:
4.6 ⭐️ Google Review from 130 reviews
4.5 ⭐️ Trip Advisor from 373 reviews
Penfolds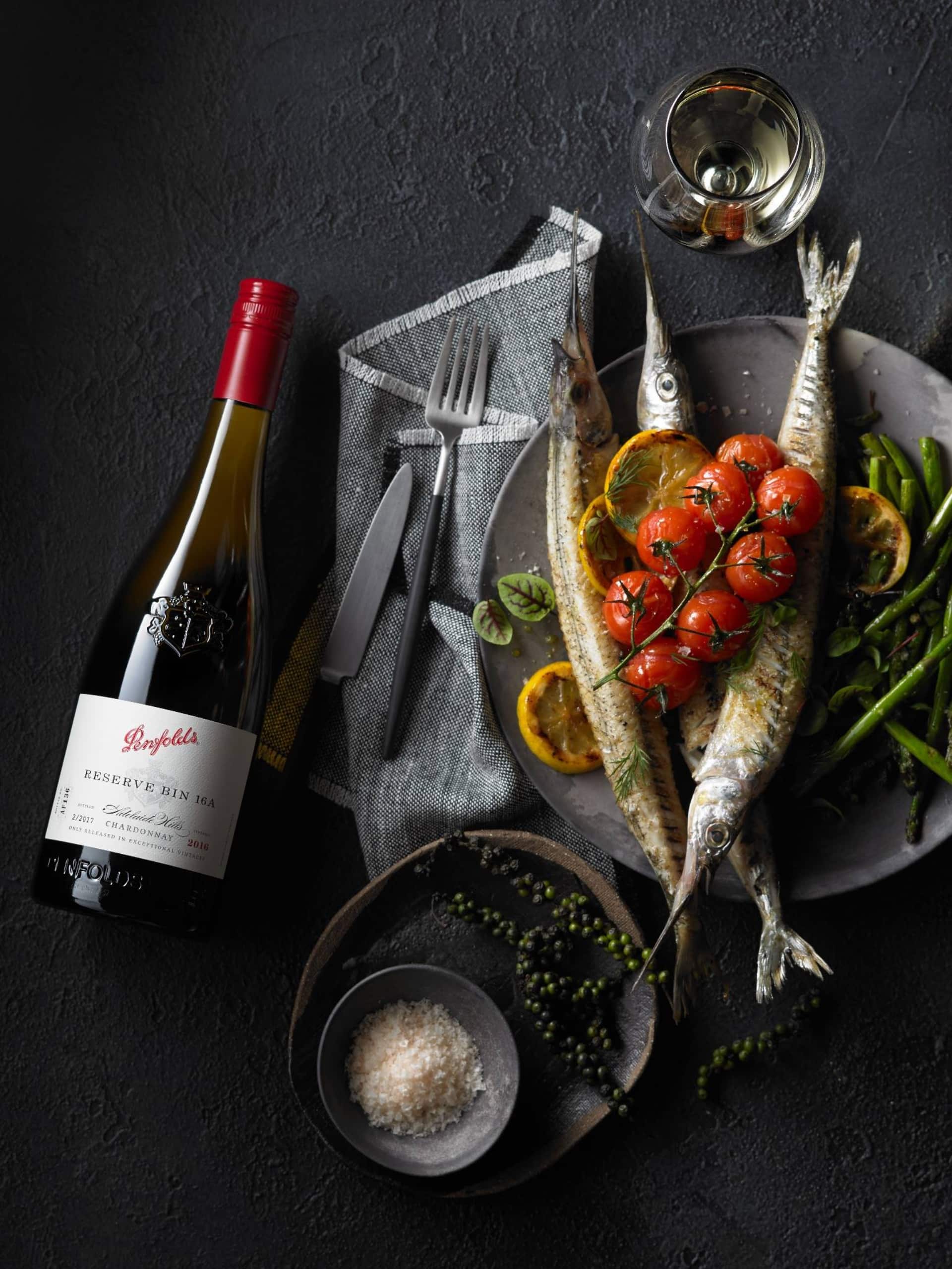 Built in 1911, the Penfolds winery sits comfortably in the heart of Barossa Valley. The Penfolds vineyard in Barossa Valley is home to the Kalimna Block 42 vines which are thought to be the oldest continuously-producing Cabernet Sauvignon vines in the world.
The cellar door is a must-visit. Not only does it provide some great wines to taste but also the Make Your Own Blend Tour. Learn the philosophy and spirit behind Australia's top shelf wines – by creating your own. You get to enter the winemakers' laboratory and use popular grapes to make your own blend which is then placed into a bottle for you to take home.
Reviews:
4.3 ⭐️ Google Review from 253 reviews
4.0 ⭐️ Trip Advisor from 374 reviews
Things to Do in the Barossa Valley
Yes, the valley is known for its wine, but that's not all. It's also famous for its food, people and entertaining local festivals. You have cycling tours, hot-air balloon rides, farmer's markets, music festivals, award-winning restaurants, and more to keep you entertained for your entire trip. You're not getting bored at Barossa Valley.
The Barossa Farmers Market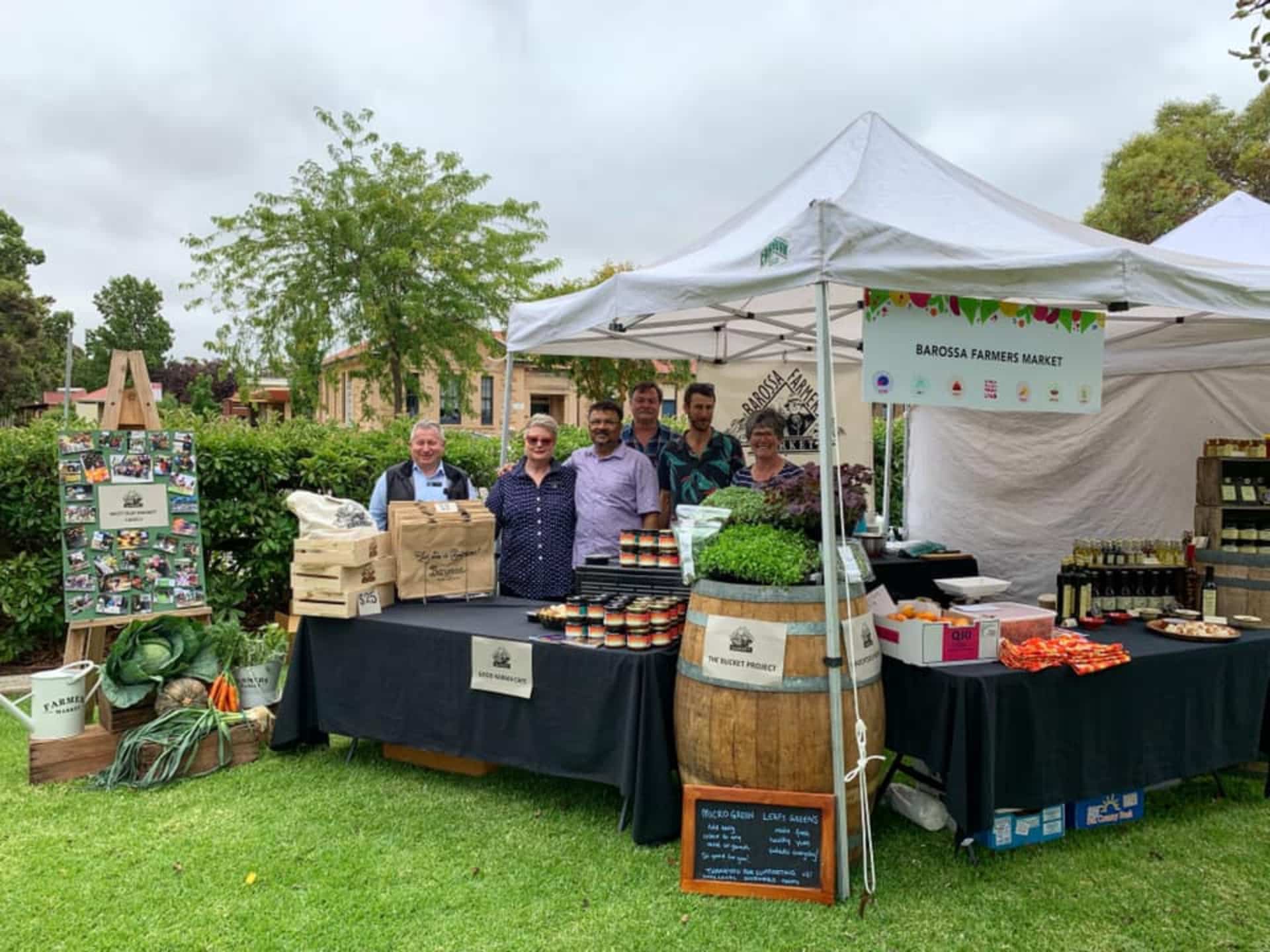 We promised a few activities to partake in that would help cure a hangover. We've always found that quality produce, a fresh juice and buying yourself something nice can help you forget all the worries of the world.
The Barossa Farmers Market is a central meeting place for all winemakers, farmers, and artists to gather and share the fruits of their labour with the general public. If you've got a little kitchen at the accommodation your staying at then gather up some fresh vegetables (plucked from the earth that morning probably) some quality Barossa raised meat, top off your basket of goodies with a quality vino and you got yourself a meal that any restaurant would charge an arm and a leg for.
Maggie Beer's Farm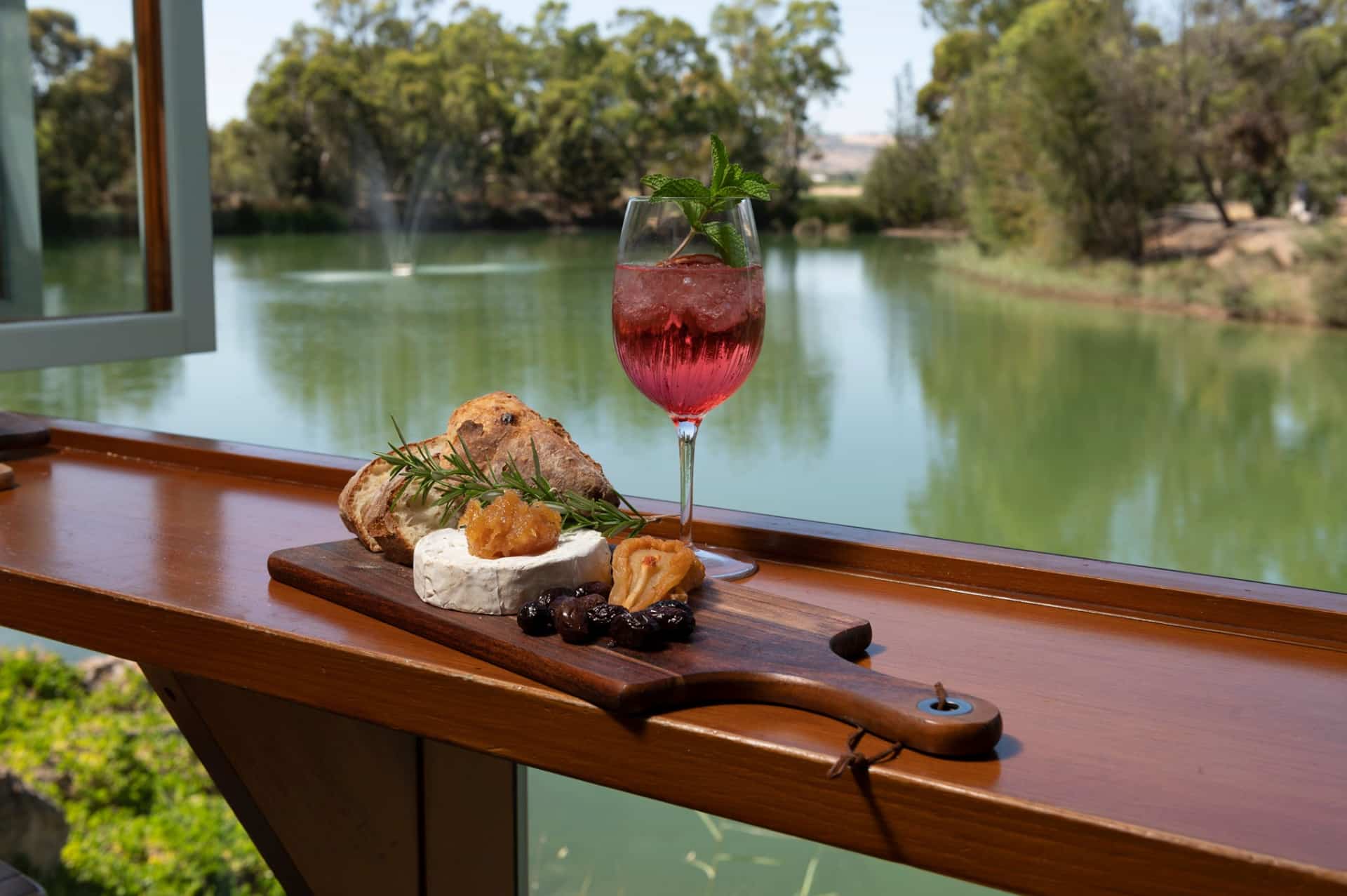 The Maggie Beer Farm provides an experience of the senses where you feed your brain as well as your mouth. Learn to cook with a group of friends as the Farm Eatery restaurant doubles as a hands on culinary class where you'll learn great techniques, flavour combinations from award-winning chef Tim Bourke. Then enjoy your creation (if you've made it edible) with a nice glass of wine.
Make sure you check out the pantry on the way out. All the best Maggie Beer products and more can be found on the Shelf.
Balloon Adventures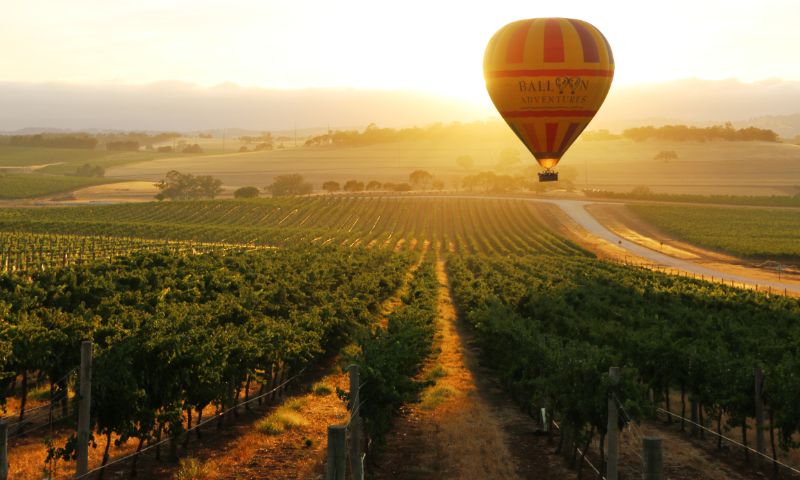 What's a trip to a wine region without the sensation of floating through the clouds and into the golden sunrise peeping up over the green pastures of the Barossa Valley? Balloon Adventures offer this exact experience; with a gourmet breakfast included, it's well worth the investment.

We hope you've enjoyed our take on the best Barossa Valley wineries! Drink, be merry, and lap up the adventures that this abundant region has to offer!
Looking for more wineries near you?