Located amongst the Mount Lofty Ranges and Gulf St Vincent beaches are where you can find McLaren Vale Wineries.
McLaren Vale offers amazing wine, food, art and nature. It's the birthplace of South Australia's wine industry and home to some of the world's oldest grapevines.
Only being a 45-minute drive South of Adelaide in South Australia. McLaren Vale is home to sustainable wine-growing, award-winning McLaren Vale vineyards and food experiences. As well as impeccable natural attractions and exceptional tourist attractions.
Other Popular Articles on The Mclaren Vale Wine Region
---
How to get there
If you are wanting to explore at your own pace travelling by car is the best way to visit McLaren Vale wineries which is approximately a 45-minute drive south of Adelaide.
From Adelaide, we recommend driving along the scenic route through the Adelaide Hills to get to McLaren Vale. Via O'Halloran Hill, Chandlers Hill, Clarendon, Kangarilla and McLaren Flat. On the way back to Adelaide, we recommend driving along the stunning coastal route.
By helicopter, see McLaren Vale Wineries from the air, stop by for some lunch or even stay the night and be picked up a day (or two) later.
By bus, jump aboard the McLaren Vale hop on hop off trailhopper tour bus. These buses leave from Adelaide City (from the Stamford Plaza Hotel) at 11 am and go every hour for you to hop on or off the wineries around McLaren Vale. The last stop is the visitor's information centre just past Hardy's Tintara. All city pick up tickets are return trip for $69.95pp on weekdays and $79.95pp on weekends.
By bike, take a day trip on a scenic route bike riding with a group of wine lovers around McLaren Vale vineyards. Enjoy wine tastings, local produce for lunch and you might even see some koalas along the way. If you book with Tour De Vines Gourmet Cycling Tours the total day will cost you $145pp and if you like they even have e-bikes available for only $25 extra.
---
The Top 6 Highest Rated Wineries
McLaren Vale is the birthplace of the South Australian wine industry and home to some of the world's oldest vineyards. There are more than 80 superb McLaren Vale Wineries in the region. And although the region is best known for its Shiraz, its also known for producing premium Grenache and Cabernet varieties.
D'arenberg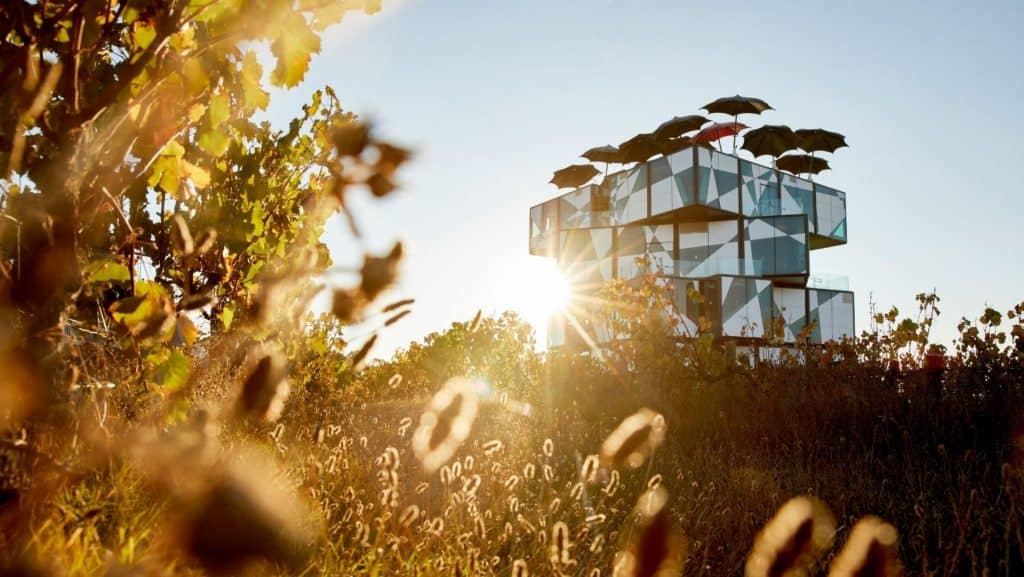 Since 1912, the Osborn family have tended to vineyards in McLaren Vale, South Australia. Today, a fourth-generation family member, Chester, makes unique wines using traditional wine-making methods.
D'arenberg is known for the 'cube' in the centre of the winery. The D'Arenberg cube was thought of by winemaker Chester in 2003. It was inspired by the complexities and puzzles of wine-making. Each of the 5 levels of the cube has been designed to entice and excite the senses. This includes a wine inhalation room, a virtual fermenter, a 360-degree video room and plenty more experiences for you to discover. The 'alternate realities' museum can be found on the ground floor of the cube, with various art on display.
To get to the good stuff (the wine of course), you can find their tasting room on the top floor. It is open to the public 7 days a week. The winery is known for its quirkiness (hence, the cube). The winery has a lot to offer, from original stead stables and a wine cellar to a beautiful restaurant, surrounded by luscious gardens. On the other side, you have the modern, insanely unique cube. Home to their wine tasting, a restaurant, art gallery and impeccable views.
Reviews:
4.5 ⭐️ Google Review from 886 reviews
4.5 ⭐️ Trip Advisor from 801 reviews
Samuel's Gorge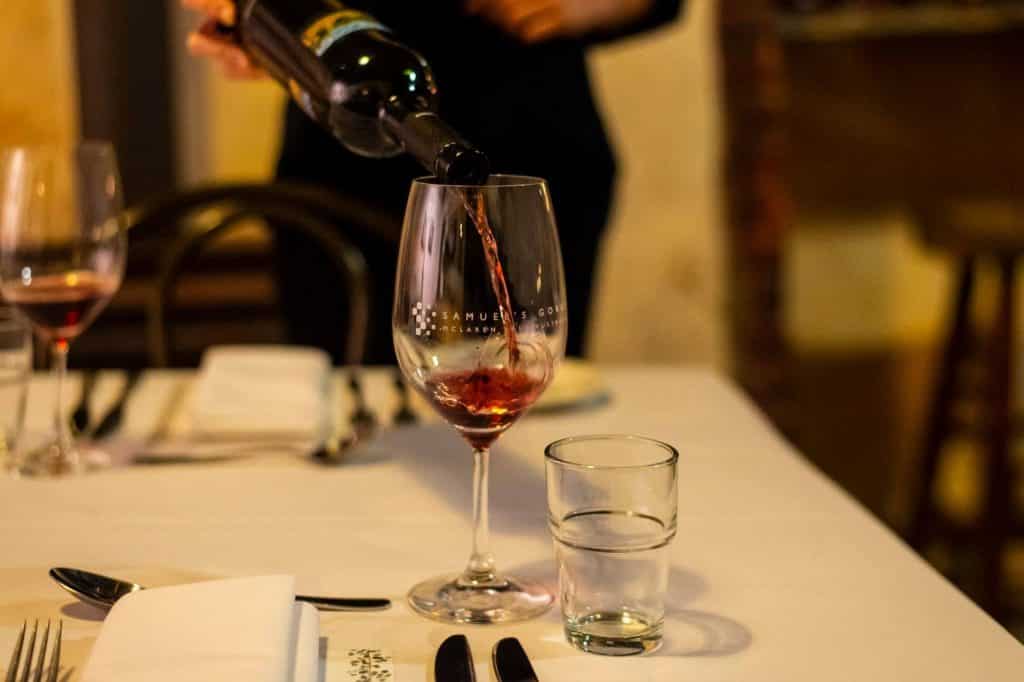 This great winery was established by winemaker Justin McNamee back in 2003. Built in 1853, this rejuvenated farm shed manifests home for all winemakers, locals and visitors alike. Both the winery and cellar door sit atop a ridge.
The winery itself overlooks the beautiful Onkaparinga River National Park on one side, and the ocean on the other. Samuel's Gorge is a unique, boutique winery that specialises in small-batch red wines; in particular, Shiraz, Grenache, Graciano, Mourvedre and last but not least – Tempranillo. These hand-crafted wines reflect the winery and the hard work that has been put into it. The staff are very knowledgable and friendly, the winery has an overall relaxed vibe and the wine is just simply excellent. This winery engages in patient techniques, ensuring only the highest quality is produced and sold to their customers.
Reviews:
4.9 ⭐️ Google Review from 200 reviews
4.5 ⭐️ Trip Advisor from 200 reviews
Mitolo Wines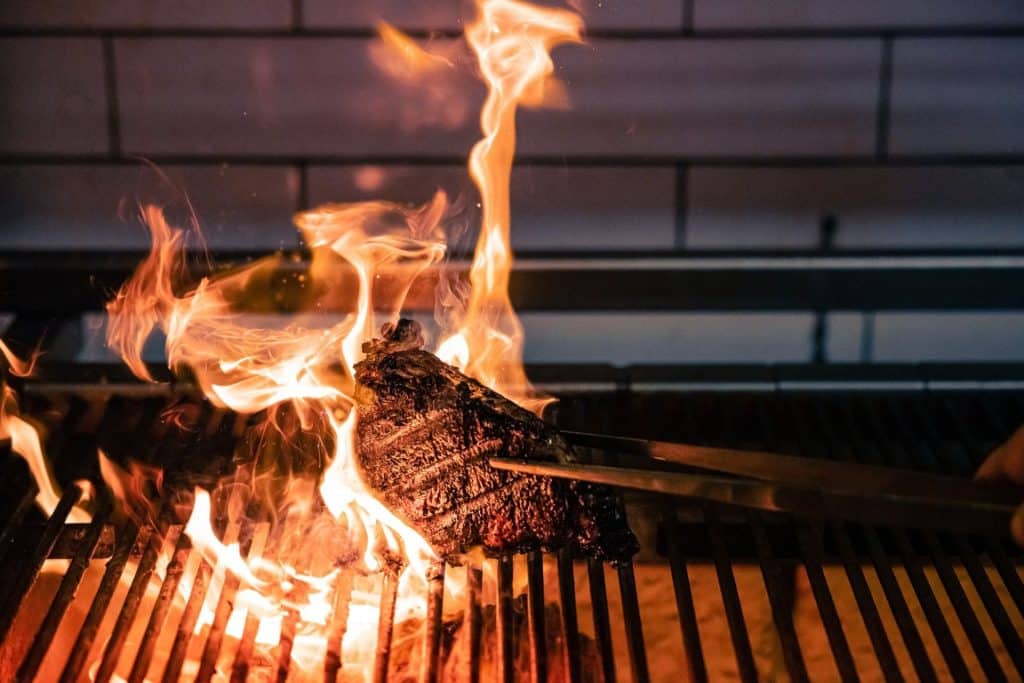 After years of working in his family's old potato business, Frank Mitolo started making wine as a hobby for his family and friends. In 1999, after a 5-hour discussion with winemaker Ben Glaetzer, the dream of utilising McLaren Vale's rich, soil (perfect for wine) was born. The pair only wrote a simple six-word business plan on the back of a napkin: individuality, integrity, quality, purity, elegance and power. And this is how you could describe Mitolo today.
The first Mitolo wine, the 2000 G.A.M. Shiraz was named after Frank's children Gemma, Alex and Marco. Since this wine was released, Mitolo has added another 10 wines to its range each with a story and unique personality.
Fantastic food, excellent service and exceptional wine are what to expect. And a high-end experience to top it off. We highly recommend indulging in this fine-dining and wine experience. The Mitolo Italian heritage is still strong today. Their business meetings are held over Sunday lunch where they indulge in traditional Italian food and exceptional wine.
Reviews:
4.6 ⭐️ Google Review from 118 reviews
4.5 ⭐️ Trip Advisor from 134 reviews
Oliver's Taranga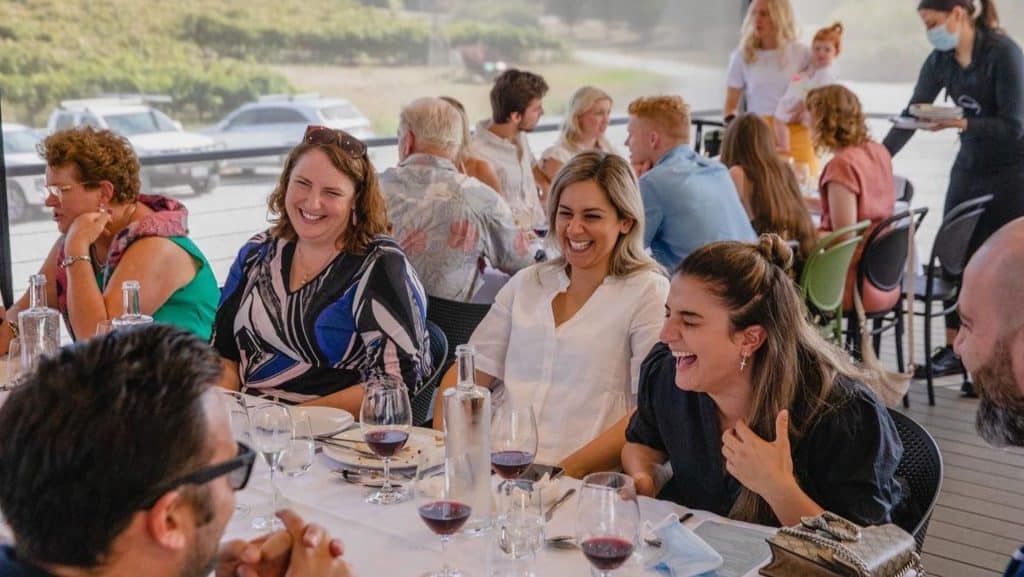 A great winery with unusual yet delicious wine. Their vineyard is home to Mataro, Grenache, Cabernet Sauvignon, Shiraz, Vermentino, Fiano, Tempranillo, Mencia, Touriga, Sagrantino, Merlot, Durif and White Frontignac.
Oliver's Taranga only make their wines using their own premium grapes, they sell their grapes to other wineries like d'Arenberg, Penfolds, Wirra Wirra and Seppeltsfield each year. Their collection of small-batch, handcrafted wines speak of both the variety and vintage, capturing a time and place.
The family has had a 179-year relationship with the land and winery. When it comes to producing premium quality grapes, the Oliver's rely on good old instincts, those that come with years of knowledge of wine and their McLaren Vale land. The staff are very friendly, the wines are unique and you're left feeling well looked after.
Reviews:
4.9 ⭐️ Google Review from 138 reviews
4.5 ⭐️ Trip Advisor from 227 reviews
Hugh Hamilton Wines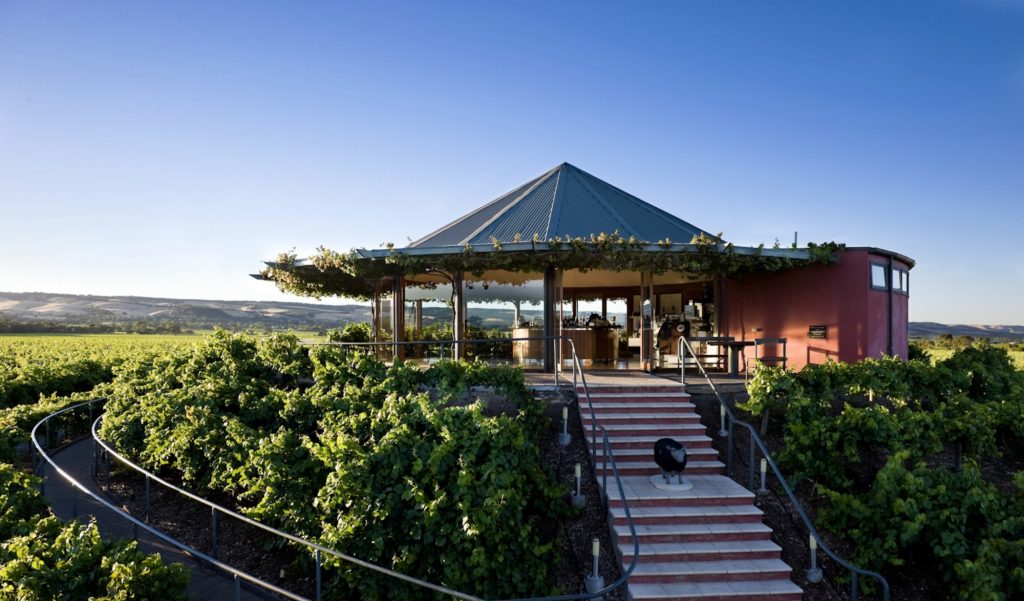 Hugh Hamilton Wines create exceptional wines, topics of conversation & new experiences. Indulge in their unique wines, immerse yourself in their fantastic service and admire the stunning views of the region itself. This must-see winery is set on a ridge, providing 360-degree views of neighbouring vineyards.
All their wines are estate grown, these include Shiraz, Grenache, Cabernet Sauvignon, and Merlot including some of the more rare and unusual varieties including Sangiovese, Tempranillo and Saperavi.
Some of the best service you may receive whilst at a winery, the staff are informative, attentive, friendly, fun and will ensure you feel like regulars from the moment you enter.
In 2017, Hugh Hamilton wines celebrated 180 years since Hugh's great, great grandfather went to South Australia and planted the first vineyards at the winery and later, made the first wine there.

Reviews:
4.7 ⭐️ Google Review from 164 reviews
4.5 ⭐️ Trip Advisor from 248 reviews
Primo Estate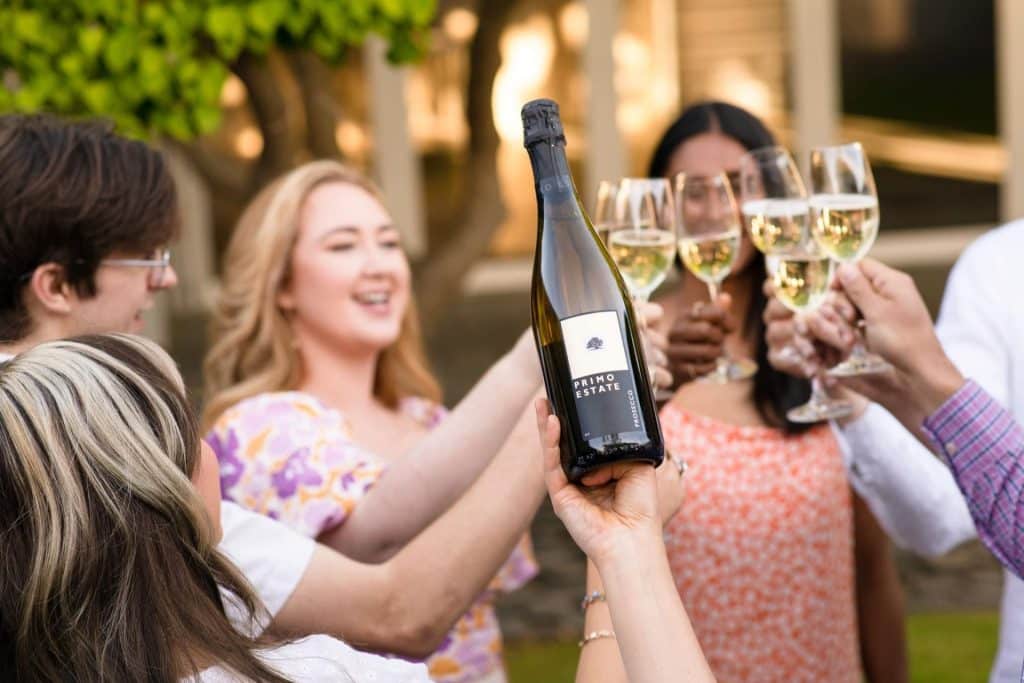 A family-owned winery in beautiful McLaren Vale with a stylish cellar door. Primo Estate is known for its unique wines that reflect their Italian heritage. You can experience their indulgent tasting, representing their true Italian heritage. You will have the opportunity to experience their premium wines with a delicious tasting platter, full of local bread, cheeses and their own Extra Virgin Olive Oil (all for just $20 a head).
If you take home a bottle or two of wine, the tasting fee is refunded upon your purchase. This award-winning winery should definitely be on your list for wineries to visit in the gorgeous McLaren Vale. You'll leave feeling satisfied and well looked after. What's not to love about that?
Reviews:
4.9 ⭐️ Google Review from 72 reviews
5.0 ⭐️ Trip Advisor from 179 reviews
Other Great Things To Do While Your There
Walk or cycle the Shiraz Trail – The eight-kilometre Shiraz Trail follows an old railway line between McLaren Vale and Willunga. The views are stunning and its a great way to work off that wine!
Indulge in the fresh local market – Every Saturday morning, more than 80 farmers and artisan food producers set up shop at the Willunga farmers market. They sell everything from cheeses to chocolates, honey, organic fruit, vegetables and flowers. Definitely add this to your list when visiting Mclaren Vale.
Kayak the Onkaparinga River – Paddle a kayak along the Onkaparinga River, which flows into a magnificent gorge with gliding cliffs in the Onkaparinga River National Park.
View Local Art – South Australian artists regularly exhibit at Red Poles, an art gallery surrounded by vineyards that has a new exhibit every six weeks. You can also explore the restaurant, cellar door and brewery on-site as well as bed and breakfast accommodation.
Visit beaches – McLaren Vale is home to a breathtaking coastline, with six stunning sandy beaches. You can relax on the beaches, snorkel at Port Noarlunga, or dive the 127-year old Star of Greece shipwreck. Sellicks Beach is where the Mount Lofty Ranges meet the sea and it is renowned for its fishing and surfing spots.
Wine Festival – If your in the McLaren Vale region over summer keep a lookout for Wine Machine, music, wine and food festival. In 2019 Wine Machine was held in the first week of December which tickets generally sell out. See their website for announcements on bands playing, locations, dates and to purchase tickets.
Looking for more regions and wineries near you?