Every wine tour is a different experience, which isn't the same as saying they are all excellent. When someone tells you their Yarra Valley wine tour package was . . . interesting, it means they think you should steer clear. That's not what we want.
What we want is for you to experience a Yarra Valley wine tour that is damn-near guaranteed to delight you, inform and entertain you, and leave you with the feeling that you've tasted the best parts of the region. The best Yarra Valley wine tours can pick up and deliver your group back to Melbourne, or from wherever your Yarra Valley accommodation is based. All ready then? Ok, off we go. . .
---
---
The Best Yarra Valley Wine Tours
For luxury wine tours, we had to go with the group that sit at TripAdvisor's #1 spot for food and drink in the Yarra Valley, The Yarra Valley Touring Co. Everyone else raves about them, so they are a sure bet. Yarra Valley Winery Tours and Wombat Tours and Transfers are here too for their wealth of experience and local knowledge, and for their super-friendly tour guides.
Wild Wombat Winery Tours
With so many amazing places to stop in for a drink and feed, it's always good to get an expert to show you around their wine region. After a little digging around, we found Wombat Tours and Transfers, a tour company specializing in Yarra Valley wineries, restaurants and events' transfers. Check out The Young Guns and Upstarts tour that runs every Friday, Saturday and Sunday and can pick your small group of 6 to 8 up from central Melbourne.
The tour experience takes in a select group of the Yarra Valley's newest and most interesting winemakers. Stops include tastings at places like Soumah, Innocent Bystander, Payten and Jones, Warramunda and Medhurst. If you want to know what the bright future of wine in Australia will look like, then this tour is it.
For a slightly more traditional flavour, book a Yarra Valley Experiences Tour. While they will take you through some boutique cellar doors, this tour is geared to highlight the best the region has to offer. The day tours run from Monday to Sunday and only take small groups (up to 10). They also specialise in events' transfers and can easily drop you at any accommodation spot you've booked.

Yarra Valley Touring Co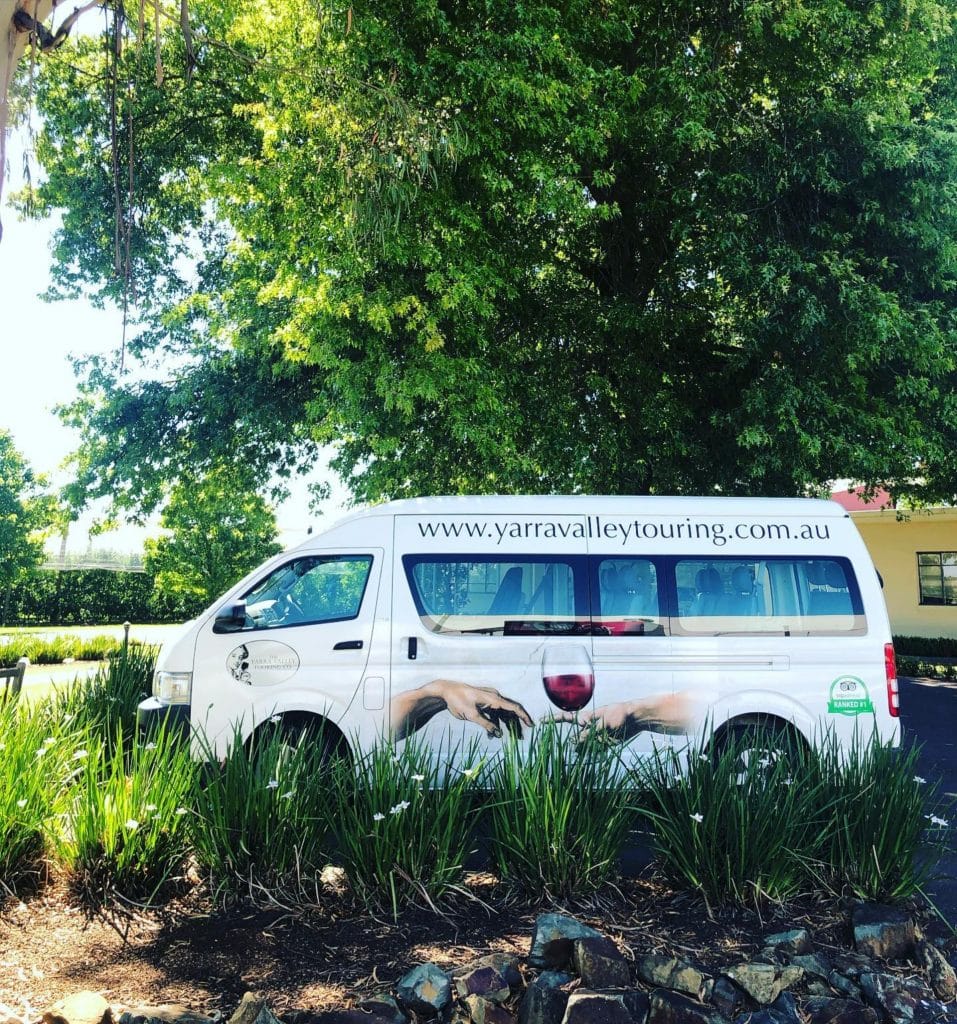 The Yarra Valley Touring Co. is easily the best winery tour operator on this list. They offer a wide range of luxury winery tours all to suit the length of your holiday and/or budget. They don't limit themselves to just wineries either, stopping in at distilleries for gin and breweries for cider and beer. Look at this list of tour packages:
Pick the Yarra Valley Wine, Bubbles and Gin Tour if you're looking for a day trip (includes stops at Yering Station, cocktails at Napoleone, wine at Helen's Hill).
Go for the Yarra Valley Romantic Winter getaway if it's just the two of you (includes a night at Yering Gorge Cottages and a private grazing day tour).
The Big Weekend Package (with two nights in the Yarra Valley and stops at Yering Farm, Killara Estate and others).
And lastly, our pick, the Yarra Valley Decadent AF Tour that includes Champagne Breakfast at Domain Chandon, a three-course lunch at Domonique Portet Winery, stops at Innocent Bystander and Four Pillars Distillery, and tastings at Dame Nellie's old pad, Coombe Yarra Valley.
If none of these work for you, they also do Designer Yarra Valley Wine Tours, which – take it from them – offers a "tailored Yarra Valley tour transport and accommodation package designed by wine lovers".
Yarra Valley Winery Tours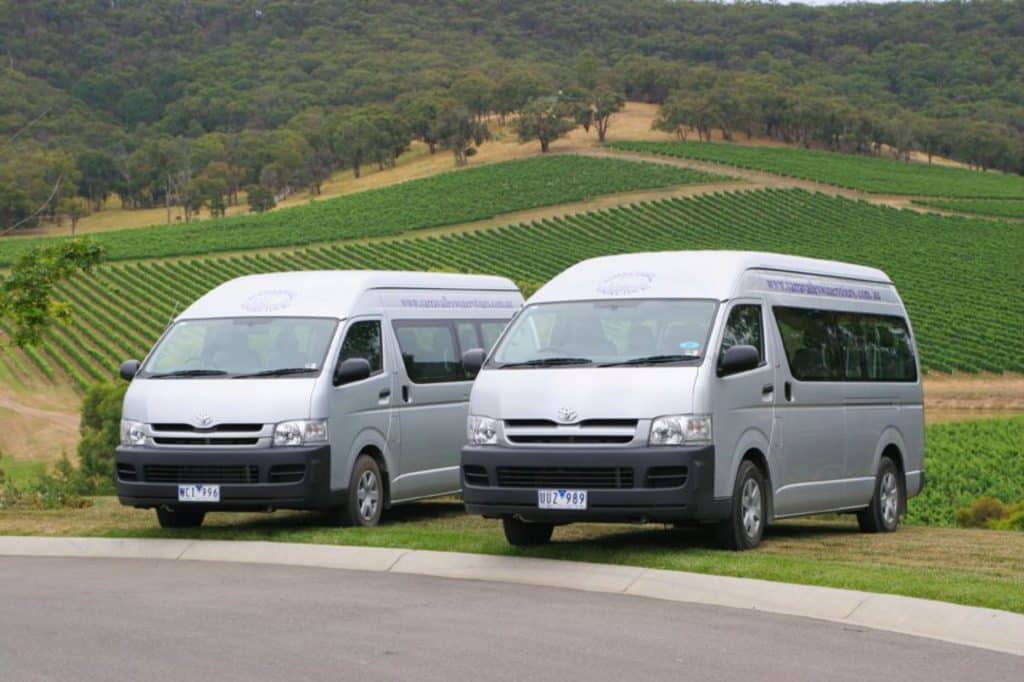 Yarra Valley Winery Tours do everything from exclusive tours, group tours, corporate group tours, events' transfers and even brewery tours.

Their customized Exclusive Tour takes you for the day to a mix of 4 or 5 iconic and boutique wineries, includes door-to-door service and a chance to visit the region's other attractions. Their group bookings are not limited by size and can do anything from Ladies' Days to corporate functions to Christmas parties. You can ask them to take you to the wineries you want to see, or let them take care of all that, stress-free.
Their level of experience means we had to get them on this list. Established in 1992 and based in the Yarra Valley, their superior local knowledge means that when they whisk you between the best tastings at the best Yarra Valley wineries, you'll know they're helping you to sample . . . well, the best. Whether it's the secrets of the biggest names in Australian wine or the hidden gems with labels you won't find outside of the cellar door, Yarra Valley Winery Tours will set you up for a classic experience you won't soon forget.
Yarra Valley Wine Tours and Accommodation
With so many places to stop at for a sip, we hope we've taken some of the worry out of your next visit to the Valley. Whether it's an intimate tour for two or you've got a huge group you want to drag out of their city stupor, these winery tour companies operate to ensure you taste the best.
Not only does the Yarra Valley wine region offer these incredible tour packages, but the area also has some of the best luxury accommodation to be found anywhere in Victoria. Time to stop tossing up whether to take that trip and get to booking an unforgettable food and wine adventure.