Coonawarra is not only the best-named out of 60 + wine regions in Australia (declared by us), it also lives up to its reputation for being king of cabernet. But we'd say quality wine is just 50 % of visiting a region, especially if you're staying overnight. To avoid booking some old crack den, we're going to give you a couple of trustworthy options for luxury accommodation in Coonawarra, some affordable options, plus some Coonawarra winery accommodation. There's nothing like finding your own little Shangrila nestled in a quiet field of vines in walking distance from a myriad of world-class wineries and restaurants.
Other Popular Articles
---
Coonawarra Wineries and Wine Region
Just in case you've come to this page completely unknowing of the amplitude of purity and quality that this stellar region continues to deliver, we'll give a brief fundamental info package on what you can expect.

The Coonawarra Wine Region is one of several that encapsulate the entirety of the Limestone Coast Wine Zone. As the name suggests, the rock formations are limestone which contributes to the prosperous yield around town, and here's why… Limestone has incredible water retention so, in the drier months of the season, there's ample H2O in reserve to keep the plump grapes… moist (sorry if that word triggers you).

As for the wineries, the first thing you can do to get an in-depth account of the overall experience is head to our 'Top Coonawarra Wineries' article. But to sum it up, there are some iconic vineyards to visit and to be completely transparent, there are more than you could handle in one day, which is why we decided that staying there is the only option for those that want to experience the real Coonawarra – we're obviously going to touch-up on that subject further down the page so read on.
---
---
The Coonawarra Wine Trail
The Coonawarra wine trail is an ingenious medium of solving the ongoing conundrum of "who's driving?"
There are five wineries within walking distance of each other, creating the absolute pinnacle quest of a wine holiday ready for any grape enthusiasts visiting the region. It's like if Sam and Frodo were on an adventure to find the best cabernet instead of destroying the ring of power.

The five wineries that consist said mentioned adventure are;
Brands Laira
DiGiorgio Family Wines
Drink Otellia
Redmans Wines
Wynns Coonawarra Estate
Zema Estate

Guaranteed to have a good time, promise. All establishments prioritise quality in experience through tasting flights, menus, service and of course, fantastic vino.
---
Coonawarra Winery Accommodation
Okay, enough fluff, whether you know the region or not, you need to know where to stay. We can't have any Wine Regions' readers staying at an absolute dive of a motel. As we mentioned before, quality wine is just 50 % of enjoyment. The other 50 % goes to experience; through accommodation, food, service and other activities that the region has to offer.

So let's get into our pick of the best Coonawarra Winery Accommodation!
The Glamping Bell Tents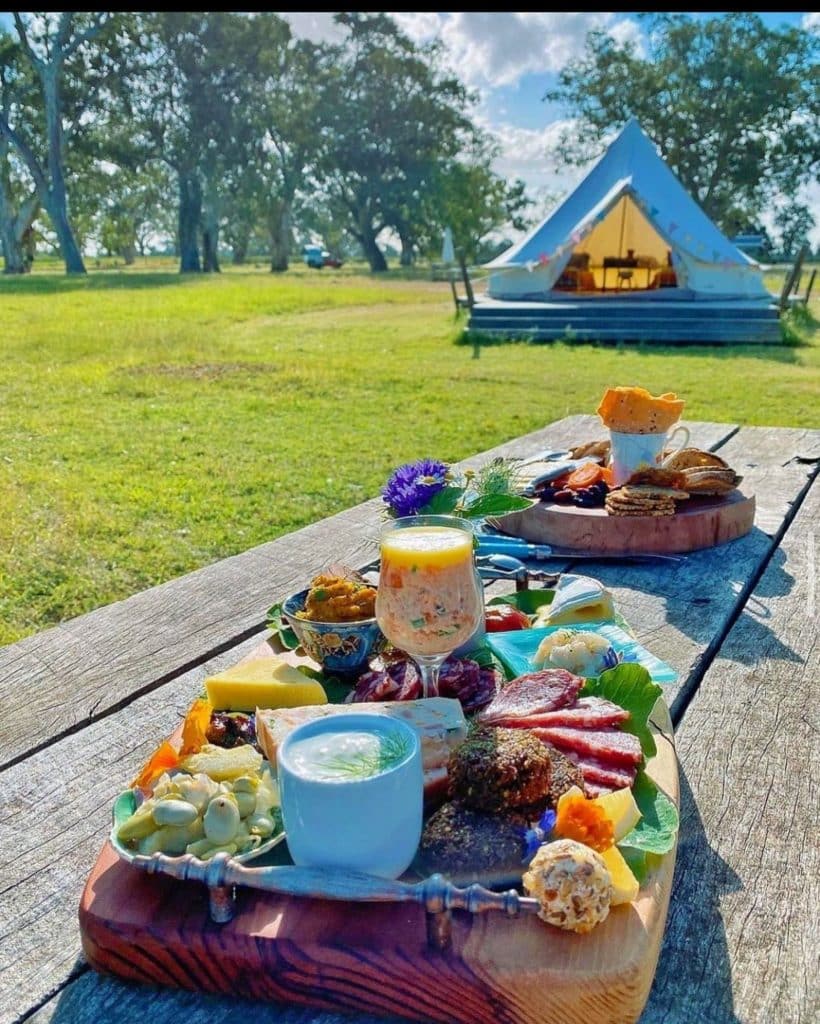 Glamping tents in vineyards are like, so in at the moment. But to be honest it's not just for the influencer selfie that comes with every visit to a winery luxury teepee, it's the zen associated with staying a couple of days. It's impossible to describe what it's like getting back to the basics, so no internet, no "oh my gosh look at who's dating who", no more "look what Dave cooked for breakfast", just you, a wine list of some of the best wines in the country, and complete serenity. Coonawarra is Daryll Kerigan's Bonnie Doon.

The Glamping Bell Tents are 5 or so minutes from Bellweather Wines but still the equivalent of smack bang in the middle of wine country.

Included in the package;
Private Fire Place.
King bed and 2 singles – Sleeps 4
Outdoor setting for 4 people
Full 240v power
Lights, electric blankets, kettle, heater
Hot water bottles in winter
Esky
Laundry facilities.
Fully equipped camp kitchen
All Linen Supplied
Outdoor area with BBQ, seating and a glorious view of the virgin bushland and lake
Free WiFi and pushbikes
Pet friendly
Solar-powered and self-sufficient property
Hydroponic organic greenhouse
Free seasonal vegetables
Private Cellar Door – Hundred of Comaum Wines

Surely there is something on that list that gets you going. Get out of the big city for a little while and find some peace at the Bell Tents accommodation in the Coonawarra area.

Bellweather Winery Accommodation, Coonawarra
Punters Retreat Vineyard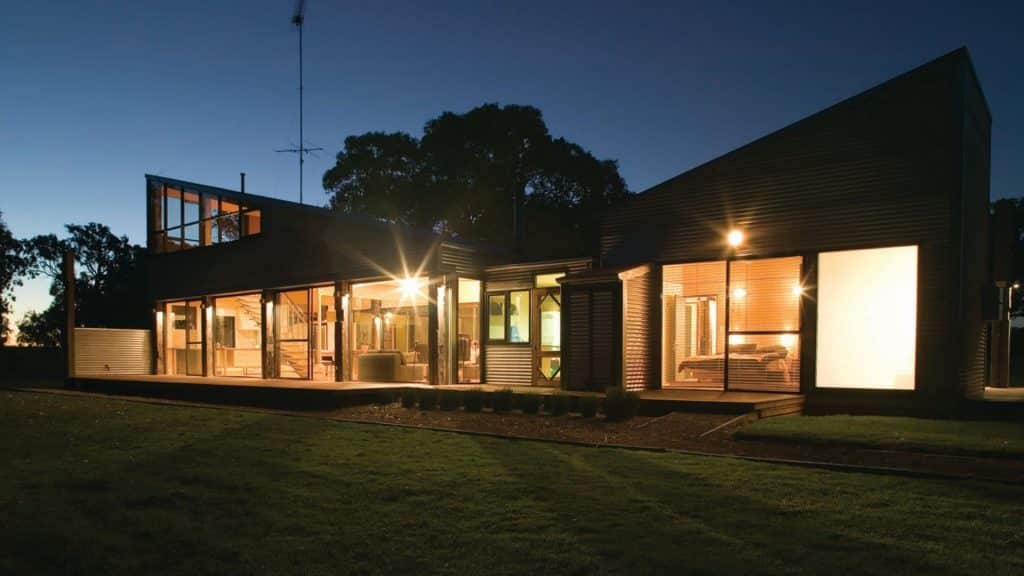 The Punters Retreat is a modern bush meets shack retreat that encompasses 4 bedrooms, one open living area and a picturesque outside dining space perfect for a night pieced together by collated local ingredients and bottles collected over the day's adventures visiting many vineyards that surround this stunning Coonawarra winery accommodation.
Punters is a step up from the glamping, and it caters to a larger family that's looking to take out the region for up to a week. Picture yourself living in the bush/ vines for a whole week not having to worry about parking fines, promotions or gossip. Just you, a glass of the finest and a group of friends and family creating memories that'll be cherished for years to come.
Visit Punters Vineyard Retreat
Luxury Accommodation in Coonawarra
If you're a little bit schmancy, then maybe you're looking for some luxury accommodation in Coonawarra. If you can manage it, then why the hell not? To remedy this urge, we've got two options for you.
Highbank Winery Accommodation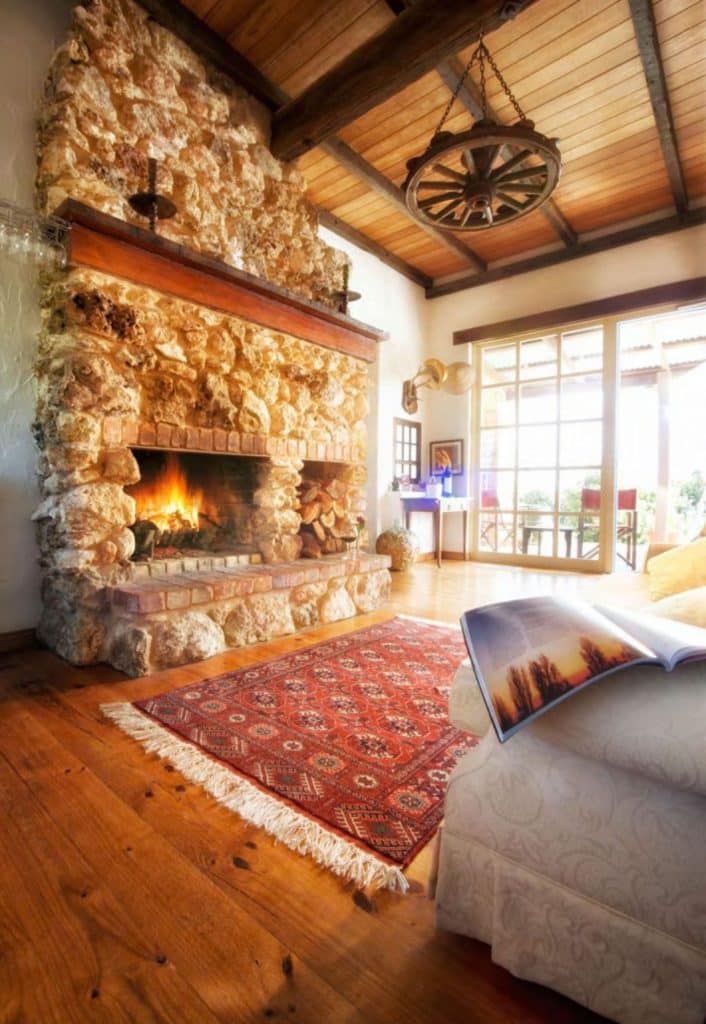 You have three options at Highbank Winery, the Cottage, Villa, and The Room with a View.

The Cottage is for couples genuinely sick of the outside world and just want to get away for a while. It's a classic-looking Tuskan getaway built from the limestone upon which it rests.

The top level peers elegantly over an endless supposed mirage of vines creating a surreal experience to say the least. There is a spa for two greeting weary companions in need of a little self-care after a large day walking the wine trail of Coonawarra.

The Villa and Room with a View completes the High Bank experience matching the decor and decadence of the Cottage. It delivers on all aspects of avoiding responsibility, with the power to walk home from wineries instead of driving. Believe us, not having to drive is a commodity verging on superpower when you're in our industry.
Georgie's Cottage
Georgies Cottage is a quaint establishment built in 1870 but completely refurbished, modernised and equipped to welcome those looking for luxury accommodation in Coonawarra.
In the heart of Penola, an abundance of fine restaurants and art galleries call to those that long for a little indulgence.

There's a double spar, queen-sized bed and an open woodfire, perfect for a little snuggle on the hearth rug.
H2: Finding Coonawarra Winery Accommodation
We hope you've enjoyed our take on accommodation in the Coonawarra area, and by now, we also hope you've found a little some some that's inspired you to convince your significant other to hand over the credit card. Hit the road, let your hair down and enjoy a prosperous weekend away at your selected Coonawarra winery accommodation.