A combination of great produce, cool climate wine, natural and man-made attractions. Stretching over 60kms, running north-west from the city of Launceston to the coast either side of the Tamar River. Tamar Valley has it all.
A glorious fertile valley of high-yielding vineyards, famous for its chardonnays, sparkling, pinot noir and aromatic whites. Tasmania is the oldest wine-producing region in Australia, the valley currently produces 40 per cent of Tasmania's premium quality wine.
The Tamar River feeds the vineyards, running from Launceston to the white, sandy beaches of Bass Strait, it makes for a perfect road trip and weekend away.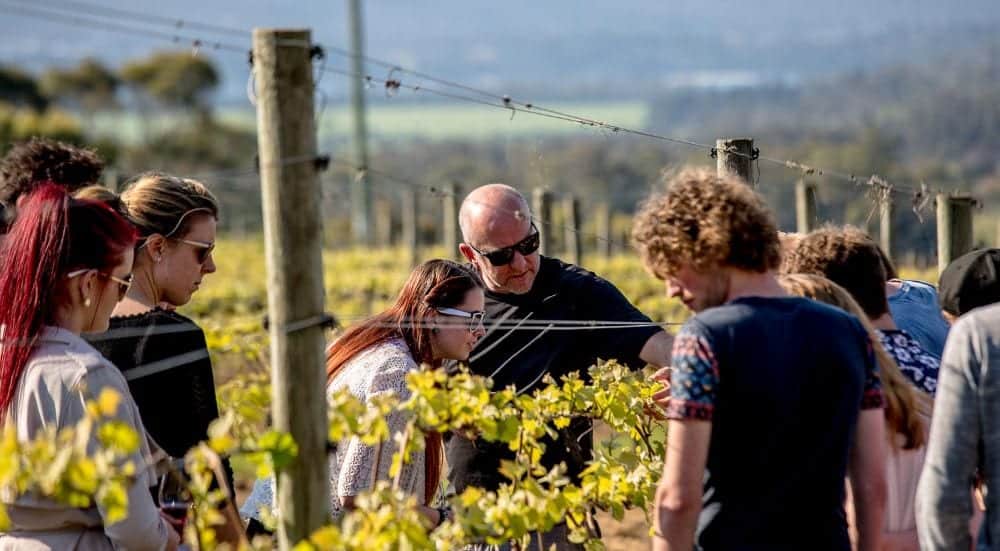 ---
Tamar Valley Wineries Map
---
How To Get To The Tamar Valley
The Tamar Valley region is perfect to drive through, with more than 30 wineries all in driving distance of each other.
Drive just 20 minutes north of Launceston on the West Tamar Highway towards Legana, and you'll hit the Tamar Valley Wine Route.
Flights arrive and depart daily from Launceston Regional airport for those inter-state wine drinkers.
A bit further away? Flights arrive and depart daily from Hobart international airport. Then drive for 2 and a half hours towards Launceston to reach the Tamar Valley.
---
Top Rated Wineries in Tamar Valley
Vineyards ranging from rustic to sophisticated, accompanied by picturesque scenery and delicious treats. There are more than 30 vineyards lining the shores of the valley, and we've put together our top 6 wineries & winemakers for you to enjoy.
Swinging Gate Vineyard
A down to earth winery situated in a prime location in Tamar Valley. After 15 years, Swinging Gate Vineyard has reopened with a new identity and you can sample the complex wines from vines that were planted over 20 years ago. A transformed machinery shed is now home to their Cellar Door and Day Spa, offering the public the chance to relax and enjoy the experience whilst overlooking the vineyards. Swinging Gate is a must-see on the Tamar Valley wine trail.
The winemaker, Doug, is both innovative and creative. This is clearly shown through the quality and uniqueness of the wine. He has a tonne of knowledge that he's willing to share, you'll also get to experience a generous tasting of wine in the process.
Address
103 Glendale Rd, Sidmouth TAS 7270
Reviews
5 ⭐️ TripAdvisor rating
5 ⭐️ Google rating from 141 reviews
Goaty Hill Wines
Owned and run by two families who are living their best life, making fine wine in the serene Tamar Valley. Goaty Hill is all about giving back and staying connected with their local community. The cellar door regularly showcases a range of local music, food, and art events throughout the year.
Their wine tastings provide you with an intimate and informative tasting of Goaty Hill's wines. The staff are very informative and will take you through the history of the vineyard and how it became the superb winery it is today. After a tasting, step outside the cellar door and lounge on a comfy armchair on the lawn. You can also pack a picnic or indulge in one of their delicious platters. We recommend grabbing a bottle or two of wine from their great selection and enjoying the views of the Tamar River and vineyards.
Nothing sounds better right now than enjoying a glass of wine with a platter of local Tasmanian produce. Whilst enjoying the stunning views of vineyards and the Tamar Valley.
Address
530 Auburn Rd, Kayena TAS 7270
Reviews
4.5 ⭐️ TripAdvisor rating from 138 reviews
4.7 ⭐️ Google rating
Josef Chromy Wines
Fine dining and high-quality wines are what Josef Chromy Wines are known for. Josef Chromy himself is known for his commitment and contribution to quality food and wine in Tasmania. He has owned and developed some great Tasmanian wineries such as Rochemcombe, Jansz and Heemskerk.
The cellar door at Josef Chromy Wines is set inside an original 1880's homestead, surrounded by stunning gardens, and views of the surrounding vineyards and lake. Next door is a fine dining restaurant, with high-quality food and service at an affordable price.
Josef Chromy Wines is a showcase of all of Josef Chromy's experience in Tasmania's Tamar Valley. This is evident through the quality of the exquisite food, wine, and hospitality offered at the cellar door and restaurant.
Address
370 Relbia Rd, Relbia TAS 7258
Reviews
4.5 ⭐️ TripAdvisor rating from 276 reviews
4.5 ⭐️ Google rating from 399 reviews
Tamar Ridge
Tamar Ridge Winery is on the western bank of the stunning Tamar River, just 20 minutes north of Launceston. The winery overlooks the most gorgeous views of the Tamar River. The winery itself is bigger than its neighbouring vineyards but still maintains that personal feel. If you're after a history lesson and an eye-opening wine tasting journey, head to Tamar Ridge's cellar door where you can usually find the odd 'hidden treasure' – wines that are restricted to their cellar door and not generally available elsewhere.
The wines are easy to drink, there is a great variety, and they can be perfectly accompanied by a locally-sourced cheese or meat platter (great for sharing), highlighting the seasonal variations of the Tamar Valley and Tasmania. This elegant and innovative winery should definitely be on your list for wineries to visit in Tasmania.
Address
1a Waldhorn Dr Rosevears, Tasmania, Australia 7277
Reviews
4.5 ⭐️ TripAdvisor rating from 169 reviews
4.5 ⭐️ Google rating from 96 reviews
Holm Oak Vineyards
Honest, down to earth, genuine and authentic is what you'll find when visiting Holm Oak Vineyards. Since 2013, winemaker Bec Duffy and her husband viticulturist Tim Duffy, have chased their dreams of creating delicious Tasmanian wine. Between the two, they have over 20 years of experience in the industry. It's safe to say, they know what they're doing and their winery is great. Their friendly and knowledgable staff will take you through the extensive range of wines, at the unique and authentic tasting experience in the relaxed tasting room.
Holm Oak Vineyards are one of the smaller wineries on the Tamar Valley wine trail. This means you're able to have a more intimate experience and really get to learn all about the stories behind the owners and the winery itself.
Address
11 W Bay Rd, Rowella TAS 7270
Reviews
4.5 ⭐️ TripAdvisor rating
4.8 ⭐️ Google rating from 71 reviews
Iron Pot Bay Vineyard
A vineyard planted in 1988 is now home to Iron Pot Bay Vineyard. A family-owned winery located in the picturesque town of Rowella in the Tamar Valley. Since 1991, the vineyard has been producing superb, cool-climate Tasmanian wines, full of passion and hard work. Their vineyard is very hands-on with seasonal hand-picked harvests and old-school pruning, making Iron Pot Bay Vineyard stand out from some of its neighbours.
The restaurant and tasting room are in an old cottage from 1907, with numerous private areas for you to discover. The staff are so genuine and hard-working, they are very attentive and will ensure you feel welcome. The menu caters to vegans, vegetarians and meat lovers – there's something to suit everyone. The restaurant has very generous serving sizes when it comes to the food. Did we mention they have perfect wines to accompany the meal?
Address
7 W Bay Rd, Rowella TAS 7270
Reviews
4.5 ⭐️ TripAdvisor rating from 157 reviews
4.7 ⭐️ Google rating from 84 reviews
Winery Experiences, Landmarks & Things to see
The drive from Launceston to the Tamar Valley and through the vineyards is an experience in itself. The views are amazing and there are plenty of lookouts to stop at along the way.
For a different adventure, if you turn off the highway and drive along the small roads. You'll get to experience the local life and community. The valley's rich agricultural land is home to committed growers, producers and makers. They specialise in artisanal cheeses, cider, beer, truffles, walnuts, cherries and much more.
Seahorse World, Hillwood Berry Farm, George Town and Beaconsfield. These are just a few places to visit when you're on the way and in the Tamar Valley.
There are 30 different wineries on the Tamar Valley wine trail, why not make a holiday out of it? We recommend finding some accommodation and turn it into a weekend, or even a 7-day trip if you're lucky!
Weather in the Tamar Valley TAS, Australia
Looking for more wineries near you?