Just 45 minutes south of Adelaide in South Australia, McLaren Vale is celebrated for its spectacular culinary experiences and expertly crafted wines and brews.
The cultural heritage of the region spans thousands of years of traditional ownership by the Kaurna people.
It stands proud as one of South Australia's most awarded and acclaimed regions for good food, good wine, and welcoming establishments.
Whether you're after a quick brekkie burrito, a long degustation set-up, or a traditional Italian-style pizza, you won't be starved for choice. 
Not sure where to start? Allow us. This is your guide to must-visit McLaren Vale restaurants.  
Other Popular Articles on the Mclaren Vale Wine Region
McLaren Vale Restaurants
Home to rustic cafes, award-winning wineries, and intimate restaurants, McLaren Vale offers a truly unique and intimate dining experience.
The region's Meditteranean climate informs the region's food culture and wine offerings. McLaren Vale is best known for its exceptional Shiraz, Grenache, and Cabernet, as well as Spanish and Italian Fiano, Vermentino, and Sangiovese varieties.
The restaurants in the McLaren region excel in everything from indulgent Australian cuisine and eclectic tastings to authentic Italian menus.
There really is a food and wine combination to suit every palette.
D'arenberg Cube Winery & Restaurant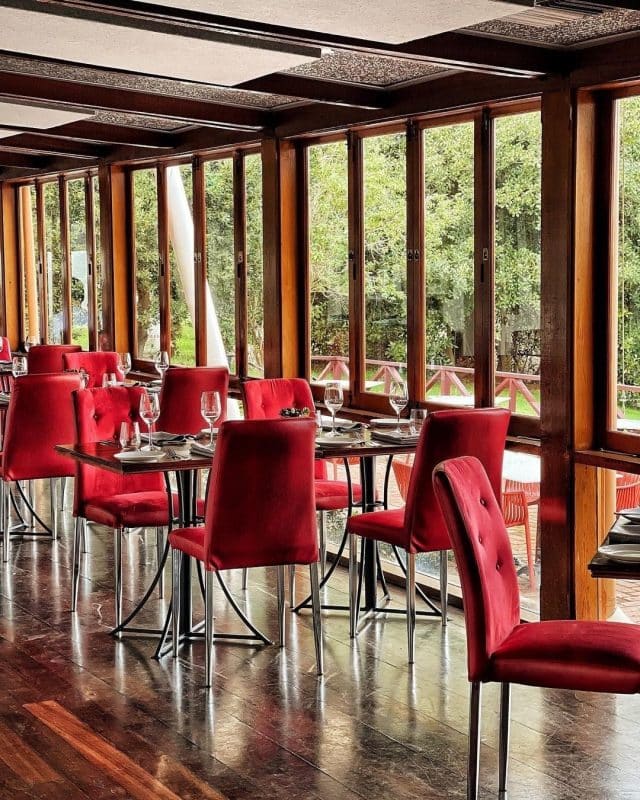 This family-owned winery has been in operation for more than 100 years. If one thing's for sure, it's that these guys know their craft.
Their internationally acclaimed wines are crafted using traditional methods in both the winery and the vineyard itself.
Enjoy spectacular views of the rolling hills and vineyards while settling in for a long, leisurely dining experience. 
Menu-wise, the team switch things up from season to season to ensure they're serving the very best and freshest offerings from the local region.
In Spring, sweet peas, succulent lamb, and tangy olives are dish heroes, while in Autumn, aromatic curries and muddy chocolate puddings make an impact.
Pick from the tasting, degustation, a la carte, or plant based degustation menus.
D'arenberg's list of accolades is lengthy and includes 2022 13 Points Chef's Hat in the Australian Good Food Guide, Best Restaurant in a Winery 2021, and Trip Advisor's Traveller's Choice in 2021.

Website: Here
Address: 58 Osborn Rd, McLaren Vale SA 5171
Reviews:
4.5 Google Review from 502 reviews
4.5 Trip Advisor from 806 reviews
Beach Road Winery & Restaurant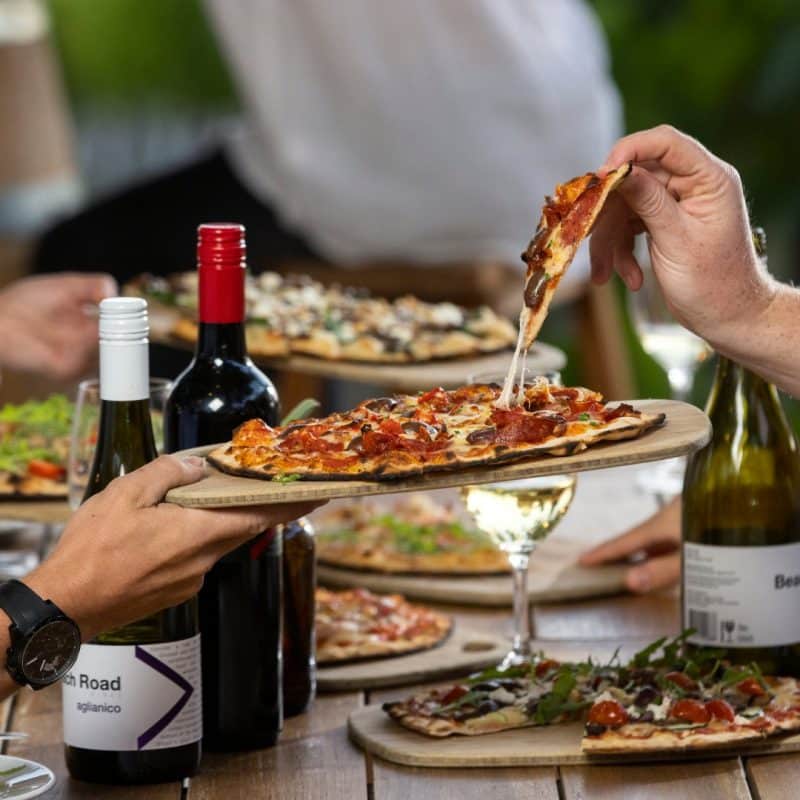 Positioned in the heart of the McLaren Vale wine region, the Beach Road Restaurant boasts picturesque views of the township and surrounding vineyards.
The venue is home to a cellar door, winery, and restaurant that work to deliver a well-rounded tasting and dining experience.
There's nothing pretentious about Beach Road — it delivers a unique and special family feel.
The a la carte menu is designed for up to six guests, while the set menu is ideal for groups of seven to 16.
Start off with a flatbread or grazing platter before tucking into a pizza, fired on the rustic wood oven for a real Italian feel. Finish off with something sweet — perhaps an affogato.
Beach Road proudly support South Australian produce in each of their dishes.

Website: Here
Address: 309 Seaview Road, McLaren Vale SA 5171
Reviews:
4.3 Google Review from 204 reviews
4 Trip Advisor from 161 reviews
Ekhidna Wine Restaurant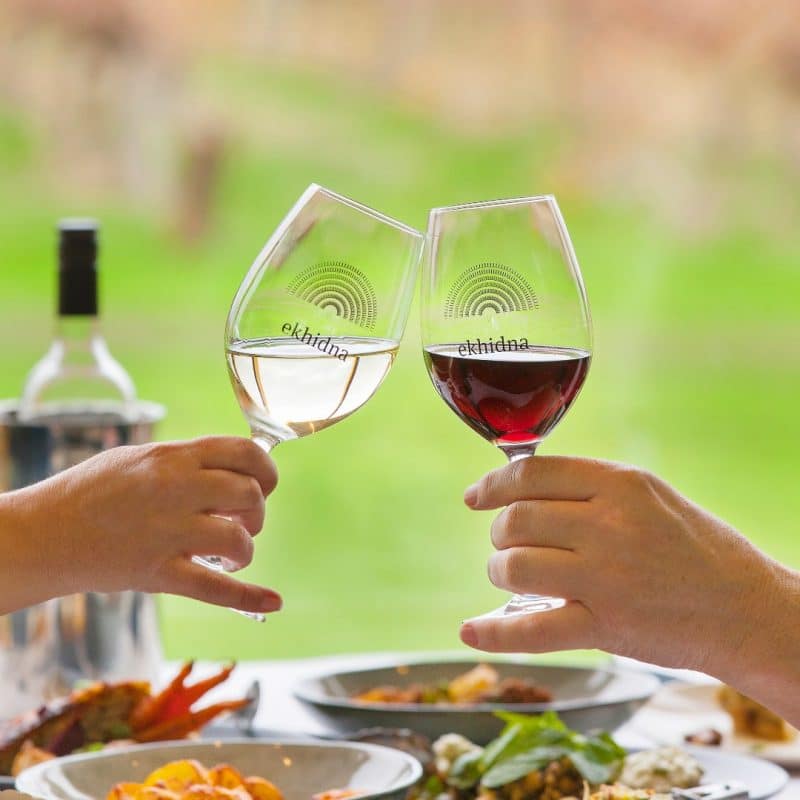 Ekhidna Wine Restaurant is named after the Goddess Ekhidna, mythology's 'she' viper that was half nymph, half snake, and mother of all monsters and defender of vineyards.
Of course, the name also pays homage to our beloved Aussie echidna.
The menu at Ekhidna Wine Restaurant showcases the very best of locally-sourced produce and the highest quality international ingredients.
Ekhidna delivers a truly memorable dining experience, with stunning views and exquisite dishes on offer.
The menus change seasonally; in winter, indulge in a sensational five-spice squid, rich mushroom risotto, or perfectly cooked market beef. For dessert, the flavourful chocolate mousse and traditional lemon crumble are winners. 
Ekhidna's winemaker owner Matt Rechner is always on-hand to answer any questions and pointers on your wine selection.
Round out your experience with a tasting of Matt's handcrafted wines and beers at the cellar door. 
Website: Here
Address: 67 Branson Road McLaren Vale SA 5171
Reviews:
4.5 Google Review from 152 reviews
4.5 Trip Advisor from 470 reviews
Pizzateca: Italian Restaurant in McLaren Vale
Pizzateca is an absolute must-see, if not for the exceptional pizzas but for the beautiful dining experience.
The team at Pizzateca use techniques passed down through generations, creating fresh, authentically-Italian dishes.

The sugo is handmade by the family using South Australian, Virginia-grown tomatoes. The pizza bases are handmade, too — the Italian way. The delicious and extensive pizza menu includes gluten-free options, so no one has to miss out.
Secure a spot under the white umbrellas among the overhanging trees on the lawn for a spectacular alfresco dining experience.
Website: Here
Address: 319 Chalk Hill Rd, McLaren Vale SA 5171
Reviews:
4.6 Google Review from 1,174 reviews
4.5 Trip Advisor from 803 reviews
The Salopian Inn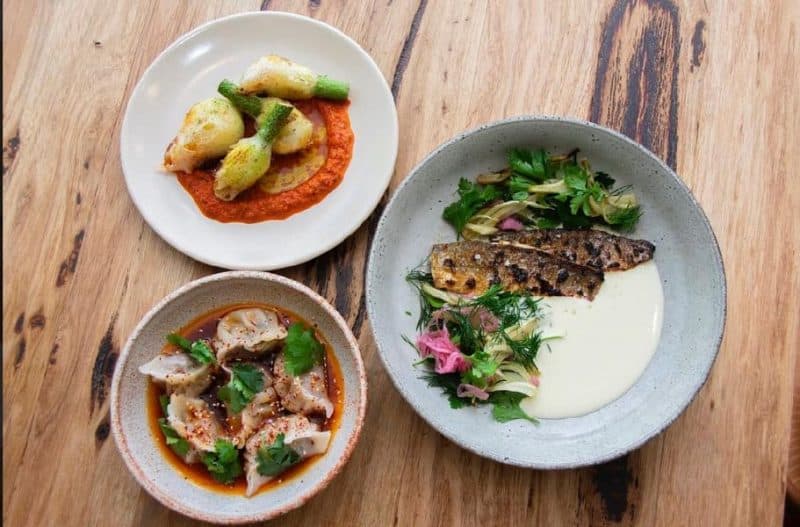 This beautifully restored 1851 homestead is now home to an old red wine cellar and quaint restaurant.
The Salopian Inn sits on the corner of Main and McMurty Road, its old rooms and nooks now occupied by dining tables.
With an open kitchen and fireplace, the Inn has a cozy, homely feel. There are even on-site veggie patches which provide fruit, vegetables, and herbs to the restaurant.
The menu tells an eclectic, edible story of chef Kerena's culinary journey and desire to learn more, cook more, and eat more. Kerena and the team make everything from scratch, using local seasonal produce, goodies from the veggie patch, locally sourced beef, lamb, poultry, Berkshire pork, and South Australian ethically-sourced seafood.
The tasting menu allows you to explore all that the garden, paddock, and sea have to offer, while the seasonally-changing a la carte menu puts the choice in your hands.
Pair your meal with a glass from the Inn's large selection of local and international wines.
Website: Here
Address: Corner Main Road & McMurtrie Road, McLaren Vale, South Australia 5171
Reviews:
4.7 Google Review from 713 reviews
4.5 Trip Advisor from 684 reviews
Victor's Place
Located at the gateway of McLaren Vale, Victor's Place is a truly special establishment.
It's set in a restored, heritage-listed 1870s limestone barn and opens up onto the rolling hills of Onkaparinga Gorg.
The produce is sourced from small, local producers and the ever-changing menu is designed to accompany the flavours and textures of Varney Wines.
It was awarded the Australian Good Food Guide Chef Hat in 2022 for the second time.
Our top menu picks? The miso roasted pumpkin, charcoal grilled southern king prawns, Berkshire Pork Loin, soft-baked kohlrabi, and chocolate mousse.
You have to taste it to believe it.
Website: Here
Address: 62 Victor Harbor Rd, Old Noarlunga SA 5168
Reviews:
4.7 Google Review from 289 reviews
5 Trip Advisor from 513 reviews
McLaren Vale Restaurants: Breakfast
As the old adage goes, the early bird gets the worm.
For our purposes, the early bird in McLaren Vale gets access to some of the best bakeries and cafes South Australia has to offer.
These are our top three picks.
McLaren Vale Bakery
This traditional country bakery is renowned for its award-winning pies, birthday cakes, and sourdough bread — you just know you're in good hands.
Dine in and relax in the rustic environs where you'll be able to see the bakers in action and experience the fast and friendly service the bakery is known for.
The goodies are baked fresh every day on the premises; the eclairs, quiches, sausage rolls, and pastries are fan-favourites among locals and visitors alike.
There are also gluten-free, vegetarian, and vegan options available, so no one in your party will go hungry!
All produce is sourced from the local McLaren Vale, Adelaide Hills, and Fleurieu regions.
Website: Here
Address: 130 Main Rd, McLaren Vale SA 5171
Reviews:
4.3 Google Review from 140 reviews
4.5 Trip Advisor from 82 reviews
Tin Shed Cafe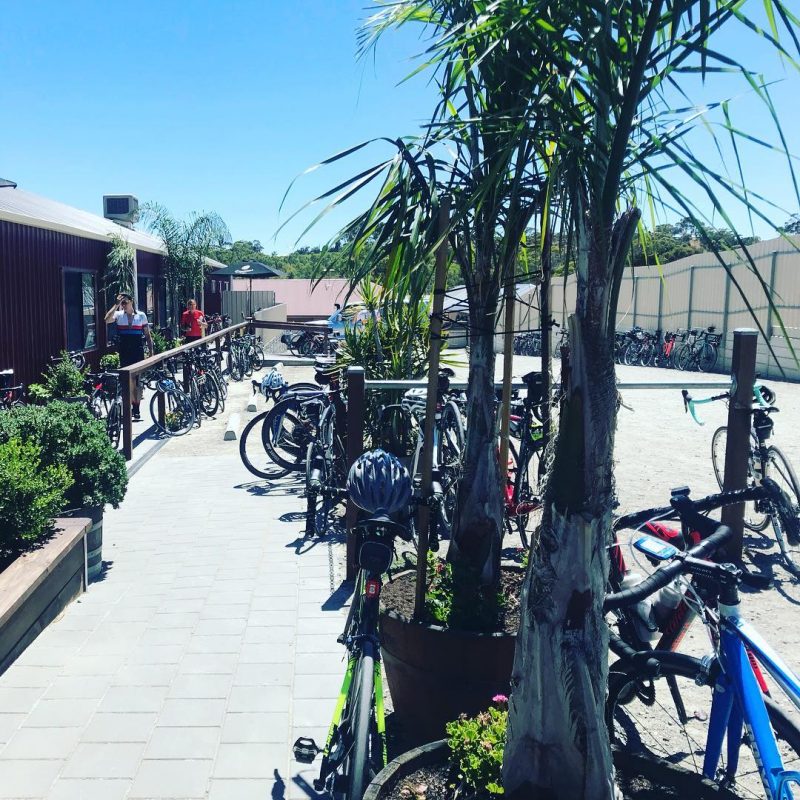 If you're after a classic Aussie breakfast feed, the Tin Shed Cafe is your go-to.
Take a seat at one of the patio tables and enjoy the laidback atmosphere while sinking your teeth into a bacon and egg roll, pancake stack, eggs benny, or hearty breakfast burrito.
Have a four-legged friend with you? They're invited to join you in the front dining area!
The venue is loved for its relaxed, comfortable ambience and simple yet crowd-pleasing meals.
Website: Here
Address: 168 Main Rd, McLaren Vale SA 5171
Reviews:
4.3 Google Review from 878 reviews
4 Trip Advisor from 424 reviews
The Cottage Bakery
Located in the McLaren Vale township and established in 2012, The Cottage Bakery prides itself on great coffee, delicious food, and a friendly environment.
The team are all about delivering on quality, particularly when it comes to coffee, so much so that the staff are taken through four stages of professional training.
The Cottage Bakery was even awarded Best Coffee House by the Restaurant Guru in 2021, so there's no doubt you'll get a great cup, every time.
Head in for a no-fuss breakky of smashed avo, eggs and bacon on toast, or a ham and cheese croissant.
If you're on the go, grab a pie, pastry, muffin, or focaccia.
Website: Here
Address: 196 Main Rd, McLaren Vale SA 5171
Reviews:
4.3 Google Review from 271 reviews
4 Trip Advisor from 125 reviews
Planning Your McLaren Vale Tasting Extravaganza
We know it'll be almost impossible to choose just one venue with a whole list of must-visit dining options in front of you.
So, why not make a weekend of your McLaren Vale restaurant-exploring experience?
Discover McLaren Vale accommodation and settle in for the weekend, taking your time to explore, sip, and dine your way around the region.