Beechworth is Australia's finest historic gold mining town and one of the country's most celebrated food and wine regions.
Featuring incredible historical landmarks, — including the Court House where Ned Kelly stood trial — stunning natural landscapes, boutique shops, the famous Rail Trail, heritage architecture, and award-winning wineries, Beechworth has something for every palette.
As for where to stay, there's a surplus accommodation options in the quaint town. 
---
Accommodation in Beechworth 
The accommodation in Beechworth promises to deliver memorable and cozy experiences.
These often historic and carefully restored buildings are all a short distance from the central historic precinct, where you can explore galleries, pubs, cafes, and restaurants.
Looking to sink your teeth into the natural beauty of the region? These establishments are also situated near Beechworth Gorge, Woolshed Falls, the Rail Trail, and renowned family-owned vineyards.
Let's get into our top accommodation picks. 
---
Luxury Accommodation in Beechworth
If you're planning a cozy romantic weekend, Beechworth is a must-visit.
Whether you're keen to indulge in some downtime at a luxury spa villa or soak up some historical opulence together at a Victorian-era B&B, there's something to suit every couple.  
StoneTryst Spa Villas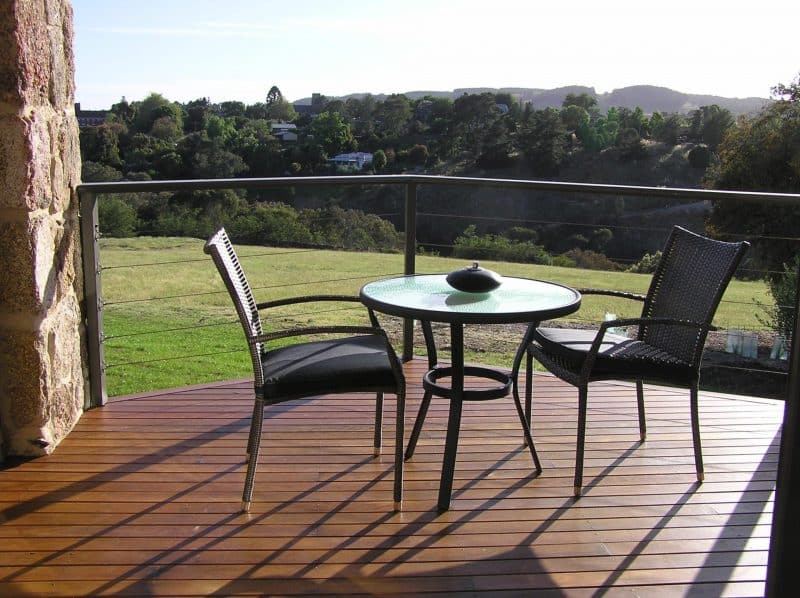 Sitting on five acres, the three StoneTryst Spa Villas were specifically designed for a couples getaway. 
Settle in and enjoy a romantic and private escape, away from the bustle of the city. The quiet and peaceful natural landscape is sure to have a restorative effect.
The relaxing, secluded villas overlook the tranquil newly-planted vineyard and spectacular Beechworth Gorge.
The architecture is both contemporary and comfortable, but also expertly complements the natural surroundings. The villas feature granite walls salvaged from the historic property and beautiful timber flooring.
Choose from three luxurious villas; the Villa Mica, the Villa Tor, and the Villa Granito. 
Read more… ⬇️
The Villa Mica is the perfect home-away-from-home, just for the two of you. Indulge in a glass of wine and nibbles, gazing at the sunset from your elevated deck that looks over the hills and vineyard. Then, unwind in the double spa bath while looking out the picture window at stunning moonlit views. As night falls, curl up on the leather couch together next to the crackling gas log fire.
Featuring the same inclusions as the Villa Mica, the Villa Tor invites you to kick back and relax together. Wake up to views of the vineyard, Gorge, and Beechworth town. Enjoy lazy afternoons snuggled up on a plush armchair with a good book, and enjoy a glass of wine on the balcony at sunset.
For the most luxurious experience, splurge on the Villa Granito. In addition to the divine amenities featured in the other two villas, the Villa Granito also includes a solar-heated private plunge pool and sun-lounge deck in your very own private garden.
Each villa also houses a self-contained kitchen, so you can comfortably cook up a storm if you're in the mood for a night in.
Note: Minimum two-night stay
Website: Here
Address: 10 Granjoise Lane, Beechworth, VIC, 3747
Reviews:
4.9 Google Review from 98 reviews
5 Trip Advisor from 107 reviews
Freeman on Ford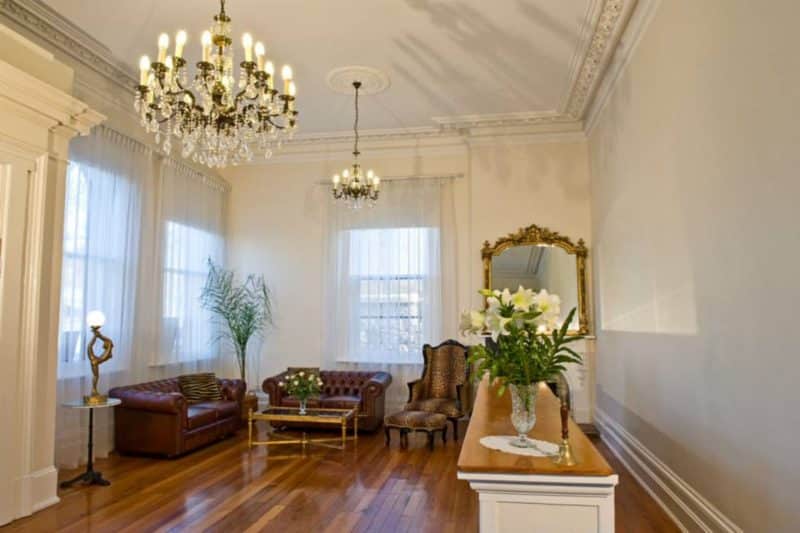 Looking to dive headfirst into a truly unique experience together?
The Freeman on Ford was first built in 1876 where it once stood as the Oriental Bank, which was the preferred bank for Beechworth's Chinese gold-mining population. So, the building is a historical landmark in itself!
The building now stands as a luxury bed & breakfast, located in the heart of the Beechworth precinct.
Its central location makes it perfect for couples looking to really explore the town, which is home to some of Australia's most iconic gold-rush streets.
Take a ride down the street in a horse-drawn carriage and visit the quaint boutiques, intimate cafes, and renowned restaurants the town has to offer.
The Freeman on Ford has been beautifully restored so that you can enjoy the Victorian Italianate architecture in all its glory. 
Read more… ⬇️
There are four guest rooms in the original bank building, each featuring a stunning ensuite. There are an additional two 1930s-style suites fitted with marble bathrooms.
The decor is truly a marvel — the pure crystal chandeliers and Victorian-era colour schemes add to the lavish, old-worldly feel.
Start the day with a full hot breakfast made from the very best local produce. Spend the day strolling the town before heading back for a delicious afternoon tea, after which you can explore the chandelier-lit foyer, sun-filled dayroom, reading and drawing rooms, and elegant dining room.
Fancy a dip? The grounds include a 12m private pool and heated spa, located in the gardens.
This opulent accommodation is sure to deliver a special and memorable experience. Don't believe us? The award speaks for itself; the Freeman on Ford took out 4th place (of 25 properties) for Best B&B in Australia in Trip Advisor's 2022 Traveller's Choice Awards.
Website: Here
Address: 97 Ford St, Beechworth VIC 3747
Reviews:
4.9 Google Review from 39 reviews
5 Trip Advisor from 668 reviews
Beechworth Accommodation for Big Groups
When it comes to group trips, there are two very important things to consider: will there be enough space, and will there be enough activities?
Fortunately, Beechworth has you sorted on both fronts.
When it comes to what to do, the historical town, local wineries, and natural landscapes will keep you entertained all weekend long. There are town landmarks for the history lover, quaint restaurants and wineries for the foodie, boutique stores for the shopaholic, and the Rail Trail for the fitness junkie.
As for accommodation, these are our recommendations for a comfy and luxurious group stay. 
Belmont at Beechworth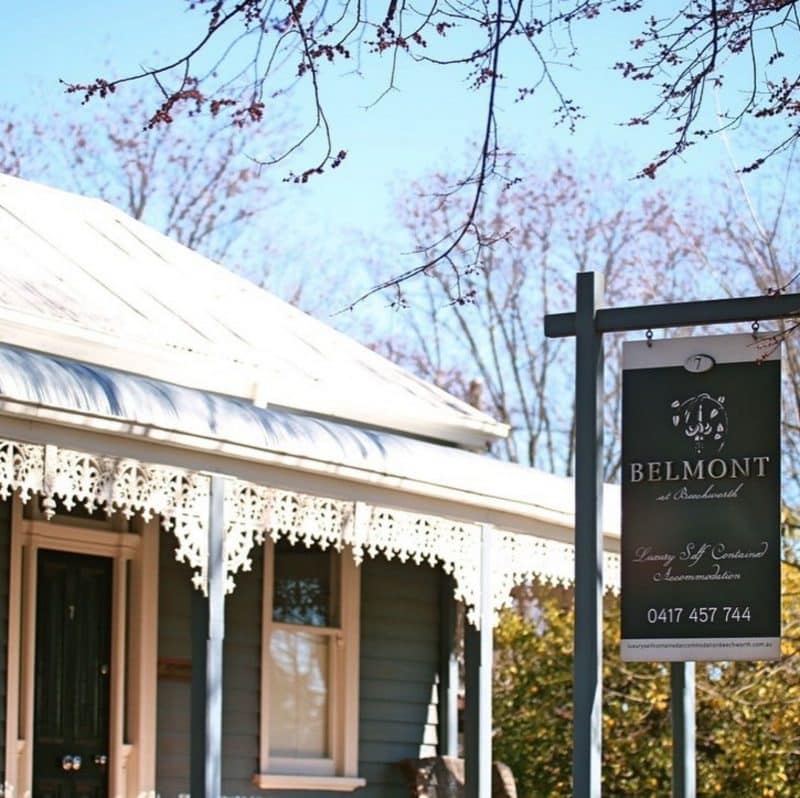 First built in 1895, the very bones of the Belmont at Beechworth are a part of Beechworth's gold rush and bushranger history. 
To enter Belmont, walk over the century-old worn flagstone step, before entering the newly renovated, private lodgings.
Secluded in a tree-lined avenue, Belmont is walking distance from Beechworth village and the iconic Murray to Mountains Rail Trail. It's designed to be enjoyed by groups of up to four, featuring two bedrooms and private bathrooms complete with open fireplaces (now that makes for a cozy bath!). 
Read more… ⬇️
The interiors are something to behold. The Belmont features suspended downlights, glass floating shelves, cast-iron baths, double glass showers, a self-contained kitchen, Italian granite floor tiles, an antique dining table, and vintage leather couches.
Enjoy your afternoon glass of wine on the suspended balcony before heading out for a group stroll around the secluded gardens.

Belmont is designed to be a truly luxurious group experience, offering a transfer service, complimentary bikes for cycling along the Murray to Mountains Rail Trail, a fully-equipped BBQ area, and complimentary kitchen supplies.
Website: Here
Address: 7 Williams Street, Beechworth VIC 3747
Reviews:
5 Google Review from 4 reviews
4.5 Trip Advisor from 34 reviews
Beechworth Cedar Cottages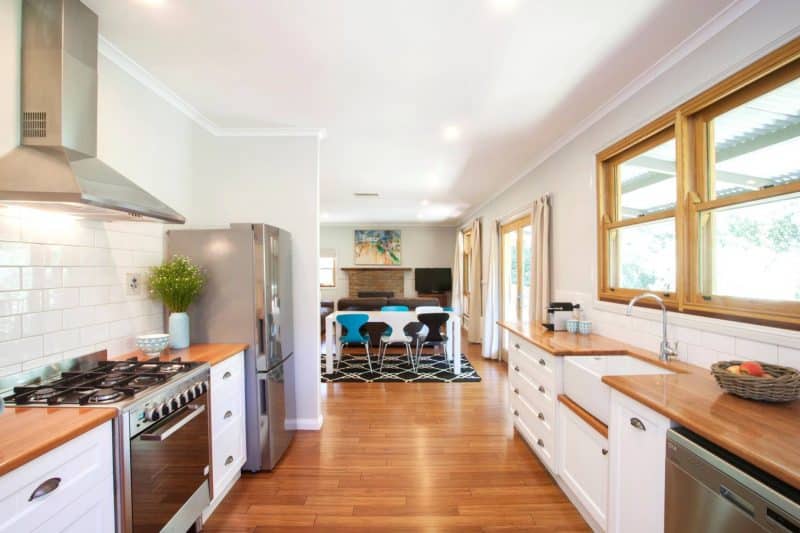 Spacious and self-contained, the Beechworth Cedar Cottages are in walking distance of the Beechworth town centre.  
Four cottages sit on the vast two-acre property. The property features a tree-lined garden and adjoins the Murray to Mountain Rail Trail, which will come in handy when heading out on your mountain bike adventures.
Two of the three cottages are designed to be enjoyed by groups, perfect for a getaway with friends. The two-bedroom cottage sleeps four, and you can opt for either a king-sized bed or two single beds. It also includes a fully-equipped kitchen perfect for group cook-ups, as well as a double spa bath, laundry, and outside decking fitted with a BBQ.
The four-bedroom cottage sleeps eight. With four bedrooms, two bathrooms, two lounge rooms, a large dining table, laundry, and a self-contained kitchen, it's a comfortable and spacious lodging for bigger groups and families.
The cottages are a short 300-metre walk to the Lake Sambell picnic area and swimming beach, so you're truly in amongst the natural landscape. Breathe in that fresh, open air! 
Website: Here
Address: 8 Elgin Rd, Beechworth Vic 3747
Reviews:
4.6 Google Review from 25 reviews
5 Trip Advisor from 211 reviews
Pet-Friendly Accommodation in Beechworth
Getaways are made so much better when your four-legged friend can come along for the ride.
The Woolshed Cabins in Beechworth is your go-to when it comes to pooch-friendly Beechworth accommodation. 
Woolshed Cabins Beechworth
The Woolshed Cabins sit on 12 acres of secluded bushland on the outskirts of Beechworth, a short walking distance to Woolshed Falls. It's a pet-friendly set-up, with vast stretches of bushland for your four-legged friend to explore. 
The property features four separate two-bedroom cabins, with some cabins sleeping up to four people.
The hosts recommend taking a morning stroll down the dog-friendly gorge trail into town, before settling in to enjoy the breathtaking sunsets over the Woolshed Valley.
For families, there's a lot to explore in the natural Woolshed playground. There's also a BBQ, so you have the option to cook if you're wanting a night in.
There are large fenced verandahs on each cabin, so your pooch will be safe outdoors, but they can be kept inside at night if you prefer.
Pets stay for free, too, so no need to dip into their savings! 
Note: One dog per cabin, no pets in Woolshed one.
Website: Here
Address: Cnr. Beechworth-Chiltern &, Mcfeeters Rd, Beechworth VIC 3747
Reviews:
4.9 Google Review from 33 reviews
Beechworth Luxury Winery Accommodation
Amid the gold rush architecture, historical landmarks, and stunning natural landscapes is Beechworth's famous food and wine scene.
The region is home to award-winning wineries and exceptional vineyard accommodation. These are our top picks for winery accommodation in Beechworth. 
Indigo Farmstay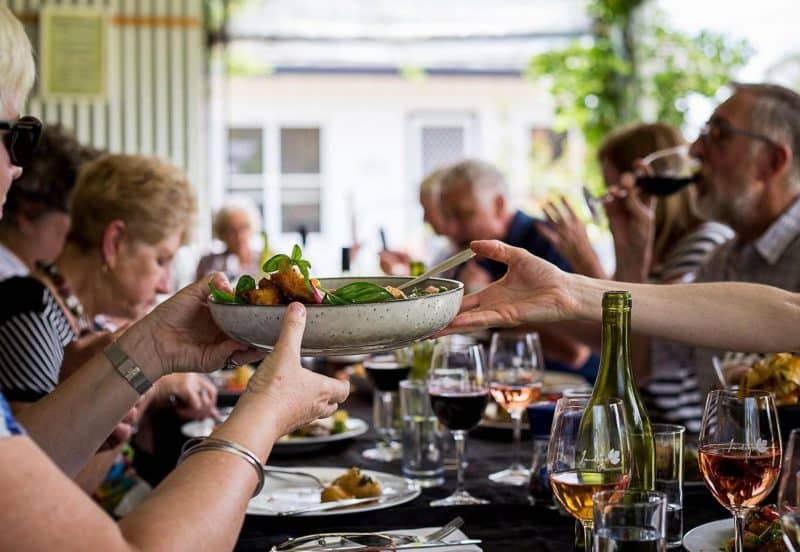 Indigo Vineyard is nestled in the foothills of the Victorian Alps. 
The winery is famous for its outstanding Chardonnay, Shiraz, Cabernet Sauvignon, and Pinot Noir varieties, as well as its breathtaking views and delicious local produce. It's no wonder Indigo Vineyard was voted 'Beechworth's Best Cellar Door with Food' by Gourmet Traveller WINE!
There's no need to worry about assigning one unlucky group member the role of designated driver — Indigo Vineyard has its very own Farmstay accommodation, so you can soak up as much wine and indulge in as many grazing boards as your heart desires.
Read more… ⬇️
Adjacent to the award-winning cellar door, Indigo Farmstay is a four bedroom, two bathroom homestead ideal for four couples or a large family group of 10. The homestead includes a patio with gorgeous garden views, a fully-equipped kitchen, and a back deck with a BBQ. 
It's in a great location, too. It's just eight minutes from the historic Beechworth town, so you can take your pick of restaurants and activities. It's also the perfect spot if you're keen to have a go at mountain biking along the Rail Trail — plus, there are four bikes included in your stay, so no need to lug your own bike around!
Whether you want to explore the Indigo Vineyard trail on a bike, stroll along the creek through the property, or kick back and enjoy a tasting experience at the cellar door, Indigo Farmstay has it all. 
Website: Here
Address: 1221 Beechworth Wangaratta Road, Everton Upper Vic 3678
Reviews:
4.6 Google Review from 60 reviews
4 Trip Advisor Review from 1 review
Serengale Vineyard Retreat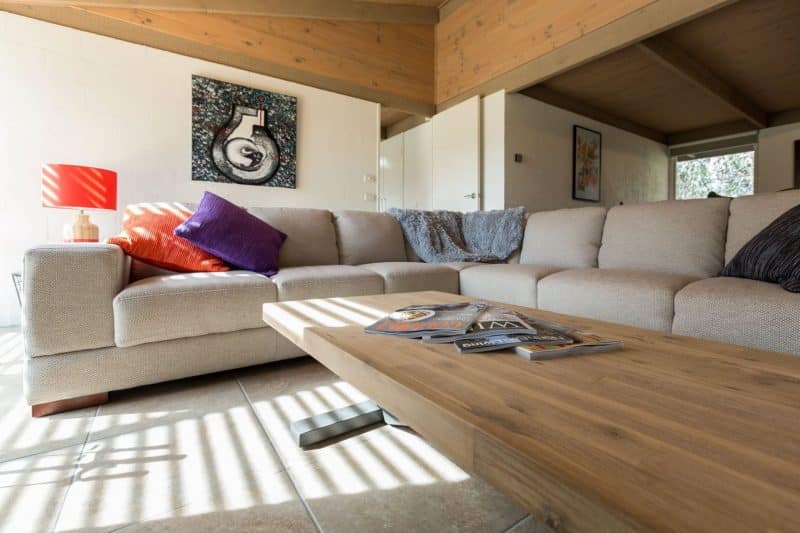 This stylish luxury retreat is situated on the 14 private acres adjoining Serengale Vineyard, right in the heart of the Beechworth and Milawa regions. 
The Serengale Vineyard was established in 1999, sitting at the base of the Victorian Alps and now famous for its Chardonnay, Pinot Gris, Merlot, and Shiraz. With both north and south-facing slopes, a mild climate, and ancient granite soils, the location is perfect for producing quality wines that speak to the terrain.
Serengale Vineyard was recognised in the 2020 Halliday Wine Companion as a 5-star winery, and one of the most notable wineries in Beechworth — a must-visit, to say the least. 
Read more… ⬇️
The owners of Serengale Vineyard Retreat had a vision; to create a space that embraces and celebrates the natural environment, while providing a luxury, private, and peaceful setting for guests to reconnect and recharge.
The retreat can comfortably accommodate groups up to 10, with the newly-renovated space featuring a spacious living area complete with an open fireplace, a reading room, five bedrooms, outdoor patio, a complete gourmet kitchen, and beautiful contemporary decor.

Each room looks out onto the rolling pastures, native garden, or Australian bush. You may be lucky enough to witness a spectacular sunset, or to spot kangaroos and sheep relaxing in the native garden.
Fancy a snack? You're free to pick your own fruit, veggies, and herbs from the garden!
Website: Here
Address: 1178 Beechworth Wangaratta Road, Everton Upper VIC 3678
Reviews:
5 Google Review from 8 reviews
5 Trip Advisor Review from 10 reviews
With your luxury accommodation in Beechworth sorted, it's time to get planning. Discover our top selections for Beechworth wineries and Beechworth restaurants to round out your trip.
Other Popular Articles