Smooshed between Bendigo in the west and Goulburn Valley in the east, lies the heart of Central Victoria, one of Victoria's hidden gems, the Heathcote wine region. Heathcote Shiraz is a varietal unmatched by any other, bringing many wine lovers to the region. Although the region is known for producing excellent Shiraz, most winemakers experiment with different wines such as Sangiovese, Grenache and Tempranillo. The region is also known for producing white wines like Chardonnay and Riesling. From unique accommodation to excellent local produce, spectacular views and historical sites, Heathcote is a great place to unwind, relax and appreciate the beauty of Mother Nature.
Wine Regions Australia has the local knowledge that will make life easy for you when you get to the region, including; the Heathcote Wine Hub, the best Heathcote wine tastings and wine tours, plus the best Heathcote wineries. Sit back and relax as Wine Regions Australia you on tour through the Heathcote wine region.
We would like to give warning that since Covid, some wineries in Heathcote are still temporarily closed. Please call in advance to secure a table or tasting.
---
The Heathcote Wine Region
Heathcote was established in the 1850s shortly after gold was discovered in the area. Like all good things that must come to an end, the gold dried up, and miners turned to their small backyard vineyards as a means of income. The number of Heathcote wineries grew exponentially until the demise that most of Victoria lay victim to; the Phylloxera aphid. The disease wiped out most of the vineyards in Heathcote. The region, showing resilience, continued to develop, grow and mature now with over 40 wineries dispersed throughout the area!
Heathcote's red wines are highly praised in Australia due to the region's excellent soils and conditions. Most of Heathcote's foundations consist of ancient Cambrian soils; these calcium-rich red soils consist of greenstone which has incredible water retention! The water is held in the ground year-round feeding the vines and keeping the grapes succulent and juicy, allowing for maturities and complexities to shine through the wine.
Most vineyards rest on the slopes of the Mt. Camel Ranges, reaching an elevation of 380 metres above sea level. The altitude allows for cooler temperatures to govern the grapes, assisting the longevity of their vine life. Such intrinsic details piece together the personality of the wine region and give the Heathcote wineries their flair.
---
Getting There
Heathcote is situated on the Northern Highway – 110 kilometres North of Melbourne and 40 kilometres South-East of Bendigo via the McIvor Highway. Heathcote is an easy 90-minute drive from Melbourne's city centre or just a half an hour drive from Bendigo.
By Car
From Melbourne:
1. Via the Hume Highway
Once you are on the Hume Highway, proceed North past Craigieburn, take the Northern Highway exit at Beveridge and continue to the Northern Highway through Wallan, Kilmore and Tooborac to then arrive at Heathcote.
2. Via the Calder Highway
Exit Melbourne via the Tullamarine Freeway, connect to the Calder Freeway. Proceed north-west past Woodend, taking the second exit into the town of Kyneton and at the roundabout veer north and continue along the Kyneton-Heathcote Road passing through Barfold and Redesdale.
3. Scenic Route
Coming from Melbourne, head towards the Tullamarine airport. Proceed past the airport, following the signs to Sunbury. You will drive thru Bulla down a great big dip, crossing a narrow bridge on your way to Sunbury. Before Sunbury, there is a roundabout at the turn to Lancefield & Romsey, turn right and follow this road to the end through Romsey and Lancefield. It ends in Tooborac at the Northern Highway. Turn left and head towards Heathcote past the Tooborac Pub. After about 15 kilometres, you will reach Heathcote.
From Bendigo:
Via the McIvor Highway: Start on Williamson Street and proceed along the McIvor Highway for 46 kilometres until you reach Heathcote.
By Bus
Buses come and go daily from the Heathcote town centre taking you to Melbourne, Bendigo, Shepparton or beyond.
If you're visiting Heathcote from Bendigo, why not enjoy the fresh air and ride a bike along the historic O'Keefe Trail. Locals recommend stopping by the Axedale Tavern for a refreshment!
---
Heathcote Wineries: The Top 6 Cellar Doors
We've put together a list of our favourite Heathcote wineries for you to explore. To capitalise on the surplus of quality vino, we suggest jumping on a few wine tastings in Heathcote. Heathcote wine tastings are a great way to figure out which wine you'd like to try more of or potentially take a few bottles home.
Sanguine Estate
Established in 1997, the Hunter family worked weekends to develop the initial 16 acres of land that increased to 55 acres by 2002. Sanguine Estate comprises 50 acres of shiraz vines, with 5 acres of different varieties such as Chardonnay, Viognier, Merlot, Cab Sav, Petit Verdot, Tempranillo and Cabernet Franc.
A boutique vineyard focused on creating balanced, sophisticated and complex wine inspired by the Heathcote wine region. When visiting this winery, expect to be greeted by none other than one of the Hunter family members. Indulge in one of the best wine tastings in Heathcote. Taste Sanguine Estate's finest on the patio that overlooks the gorgeous vineyard.
Reviews:
4.8 ⭐️ Google Review from 33 reviews
5.0 ⭐️ Trip Advisor from 21 reviews
Silver Spoon Estate
Resurrected from the abandoned Silver Spoon Mine, comes a family-owned and operated Heathcote winery focusing on creating premium wines. Their vineyards date back to 2000, with 51 acres under vine. Seventeen kilometres north of Heathcote township this winery and cellar door is powered by solar panels and lithium-ion batteries making as little environmental impact as possible.
Silver Spoon Estate favours Shiraz taking 80% of production; the remaining 20% is claimed by Grenache, Viognier, Mourvedre and Tempranillo. Around 50% of the vineyard's grapes are sold to various winemakers throughout Victoria and Heathcote. The remaining 50% is used for the Silver Spoon label, producing traditional wines using only conventional hand picking techniques, pruning and low chemical intervention.
The friendly owners are sure to make you feel comfortable from the moment you arrive. The wines are impeccable, if you're lucky, you can learn about Silver Spoon's winemaking processes on one of the most informative wine tastings in Heathcote.
Reviews:
4.8 ⭐️ Google Review from 24 reviews
5.0 ⭐️ Trip Advisor from 14 reviews
Mia Valley Estate
Over 100 acres of land, overlooking the Mia Mia creek, Mia Valley Estate meanders across rich red soils dotting the land with green vines.
Mia Valley Estate's philosophy tends to each vine individually, ensuring quality in every grape. The vines are hand pruned and picked, keeping their vines organic to create unique wines, full of flavour. Mia's Estate is known for its prominent Heathcote Shiraz production, with its first wines produced in 2002. However, 1/4 of their vines are home to Cabernet Sauvignon grapes.
When grape picking season comes around, family and friends are invited to the estate to handpicked the fruit. It's a cherished experience verging on tradition, where the community can indulge in a delicious lunch and sample the previous vintages.
Wine Regions Australia recommends the 2010 Heathcote Shiraz with "A fresh cherry palate with floral bouquet, medium-bodied wine, infused with subtle oak characters & soft tannins, easy drinking".
Reviews:
4.9 ⭐️ Google Review from 9 reviews
5 ⭐️ Trip Advisor from 3 reviews
Visit Mia Valley Estate
Munari Wines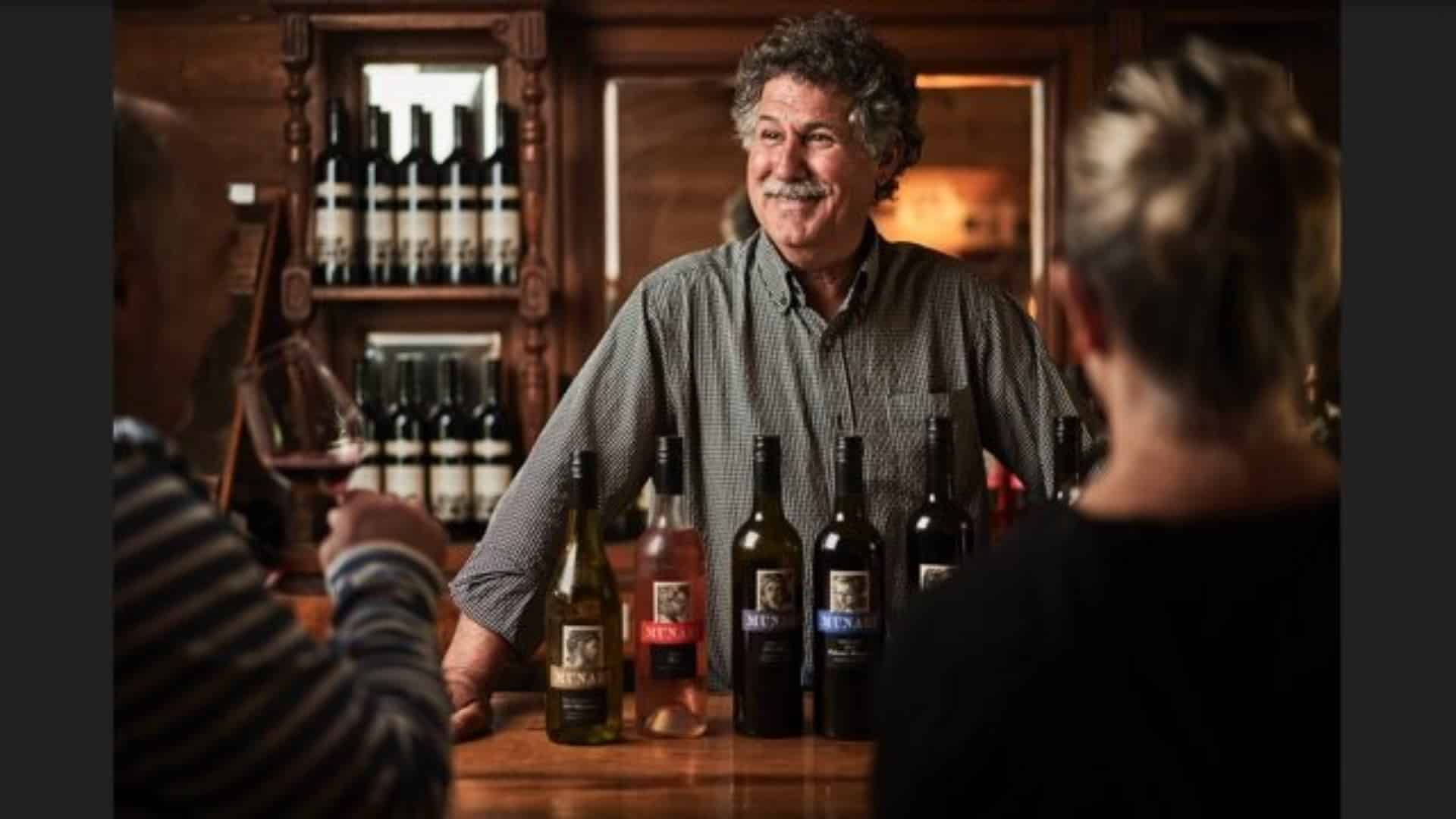 Munari Wines is a family-owned Heathcote winery founded in 1993, just 11 kilometres North of Heathcote at the base of Mt Ida.
Adrian Munari has a passion for wine and has often proclaimed "Understand your site, its soil profile, seasonal climate variation, and thus grow the most appropriate varieties. Don't be restricted by the past, complement old winemaking principles with the innovative techniques developed in the new world for quality control. Doing so allows room for experimentation and adventure in the attaining of superior expression in the 'terroir' of your bottle."
Originating from just a single Heathcote Shiraz blend, 25 years later the winery has an internationally recognised profile. Cabernet Sauvignon, Merlot and Malbec have now accompanied the Heathcote Shiraz.
Once a sheep station equipped with 1000 acres and an old stable now a converted cellar door offering unique wine tastings whilst looking at the stunning vineyard and beyond.
Visitors are invited to explore the beautiful winery for an informative wine tasting of Heathcotes finest or a BYO picnic. You're encouraged to grab a bottle or two of wine and lounge on the lawn, whilst enjoying the fruits of the winemaker's labour.
Reviews:
4.8 ⭐️ Google Review from 49 reviews
5.0 ⭐️ Trip Advisor from 4 reviews
McIvor Estate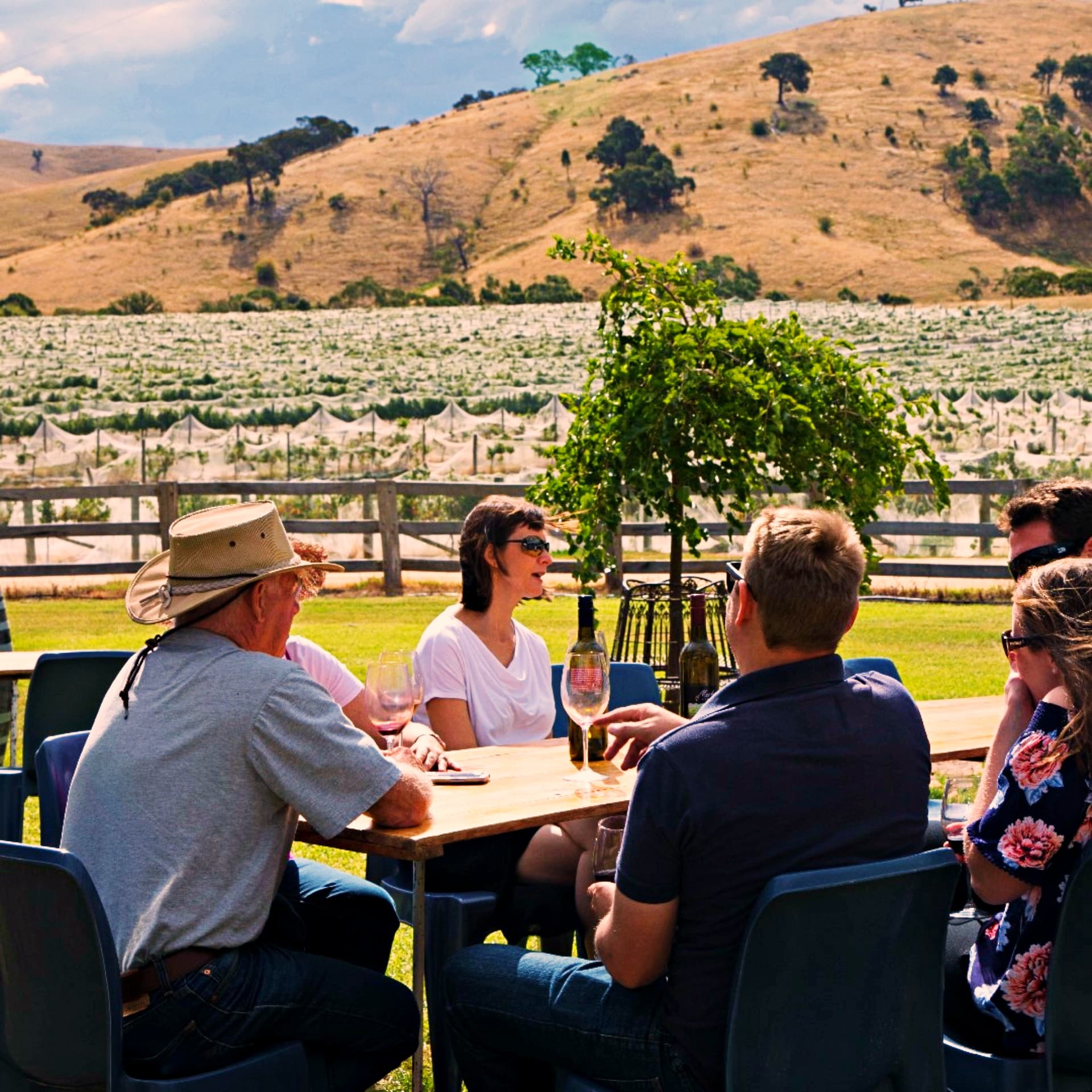 Once a grazing land in the Southern end of the Heathcote wine region is now a stunning, thriving vineyard and olive grove known as McIvor Estate. Overlooking large ashen boulders and rolling hills, this winery is known for its award-winning wines and diversity with the oldest plantings of Sangiovese, Nebbiolo, and Marsanne in Heathcote.
The vineyard and olive grove have drawn their inspiration from a traditional Italian farm, honouring the winemaker's rich Italian heritage. Hand pruning, picking and old-school fermentation methods ensure that only the highest quality grapes make it into the wines. The grapes are carefully aged in various oak barrels for 12 to 18 months, to ensure the wine is full-bodied and highly aromatic.
Reviews:
4.8 ⭐️ Google Review from 10 reviews
4.5 ⭐️ Trip Advisor from 16 reviews
Things to do and Places to Stay
Understandably, after a couple of days touring wineries, you may want to shake things up a bit. We've comprised a list of interesting activities that you can check out while you're in the area.
History and Sight Seeing
Heathcote has a rich history, with plenty to learn and discover when you've finished visiting the Heathcote wineries. High Street is where you'll find some charming heritage-listed buildings such as the former courthouse, shire council chambers and town hall. Walking a little further into town, you'll discover Herriot Street where you can visit the Camp Hill Historic Precinct, including the old gaol built in 1859.
Heathcote sits at the bottom of Mount Ida and is surrounded by stunning parklands for you to explore. Many tracks for hiking and cycling and dozens of sights to see lay vulnerable to your command.
Heathcote Wine and Food Festival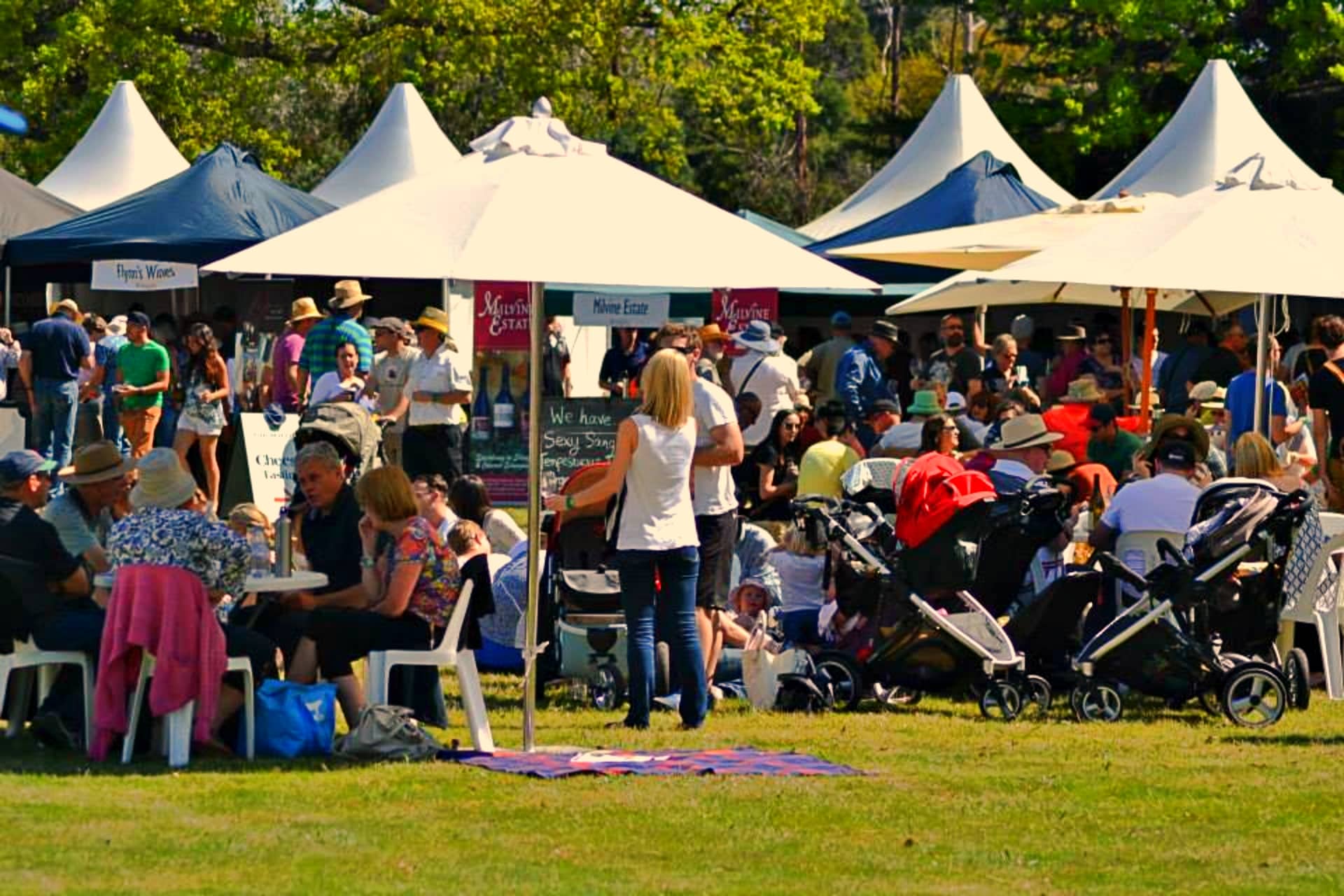 Heathcote is also known for events and festivals that showcase the incredible (and delicious) products that the surrounding community bring to the plate. 'Heathcote On Show' is held each long weekend in June, where winemakers, chefs, brewers and musicians welcome you to Heathcote. In October, the 'Heathcote Wine and Food Festival' showcases wines from over 40 talented producers. Meet the winemakers and indulge in regional foods and local produce.
Great Places to Stay
If you want to explore more than one or two wineries, we recommend making a holiday out of your visit. The Heathcote Inn is a popular place to stay, offering country accommodation surrounded by stunning countryside with plenty of local produce at their doorstep. The Mimosa Glen is a Victorian cottage, built in 1880. The quaint cottage offers beautiful country-style accommodation with stunning gardens to explore.
Looking for more regions and wineries near you?