In between the McIvor and McHarg Ranges, in the heart of Central Victoria is where you'll find one of Victoria's hidden gems and stunning wine regions. Heathcote was established in the 1850s shortly after gold was discovered in the area. Not only known for the gold rush but another gem, the impeccable Heathcote wineries. Heathcote is a great place to unwind, relax and appreciate stunning views. From unique accommodation to amazing local produce, spectacular views and historical sites – this region has it all.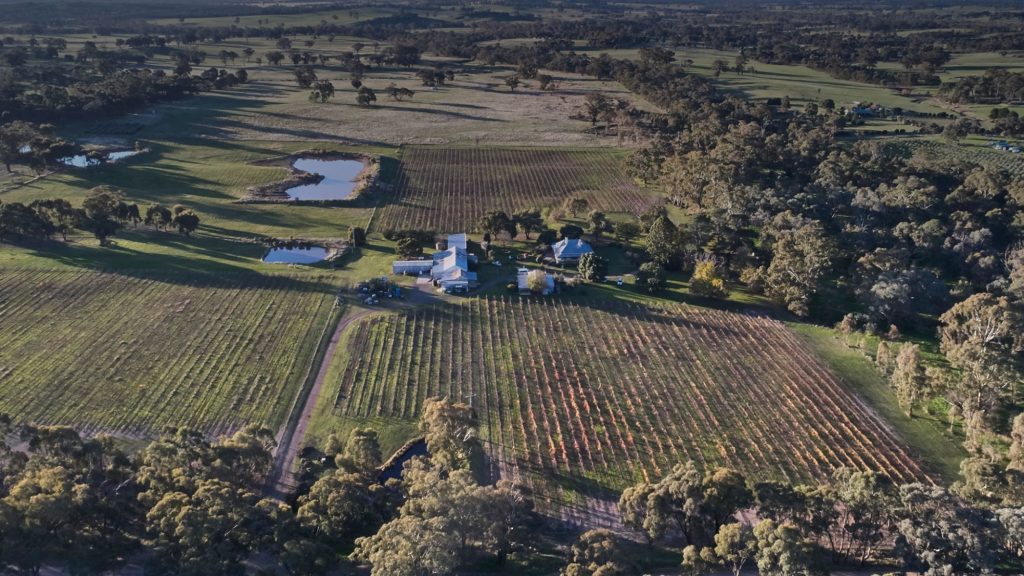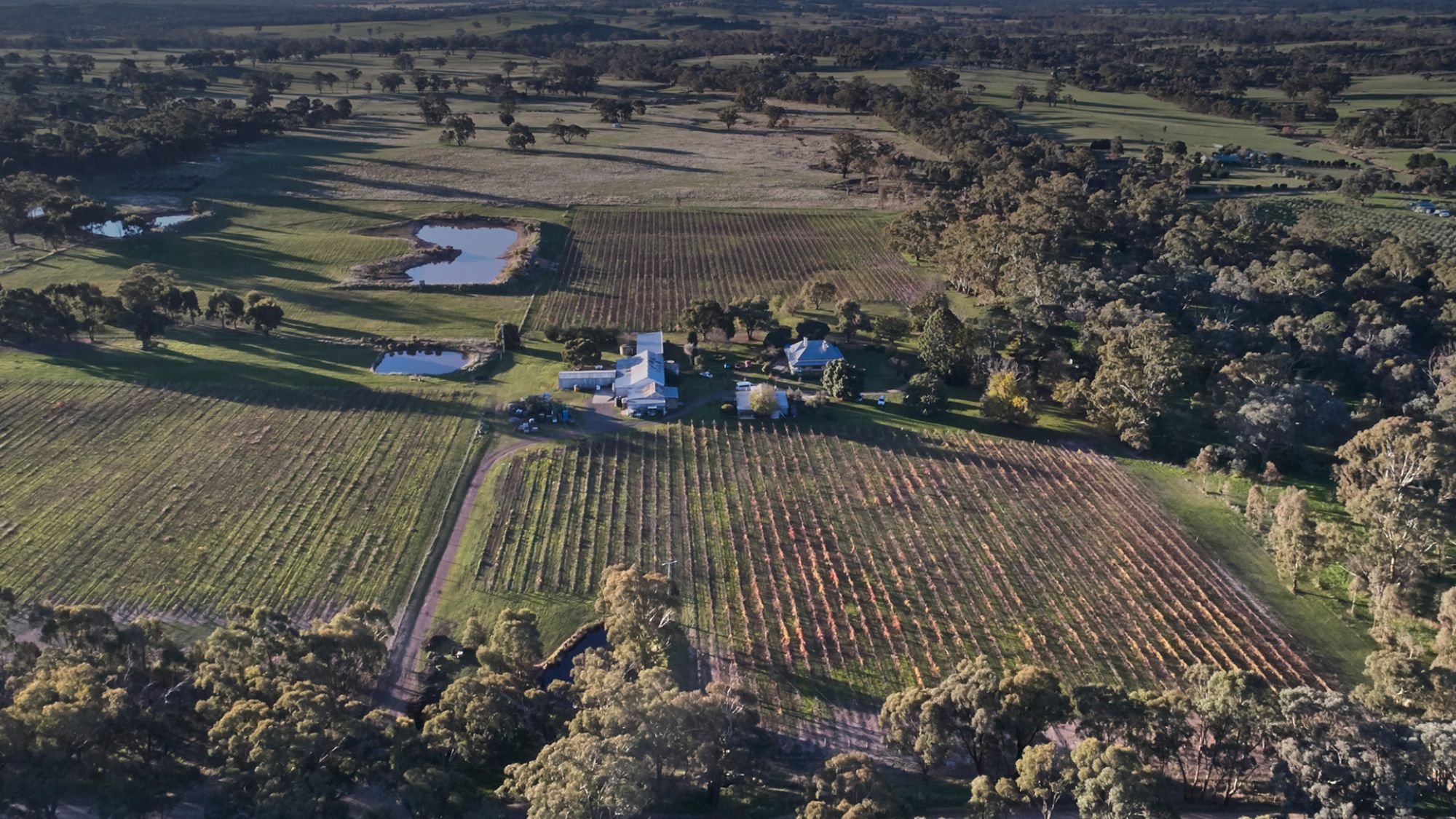 Getting There
Heathcote is situated on the Northern Highway – 110 kilometres North of Melbourne and 40 kilometres South-East of Bendigo via the McIvor Highway. Heathcote is an easy 90-minute drive from Melbourne's city centre or just a half an hour drive from Bendigo.
By Car
From Melbourne:
1. Via the Hume Highway
Once you are on the Hume Highway, proceed North past Craigieburn, take the Northern Highway exit at Beveridge and continue onto the Northern Highway through the townships of Wallan, Kilmore and Tooborac to then arrive at Heathcote.
2. Via the Calder Highway
Exit Melbourne via the Tullamarine Freeway, connect to the Calder Freeway. Proceed north-west past Woodend, taking the second exit into the town of Kyneton and at the roundabout veer north and continue along the Kyneton-Heathcote Road passing through Barfold and Redesdale.
3. Scenic Route
Coming from Melbourne, head towards the Tullamarine airport. Proceed past the airport, following the signs to Sunbury. You will drive thru Bulla down a great big dip, crossing a narrow bridge on your way to Sunbury. Before Sunbury, there is a roundabout at the turn to Lancefield & Romsey, turn right and follow this road to the end through Romsey and Lancefield. It ends in Tooborac at the Northern Highway. Turn left and head towards Heathcote past the Tooborac Pub. After about 15 kilometres, you will reach Heathcote.
From Bendigo:
Via the McIvor Highway: Start on Williamson Street and proceed along the McIvor Highway for 46 kilometres until you reach Heathcote.
By Bus
Buses come and go daily from the Heathcote town centre taking you to Melbourne, Bendigo, Shepparton or beyond.
If you're visiting Heathcote from Bendigo, why not enjoy the fresh air and ride a bike along the historic O'Keefe Trail. Locals recommend stopping by the Axedale Tavern for a refreshment!
Wineries
Heathcote is home to over 40 wine producers who are responsible for those award-winning wines. Heathcote is famous for none other than it's full-bodied Shiraz. Shiraz thrives in Heathcote's rich soil and warm climate. Although they are known for producing excellent Shiraz, most winemakers have been experimenting with other wines such as Sangiovese, Grenache and Tempranillo. The region is also known for producing white wine such as Chardonnay and Riesling. We've put together a list of our favourite Heathcote wineries for you to explore.
1. Merindoc Cellar Door
A winery perfect for unwinding and commencing your stay in the Heathcote region. For three generations, the Shelmerdine family has been creating delectable wine in one of Australia's most unique wine regions. The Shelmerdine family have a rich historian in managing vineyards in Victoria. Each of their vineyards is managed to produce sustainable, high-quality wine.
Hand pruning, picking and training are what makes Merindoc stand out. The Merindoc range calls two very different vineyards home – Willoughby Bridge Vineyard in Colbinabbin with a warm climate and red soil. Whilst the Merindoc Vineyard in Tooborac is known for its cool nights and granite soils. These diverse climates and soils allow Merindoc to grow an extensive range of vines, with over 20 different grape varieties being grown between the vineyards, they are one of the most diverse produces in the region and are known for their producing nothing but the best.
2.  Mia Valley Estate
Over 100 acres of land, overlooking the Mia Mia creek. In 1999, Mia Valley's Estate was a vineyard of 4 and a half acres was established on the rich red soils of the region. Followed by a second vineyard of another 4 and a half acres in 2004. 
Mia Valley's Estate philosophy is to tend each vine individually, giving attention to maximise the health of each vine. The vines are hand pruned and picked, keeping their vines organic to create unique wines, full of flavour. Mia's Estate is known for producing mostly Shiraz, with their first wines being produced in 2002. However, 1/4 of their vines are home to Cabernet Sauvignon grapes.
The grape picking is done by hand, by family and friends at designated times according to the season. This is a great experience, where family and friends can pick grapes, indulge in a delicious lunch and sample the previous vintages. The grape crushing is soon to follow. During fermentation, gentle hand planning takes place in open ferment bins. The wine is then basket pressed and kept in American & French Oak for approximately 18 months.
3. Sanguine Estate
Established in 1997, the Hunter family worked weekends to establish the initial 16 acres or land that then grew to 55 acres by 2002. Sanguine Estate is predominately made up of Shiraz vines, with 5 acres being made up of different varieties such as Chardonnay, Viognier, Merlot, Cab Sav, Petit Verdot, Tempranillo and Cabernet Franc.
A boutique vineyard focused on creating balanced, sophisticated and complex wine inspired by the Heathcote wine region. When visiting this winery, expect to be greeted by none other than one of the Hunter family members. Indulge in award-winning wine tastings at the cellar door, or on the terrace overlooking the stunning property.
4. Munari Wines
A family-owned vineyard founded in 1993, just 11 kilometres North of Heathcote at the base of Mt Ida.
Adrian Munari's has a passion for wine and has always believed as with fellow winemakers "Understand your site, its soil profile, seasonal climate variation, and thus grow the most appropriate varieties. Don't be restricted by the past, complement old winemaking principles with the innovative techniques developed in the new world for quality control. Doing so allows room for experimentation and adventure in the attaining of superior expression in the 'terroir' of your bottle."
Originating from just a single Shiraz blend, 25 years later the winery has an internationally recognised profile. The Shiraz has now been accompanied by Cabernet Sauvignon, Merlot and Malbec.
Once home to a 1000+ acre old stable sheep station is now a converted cellar door. Offering unique wine tastings whilst looking at the stunning vineyard and beyond. Visitors are invited to visit this beautiful winery for an intimate tasting or a BYO picnic. You're encouraged to grab a bottle or two of wine and lounge on the luscious lawn, whilst overlooking the stunning vines.
5. McIvor Estate
Once a land of grazing in the Southern end of the Heathcote wine region is now a stunning, thriving vineyard and olive grove known as McIvor Estate. Overlooking large ashen boulders and rolling hills, this winery is known for its award-winning wines and is known for growing alternative grapes, with the oldest plantings in Heathcote of Sangiovese, Nebbiolo and Marsanne.
Both the wine vineyard and olive grove has drawn its inspiration from a traditional Italian farm, in honour of Cynthia's rich Italian heritage. Hand pruning, picking and old-school fermentation methods ensure that only the grapes of the highest-quality make it into wines. The grapes are carefully aged in various oak barrels for 12 to 18 months, to ensure the wine is full-bodied and highly aromatic. 
6. Silver Spoon Estate
A family owned and operated winery named after the now abandoned Silver Spoon Mine, with a heavy focus on creating premium wines. Not only does this estate create their own wines, but they also sell their grapes to various winemakers throughout both Heathcote and Victoria. Vineyards dating back to 2000, with 51 acres under vine, 17 kilometres North of the town of Heathcote. A winery and cellar door powered by solar panels and lithium-ion batteries.
Specialising in 80% Shiraz grapes with the remaining 20% planted to Grenache, Viognier, Mourvedre and Tempranillo.  Around 50% of the vineyard's grapes are sold to various winemakers throughout Victoria and Heathcote. The remaining 50% is used for the Silver Spoon label, producing traditional wines using only traditional techniques of hand picking, pruning and low chemical intervention.
The friendly owners are sure to make you feel comfortable from the moment you arrive. The wines are impeccable, if you're lucky, you can learn about Silver Spoon's winemaking processes.
Things to do and places to stay
Heathcote has a rich gold rush and indigenous history, with plenty to learn and discover when you've finished visiting the Heathcote wineries.  High Street is where you'll find some charming heritage-listed buildings such as the former courthouse, shire council chambers and town hall. Walking a little further into town, you'll find Herriot Street where you can visit the Camp Hill Historic Precinct, including the old gaol built in 1859.
A plethora of tracks for hiking and cycling and dozens of sights to see. Heathcote sits at the bottom of Mount Ida and is surrounded by stunning parklands for you to explore. 
With no shortage of sites to see in this stunning region, Heathcote is also known for events and festivals you won't want to miss. 'Heathcote On Show' is held each long weekend in June, where winemakers, chefs, brewers and musicians welcome you to Heathcote. In October, the 'Heathcote Wine and Food Festival' showcases wines from over 40 talented producers. Meet the winemakers and indulge in regional foods and local produce.
If you're wanting to explore more than one or two wineries, we recommend making a holiday out of your visit. The Heathcote Inn is a popular place to stay, offering country accommodation surrounded by stunning countryside with plenty of local produce at their doorstep. The Mimosa Glen is a Victorian cottage, built in 1880. The quaint cottage offers beautiful country-style accommodation with stunning gardens to explore.