Sip that mountain air and escape the smog, just for a second. Steep valleys and winding roads meander across tree canopies. There are plenty of walking trails, Instagrahmable sunsets, and the calibre of restaurants in the King Valley is quite astonishing considering you're out in the sticks.
Just so you don't have to look at some dodgy review site only to find their recommendations were mediocre at best, us Victorian locals at Wine Regions Australia have taken the liberty to give you a cheesy slice of the best King Valley restaurants on offer.
It's important to mention that there isn't a heap of versatility in relation to cuisine in the King Valley – there is a prominent Italian influence, and it's reflected quite clearly on most menus you'll come across.
With that in mind, let's begin.
King River Cafe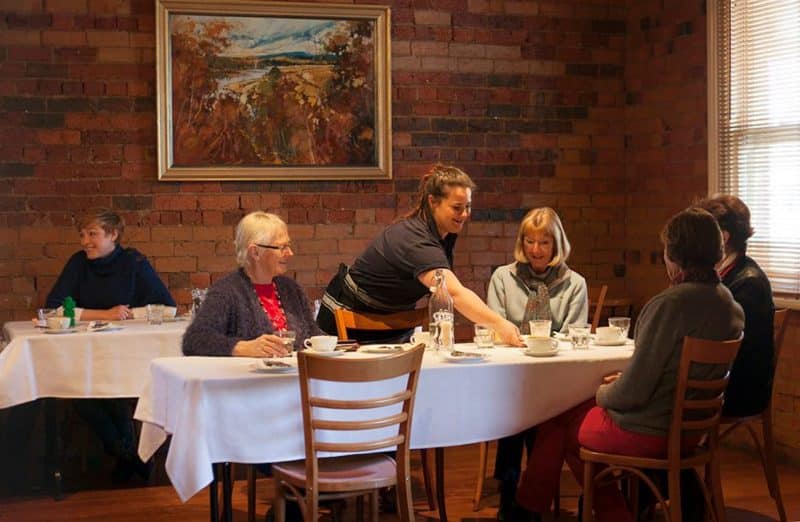 Naturally, in a wine region, most of your eating experiences will take place during the day, pardon a few venues and pubs tending to the locals and committed tourists staying a couple of nights.
But don't let the name fool you, this cafe stays open for dinner, and they serve a classic menu you'd expect to see out in the countryside; we're talking beef fillet with grilled mushroom with bearnaise sauce, pork loin with parsnip puree, Confit duck with roast beetroots. All the good hearty stuff.
The service is homely, as you'd expect from a family-owned restaurant. But you can tell that they understand the premise of return customers, not turn and burn.
Have a dabble; you won't be disappointed.
Opening Times: Due to Covid Please visit the website
Book: Here
Address: Here
Price: $
Reviews:
4.7 Google Review from 315 reviews
4.5 Trip Advisor from 245 reviews
Brown Brothers Winery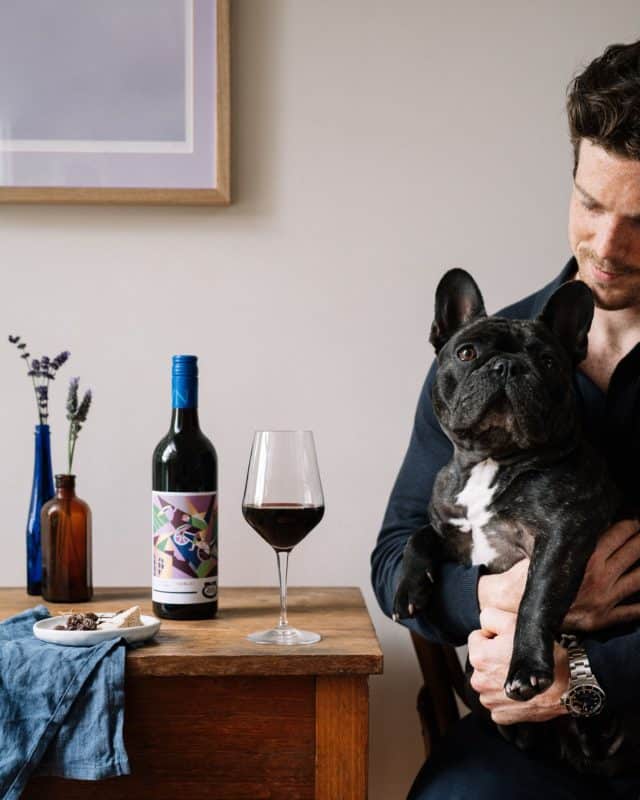 Australian wineries persistently maintain the gold standard for sustainability and quality in experience. The 'paddock to plate' philosophy or rather, 'way of life' was almost coined by winery restaurants in Oz simply due to the convenience. The winemakers are growing grapes and concocting delicious vino, it makes sense that the chefs follow in their footsteps and use this agricultural knowledge to grow the freshest of ingredients.
A restaurant garden also justifies a slight increase in prices. What would you rather, a waxy Woolworths carrot or an organic heirloom carrot that grew next to the wine your sommelier has recommended for you?
Opening Times: Due to Covid Please visit the website
Menu: Here
Book: Here
Address: Here
Price: $$
Reviews:
4.5 Google Review from 263 reviews
4.5 Trip Advisor from 498 reviews
Pizzini Wines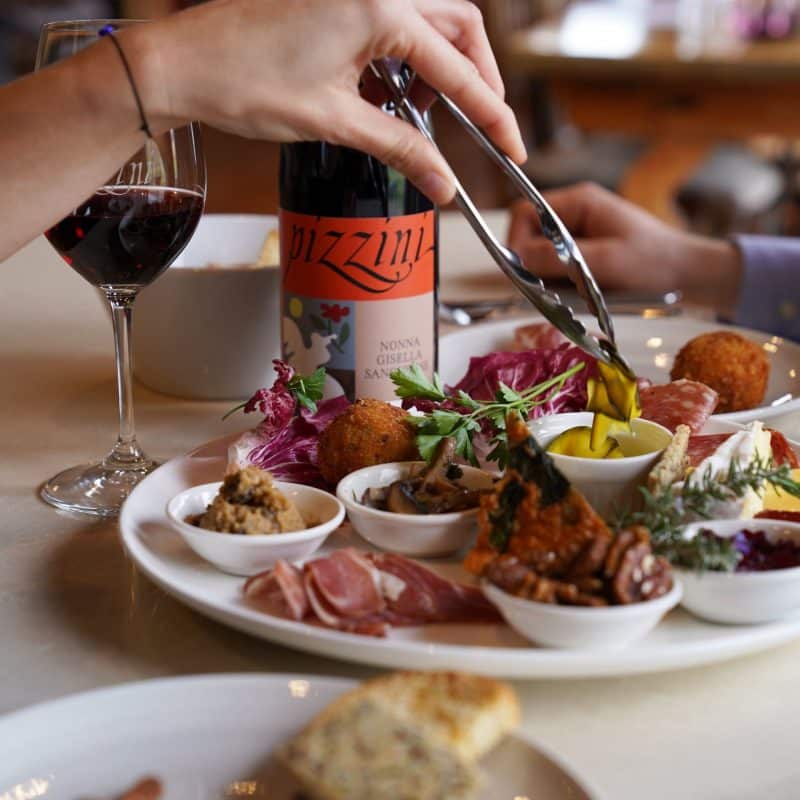 Most don't know but one of the many attributes that drive the quality and passion for fine foods and restaurants in the King Valley is its Mediterranean influence. Many Italian families moved to the King Valley in the 1940s in search of fertile farmland for growing tobacco and wine. It was in the King Valley that prosecco was made famous in Australia. And this slice of history reflects on the gorgeous food served up at Pizzini Wines.
Pizzini Wines delivers a modern Italian menu – some classic dishes with a spin of King Valley flair. They also offer traditional Italian cooking classes for those that wish to really get in the spirit of food and culture.
We recommend having a squiz at their package offerings – trekking through the King Valley, journey with the maker, it all sounds pretty delish.
The best thing of all, they have live music on the weekends, so call in advance to make sure there's a spot for your fine self.
Opening Times: Due to Covid Please visit the website
Book: Here
Address: Here
Price: $$
Reviews:
4.5 Google Review from 97 reviews
4.5 Trip Advisor from 187 reviews
Chrismont – Cellar Door, Restaurant & Larder
If you were to write to Nonna and tell her you were coming for supper, you'd be greeted with open arms, a roaring fire and a hot bowl of something you know is going to taste damn good. Chrismont has created the same atmosphere. Their mantra is to serve with generosity and create a homely environment that is comfortable and enticing.
Their Italian heritage is reflected in the menu with fresh ingredients and all the flavour pairings you'd like to see on an Italian menu;
Duck ragu and Papadelle
Lobster tail Risotto
Slow Cooked Lamb Shanks
Artichoke and Broadbean Souffle
Not bad paired with a glass of wine and a view.
Opening Times: Due to Covid Please visit the website
Book: Here
Address: Here
Price: $
Reviews:
4.9 Google Review from 133 reviews
5.0 Trip Advisor from 204 reviews
Dal Zotto Wines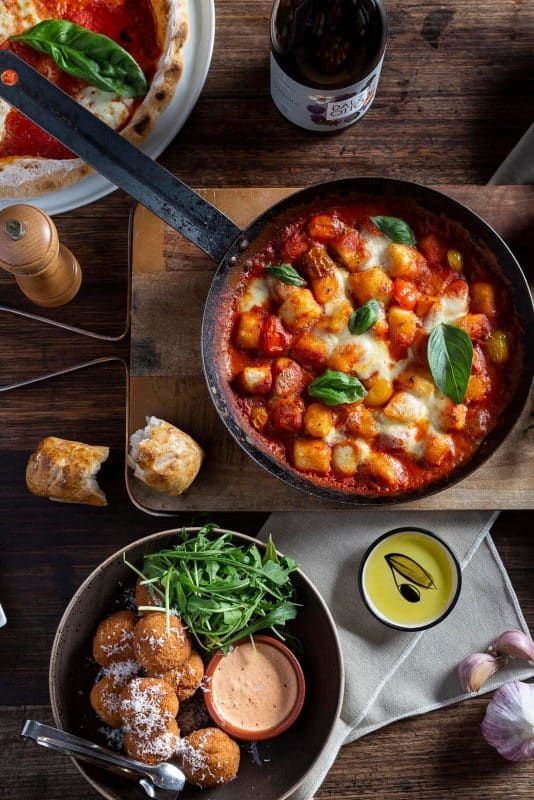 Look out, you guessed it, Italian food. But with a fantastic selection of wood-fired pizzas. Dine amongst the trees on a long table, buzzing laughter, flowing wine, and homely and generous service – that's Trattoria Restaurant.
King Valley restaurants have really understood the brief when it comes to country hospitality. So often we've ventured to wineries to find unenthused service and it's not something that makes you desire a return. This negative experience can reflect on the region as a whole, and it's not fair on the restaurants, wineries, artisans and locals giving it a red hot crack and creating an experience tourists will rave about, inspiring them to plan their next trip!
Enough venting… Elena and Otto Dal Zotta founded this fine establishment, but it's their sons that run the place now – however, you will still see Elena in the kitchen garden tending to the crops nurtured and picked for the menu. To complement the crisp ingredients, we recommend the Dal Zotto Tabelo Preseco; it's a beautiful wine with a 94 point score from James Halliday.
Opening Times: Due to Covid Please visit the website
Book: Here
Address: Here
Price: $$
Reviews:
4.7 Google Review from 112 reviews
4.5 Trip Advisor from 76 reviews
Gamze Smokehouse
Just as you thought Italian was the only source of food you were going to find amongst the number of King Valley restaurants on offer… Gamze Smokehouse is an absolute must-visit. The heritage hall transformed restaurant is an immersive experience – the smells hit the salivate button almost instantly. But the food is quick, and boy is it delicious.
They do the quality, fast-food style cuisine really well. Beef burgers, Reubens, footlong Kransky hotdogs, rack of ribs – and so on. If you've exhausted your wine palette over the previous couple of days spent in the King Valley, the Smokehouse has a selection of craft beers/ and a few normal ones to assist the copious dishes you'll inevitably consume.
Opening Times: Due to Covid Please visit the website
Book: Here
Address: Here
Price: $
Reviews:
4.6 Google Review from 103 reviews
4.0 Trip Advisor from 66 reviews
Visiting the King Valley
Amongst the surplus of restaurants in the King valley there are numerous other activities and leisurely adventures one can partake in. from balloon rides, cycling and wine tours to farmers' markets and bush walking through old Ned Kelly territories. Safe to say, there won't be an ounce of boredom presented in the King Valley.
Planning on staying a few nights? See our take on the best accommodation in the King Valley. Or, if you're looking for a wine tasting or three, check our pick of the top wineries in the region.
Happy trails, and drive safe!