The Mornington Peninsula is located to the southeast of Melbourne, Victoria. With an abundance of natural attractions, beaches, coastal sights, and, the abundance of Mornington Peninsula wineries, this region draws Melbournites in like moths to a flame, so it's handy to know the best wineries so you don't get stuck visiting the 'overgrown' locations.

Its lush fertile valleys and mild climate creates the ideal environment for vineyards. The region has a deep history of winemaking, stretching back to the late 19th century. As one of the leading regional tourism locations in Australia, the Mornington Peninsula region contributes over $1.2 billion in Australia's tourism revenue.

We're going to show you a whole bunch of Mornington Peninsula wineries and cellar doors worth chucking on your road trip hitlist. See below for a bit of juice on the history, some insight on how to get there, or ride on through to the winery suggestions.
---
Mornington Peninsula Wine History
Today the Mornington Peninsula has established itself as a key Australian region for winemaking. One of the earliest mentions of the region's winemaking comes from the Intercontinental Exhibition in London where the 1886 Dromana wine won an honourable mention. However, during the 1920s many Mornington Peninsula fell into disrepair from the 1920s onwards due to increasing competition from South Australia and British imports. Since the 1970s, the Mornington Peninsula experienced a significant winemaking boom, establishing itself not only as a tourist haven but also as a premier winemaking region of Australia and the world.
The most common types of wine produced on the Mornington Peninsula are Pinot Noir and Chardonnay, since these are most suited for the cool maritime climate. Driving through the rolling hills and sheltered valleys where the Peninsula vineyards are located can feel like you're in France or Italy.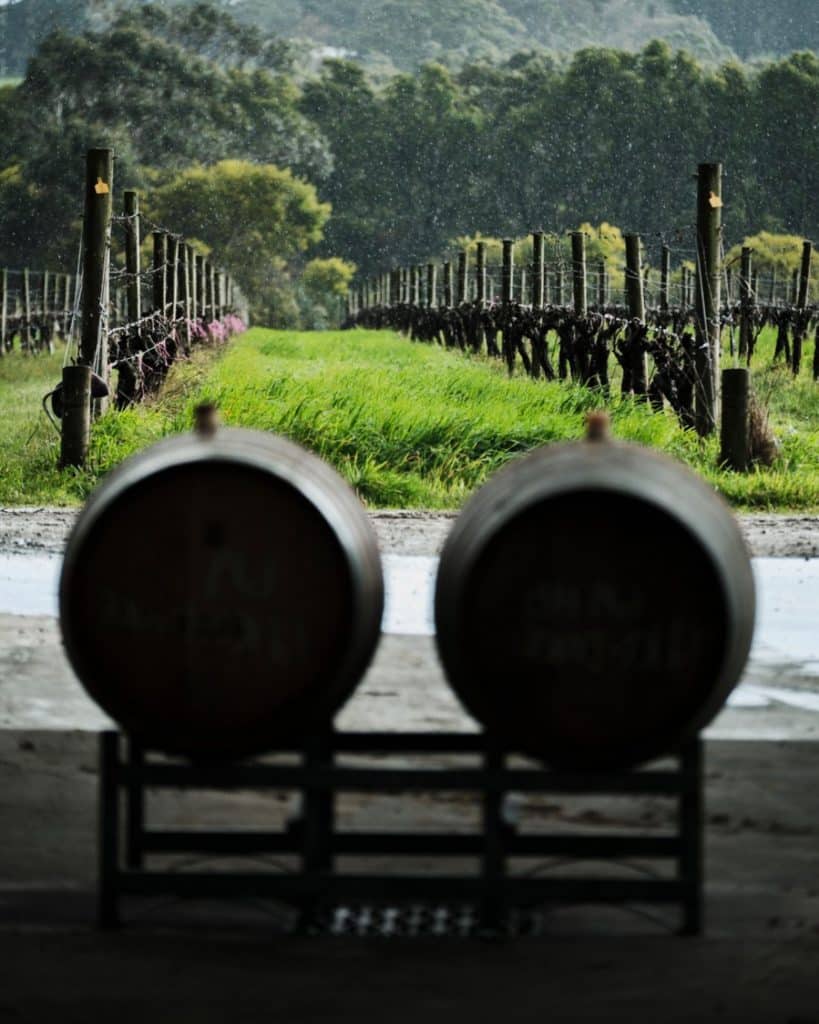 ---
How To Get There
The Mornington Peninsula is just over an hour's driving southeast of Melbourne. The easiest and fastest way to get there by car is to take the M1 and join the Eastlink tollway. By following the signage on the Mornington Peninsula Freeway you'll be in the heart of Mornington Peninsula winemaking before you know it.
If you'd prefer to take public transport, all of Mornington Peninsula's villages have local buses that pass through them. On weekdays, the buses depart every day 45 minutes from Frankston. Trains from Melbourne usually reach Frankston in 20 minutes or so.
If you're on the Bellarine Peninsula or near Geelong, you can take the Searoad Ferries Queenscliff Sorrento
---
Mornington Peninsula Wineries Map
---
Mornington Peninsula Wineries
Mornington Peninsula is blessed with an abundance of wineries, which can make it hard to decide which one to visit first. To make things a little easier for you, here are some of our favourite Mornington Peninsula wineries. All of these wineries are surrounded by beautiful scenery and offer unique and enjoyable experiences. So let's take a look.
Ten Minutes by Tractor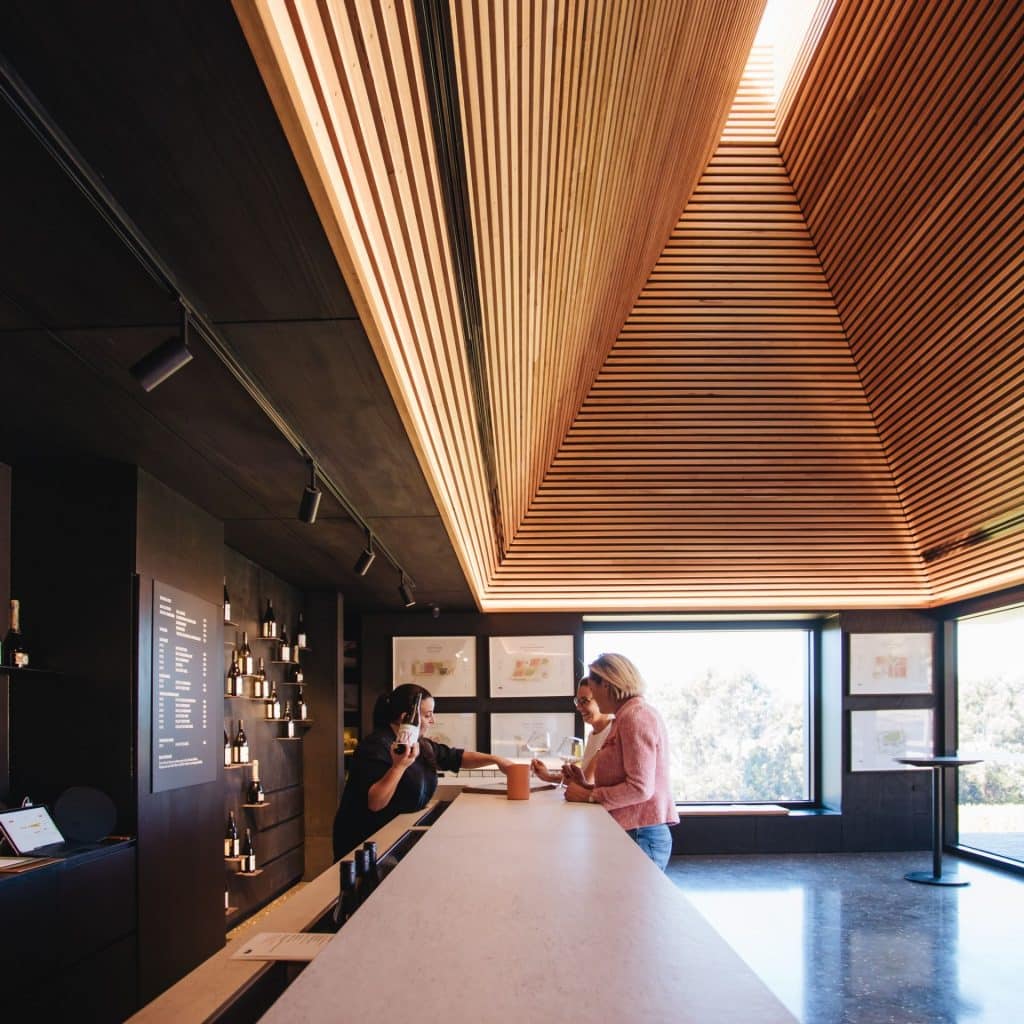 Scattered throughout the countryside of Mornington Peninsula, six separate vineyards lay bearing a bountiful yield that contributes to the bottled goodness that is 'Ten Minutes by Tractor'. The cellar door is at the centre of it all, offering a gateway to all vintages for the taking.
The cellar door experience is intricate, and it's apparent no detail was spared. The bar top is the first thing you see as you walk in – it has been crafted from a sunset palette of coloured bricks that represents the soil foundations of Mornington Peninsula. The appreciation for the region transcends through the architecture and, of course, the wine, food, and service.

If you're lucky enough to witness the private tasting room, you'll get to taste the menu whilst surveying a 3D map of the region carved from wood and encased in a board room style banquet table. As the tasting professor moves from wine to wine, they map out which of the 6 vineyards you are sampling from.
The food is high-end, and if you're looking for decadence, let your wine trip orbit Ten Minutes by Tractor. There were flavour matchings we'd never seen before, it was a shame that the restaurant was closed when we were there, but the smell that wafted through the courtyard from the chefs prepping was salivating.
We'd throw this little number at the top of the best wineries in the Mornington Peninsula list. 100 % worth a trip whether you're coming from Vic, Sydney or Kathmandu.
Visit Ten Minutes by Tractor
Reviews:
4.5 ⭐️ Trip Advisor from 690 reviews
4.4 ⭐️ Google Review from 192 reviews
Quealy Winemakers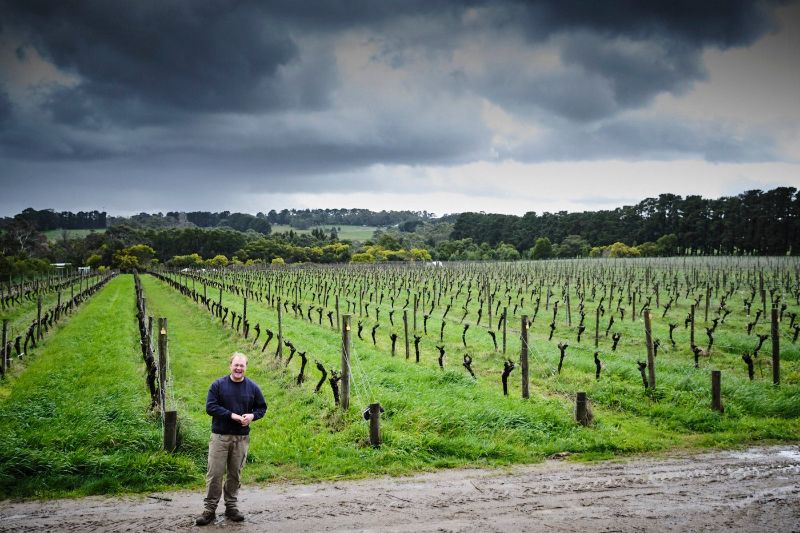 Quealy Cellar Door transports you into the heart of the winery. After arriving on the Mornington Peninsula in 1988, Kathleen and Kevin started to cultivate and sourced single vineyard Pinot Gris and Pinot Noir from some of the oldest wine areas on the Peninsula. A focus on an Italian winemaking tradition has inspired unique wine production including Friulano, Secco Splendido and Pobblebonk.
Reviews
5 ⭐️ TripAdvisor from 47 reviews
4.8 ⭐️ Google Review from 52 reviews
Port Phillip Estate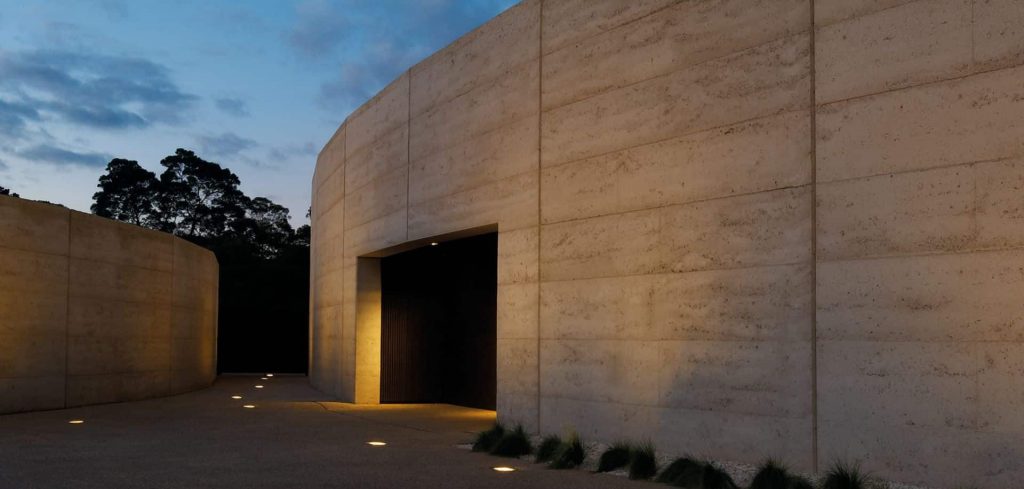 As you veer into Port Phillip Estate, the establishment rests like a concrete sleeping giant camouflaged into the landscape. The architecture is a conceptual piece of art in itself and it sets the tone for the sensory overload of an adventure on which you're about to embark.

Dishes like the Wood roasted line-caught fish, braised celery, freekeh, pickled Dromana Bay mussels and the Central Victorian duck, beetroot sauerkraut, pickled Estate blackberries were captivating and plated beautifully – undiminishing of the spectacular views that you are blessed with as you graze.
The gentlemen facilitating our tasting was knowledgeable and generous with his pours (no one likes an accurate line pour) and we couldn't help but purchase three bottles of our favourite samples. The 2021 Pinot noir Nouveau was a highlight (yes, pinot takes the cake once again). We got bumps of bubble gum – a great reflection of the progressive winemaking efforts the region displays. 
For worthy Mornington Peninsula wineries, this one certainly makes our list of vineyards to visit. You can't help but feel a little fancy just dining there.
Reviews:
4.0 ⭐️ Trip Advisor from 513 reviews
4.2 ⭐️ Google Review from 403 reviews
Polperro Winery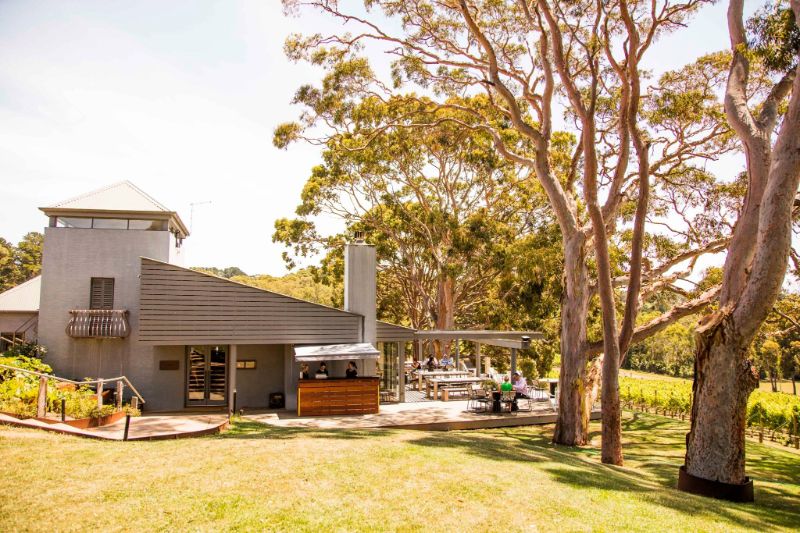 Polperro Winery is nestled amongst 25 acres of vines in the heart of Red Hill on the Mornington Peninsula. Polperro Winery has established a reputation for top quality wines and delicious food by offering boutique, luxury villa-style accommodation, cellar door, and restaurant experiences. Open for lunch and dinner, the sun-drenched dining room and restaurant offer stunning views over the vines.
The tasting room is moody. Low lighting, aged bottles of wine and leather wine menus decorate the room. Chief winemaker Sam Coverdale took us through the extensive tasting menu that captured the newer vintages from Polperro. The 2020 Pinot noir was a highlight with foresty pepper and a unique natural acidity blended by pinot grapes harvested from all five vineyards.

Team food and team wine work in unison to create a harmonious culinary experience that reflects the hard work and dedication required to run a beast as intricate as Polperro.
4.5 ⭐️ Trip Advisor from 488 reviews
4.4 ⭐️ Google Review from 353 reviews
Panton Vineyard
Panton Vineyard is a family-owned and boutique vineyard located in Shoreham on the Mornington Peninsula. Established in 1995, this family-run winery with a northeast aspect produces high-quality Rose, Sangiovese, Pinot Gris and Pinot Noir. This single estate winery produces premium wine grapes that are sourced by other local wineries including Tucks Ridge, T'Gallant, Quealy wines, Stonier and Balnarring Vineyard.
Reviews
4.5 ⭐️ TripAdvisor from 40 reviews
4.9 ⭐️ Google Review from 40 reviews
T'Gallant Cellar Door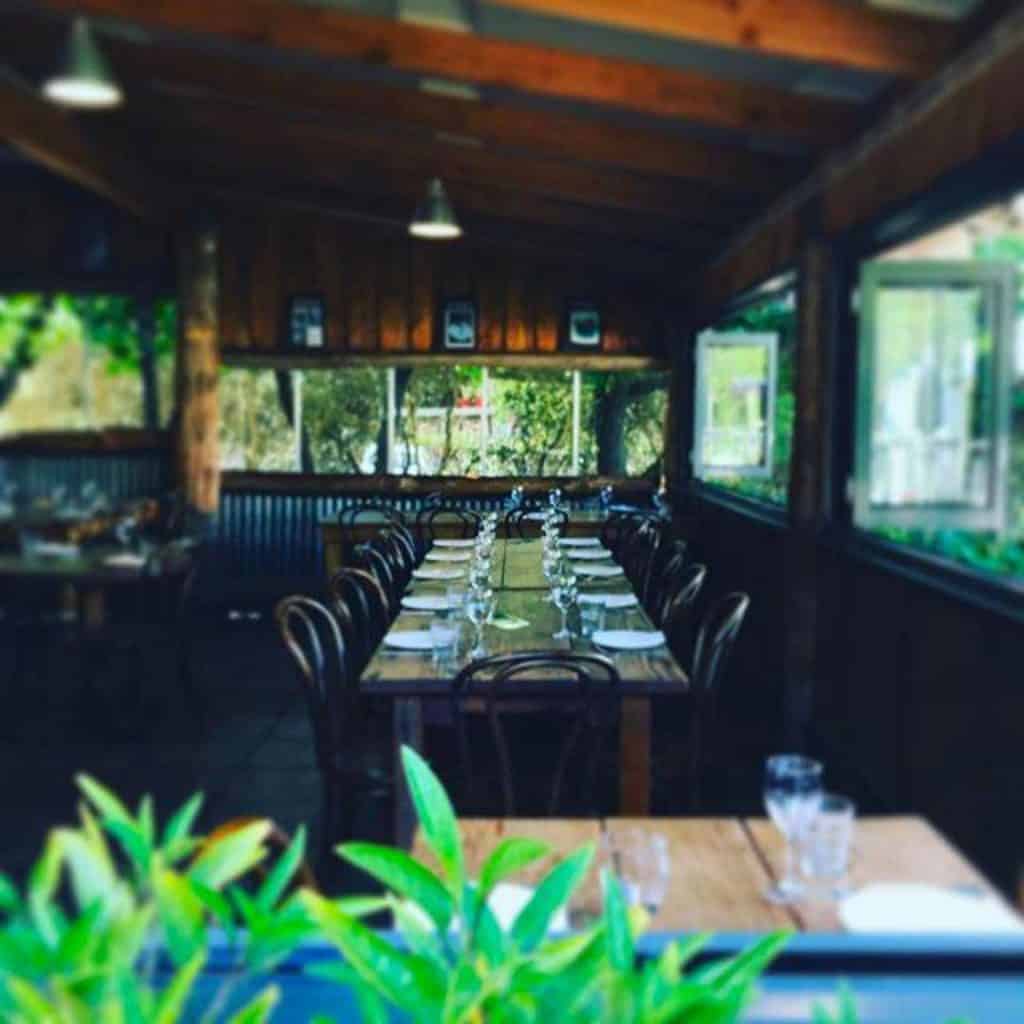 T'Gallant Cellar Door located in Main Ridge Mornington Peninsula has been inspired by Italy. With a large piazza overlooking the vineyard, you can taste wines as you enjoy wood-fired pizza and the classic provincial Italian style dishes. Established in 1990 with two vineyards planted with Pinot Grigio, the distinctive differences between them encouraged further exploration of Italian and French winemaking methods. T'Gallant Pinot Grigio has a style typical of northern Italy with a rich, luscious character, while T'Gallant Pinot Gris is influenced by Alsace in France and Friuli in Italy.
Visit T'Gallant Cellar Door
Reviews
4.0 ⭐️ TripAdvisor from 246 reviews
3.7 ⭐️ Google Review from 234 reviews
Crittenden Estate
Crittenden Estate Wine Centre is a vineyard, winery, and wine centre all in one located in Dromana on the Mornington Peninsula. Established in 1982, Crittenden Estate is a family run business that focuses on producing high-quality cool climate wines. With over 25 different wine styles to taste, you'll enjoy exploring Italian and Spanish style influences. Their seated wine educational tastings led by their knowledgeable staff make this venue a must-visit for new and experienced wine aficionados.
Reviews
5.0 ⭐️ TripAdvisor from 189 reviews
4.1 ⭐️ Google Review from 85 reviews
Winery Tours in Mornington Peninsula
Another option for those after a hassle-free and enjoyable visit to the Mornington Peninsula is to book a winery tour. We suggest you investigate the following winery tours:
Gourmet PawPrints

– take your dog with you as you visit some Mornington Peninsula wineries
Things To Do In Mornington Peninsula
While you're travelling around the Mornington Peninsula wine region, it's a great opportunity to explore other highlights. We suggest the following venues are well worth a visit.
Peninsula Hot Springs based on the Mornington Peninsula is set amongst rolling sand dunes and coastal bushland. This award-winning geothermal hot spring offers a variety of hot springs, day spa, dining and wellness packages.
Arthurs Seat Eagle is a gondola-style cable car that passes high over Arthur's Seat State Park. Featuring scenic views across the crystal blue water of Port Phillip Bay towards Melbourne's skyline you'll gain an appreciation of how fabulous this region is.
The Enchanted Adventure Garden is also located at Arthur's Seat and offers experiences including tree surfing, canopy tree walks, zip lining and adventure mazes.
Weather In Mornington Peninsula
Other Popular Articles
Looking for more wineries near you?